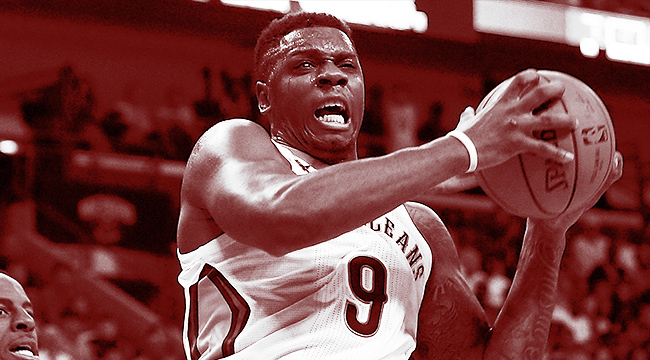 Last offseason, Terrence Jones signed a one-year veteran minimum deal with the New Orleans Pelicans. The former first-round pick out of Kentucky was considered one of the best values in the free-agency market based on his age and ability. After playing with the Houston Rockets from 2012 to 2016, Jones had some very promising moments in his rookie and sophomore campaigns but fell out of favor with then coach Kevin McHale.
The former Kentucky star's ability to stretch the floor and handle the ball was certainly an asset but his inconsistency seemed to have it's place with Houston as well. This ultimately led to Jones not being re-signed and going out on the market as an unrestricted free-agent.
Jones was close to signing with a few other teams before pairing up with close friend Anthony Davis in New Orleans. This would clearly be a move where Jones could prove his worth and really showcase his ability. Jones wouldn't been seen much early-on but as the season went on, he began to see an uptick in his minutes. This would build up into his highlight game on January 23rd against the Cleveland Cavaliers.
Jones scored a career-high 36 points against the King himself and looked to have played his way back into a starting role in New Orleans.

However, just weeks later, the team traded for DeMarcus Cousins and waived the 25-year old stretch forward. Jones later landed on Milwaukee but was then subsequently cut before he could even showcase his abilities.
Since then, Jones has been off the grid working ferociously with rumblings that a few NBA teams were interested in signing him. That is, until, he signed one of the most lucrative contracts in CBA (Chinese Basketball Association) history. Reported last night by David Pick, Jones signed a one-year deal with Qingdao.
Jones sat down with DIME to discuss his move to China, this offseason, end to last year, relationship with Anthony Davis, and much more.
You just signed this deal with Qingdao in China. Why the move over there?
I wanted to challenge myself and experience a new culture. The CBA is growing and lots of guys go over there and have success. So I know there is a lot of opportunity in China and I just have to go out there with an open mind and be ready to contribute.
What do you think you can bring to the table and what are you looking forward to most about playing overseas?
I think I can bring toughness, defense and be another guy who will go out there and play physical. I think my playoff experience will help too, I'm just ready to do whatever they need me to.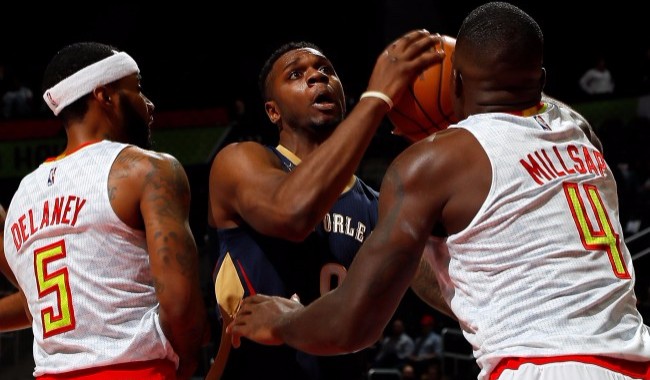 First of all, last season, you had some spectacular moments. I mean, obviously, the game against LeBron James and the reigning champs (at the time) was an incredible performance for both you and your team. But, what are you doing now to move that forward to this season?
Really, I'm just focusing on growing as a person both on and off the court. There was just a lot of little things that knocked me off my season last year. Had those things not happened, it really could've changed my season. I think this summer I've mainly been trying to level-up on life and trying to make sure I'm consistent. I've spent a lot of time around my family just doing whatever I can with all that I have control over. I'm just working hard to continue to get better and I think this summer, I've done a good job of that.
So how much are you training and working out?
Yeah, I mean, I'm working out a lot. That's all I've been focused on. I'm just trying to get better as a person. I think focusing on all the little things and spending time with my family has really made me appreciate basketball more. I'm working on all aspects of my game, just trying to get better each and every day.
You spent a majority of the season with the New Orleans Pelicans and obviously, it was an up-and-down year with Cousins coming in mid-year and all the injuries you guys faced early on. What was great about the situation and what's maybe something you regret or would like to change if you did it over again?
I liked playing with Anthony (Davis) again, it was definitely a dream come true. Just to play with my brother again and build our team up to make a run at the playoffs. Even though we were missing our point guard and had a few injuries down the line, the fight and battle was fun. I liked the pressure when guys were hurt because that meant I had to step up and take on that challenge of leading the Pelicans without my guy, our best player. Obviously, I didn't like that he was injured but being able to step up and have to take on that leadership role. It would look like an easy win for a team and those games were the games that I wanted to really focus in and take on that challenge of beating them.
I've been facing a lot of challenges in my life right now and it reminds me almost like those games. Those games where we didn't have Anthony or without the best situation. So I'm just trying to take on this challenge as best I can, staying focused on the little things, not trying to let anything into my head and I think everything, if I keep praying about it, will take care of itself.


I do want to talk about that game with LeBron James. I think you look at that and that showcases you as a player. We saw that at Kentucky, glimpses with the Rockets, and obviously with the Pelicans at times. So take me through that game and how that all happened because everything seemed to come together just perfectly.
It was just a mindset and the belief I have in myself. It's nothing that I don't do every game, I just think that facing the greatest I wanted to take it to another level for myself, my team and my family that was there. That's just the focus that I have to stay with the entire year with whatever role I'm in and whatever team I'm on to ultimately try and win a championship. My main goal is to continue on being a champion, a winner, that's what I think I'm known for. Having won in high school and college, now those guys (Cleveland) were the champions and that's what I wanted to compare myself to, the champions.
What's your relationship like with Anthony Davis and DeMarcus Cousins?
Yeah, DeMarcus is definetely a big brother for me. He was talking to me when he was going through the process of playing at Kentucky and everytime I can talk to him, he always gives me good advice both on-and-off the court. Anthony same thing. I lived right next to him in New Orleans and he just always helps me with my game. Anytime I need anything, both of those guys are always there. Those guys are two of the best big men in the league, both All-Stars, and great dudes to me especially. I just learn from them and pick their brains on how I can get better.
You had a little stint before the end of the season with Milwaukee, how was that?
It was a very humbling experience. One that I'd never had before but it was a great experience and one that molded me into a different person. Just having that struggle of not knowing when or how much I was going to play, the whole deal was hard. But, I just went in there to do whatever I needed to do. I came in early, shot extra shots, did whatever I could do but I think the situation was something that was out of my control. The organization as a whole was great to me. I love J-Kidd. I liked the GM and the owner for giving me a chance and bringing me in, I just think that's a great franchise.
If I'm a GM or a coach, what separates you from everyone else? Why would I hire you over someone else?
To me, it's just all or nothing. This is my last opportunity to prove to my family, my city and myself that I deserve where I dream to be. I want to be a champion in the NBA, I want to win a lot of games and I want the opportunity to have the best job in my world, that's playing in the NBA. I feel like I've made some immature decisions in life before this summer. But whenever I do get that next opportunity, I'm going to make sure I take full advantage of it. I also want to show how much better of an all-around player I am. I just want to be the best I can be as an all-around better professional and as a person. Whether it's helping a team be more successful or leading a team to championship, I feel like I'm ready for anything.


At times throughout your career, I have always thought that you could possibly play the small forward position over the power forward position. I've seen you shoot the ball, handle the ball and it's much better than the guys at your size.
Position-wise, I've played so many throughout my years that I just call myself a basketball player. If a coach wants me to play the three and guard the four, I'm going to do that. If he wants me as a small-five, I'll play that. It's really just up to the scheme and the coaching staff as to where I play, I've learned to adapt. Wherever there is opportunities, that's where I will play. I'll play any position. For my size, I feel like I'm one of the best ball handlers, rebounders, and playmakers.
Even though different situations I haven't done some of those things, I just think it's something that I can do. My shot off-the-dribbile and jumpshot have also improved and I think that's something I am capable of showing more of. Really, whatever is necessary for the team to win. I have always been a guy that's prided myself on doing whatever it takes to win whether it's battling on the block or getting an extra bucket, I just want what's best for my team.
You've always been a guy who gives back to the community and someone who's been a stable in giving back. Where does that come from and why do you do it?
I think it just comes from my family. I think we've always been a well-supported family because we are the community. We're always very involved with anything that goes on in community because it's apart of me and my family. I'm doing stuff with people I've been around my whole life. It's been a roller coaster for me because through some of the situations, sometimes I feel I haven't done as much as I can or could. Everything in our area is important to me, so I just want to help in anyway we can.
It's very important to me and these kids having a future is important to me because they represent me, they represent who I was. I just want them to have a better opportunity than I had.
Can you take me back to your childhood and just what you had to go through as a kid in a rough part of the city? Being from Portland, I understand that 15 to 20 years ago, it was certainly different than it is now.
I was definitely raised in the inner-city, in an area where you had to fight for everything yourself. Guys were going through everything from their parents on drugs to gang members on the streets. But, I always had the outlet of basketball and sports. Getting in that community, those people were on my side and in my corner. They kept me in it and it's a part of what made me successful in basketball. I was thankful that I had a good family and was always looked out for. That's another reason why I always want to be so involved in the community because of how the community took care of me.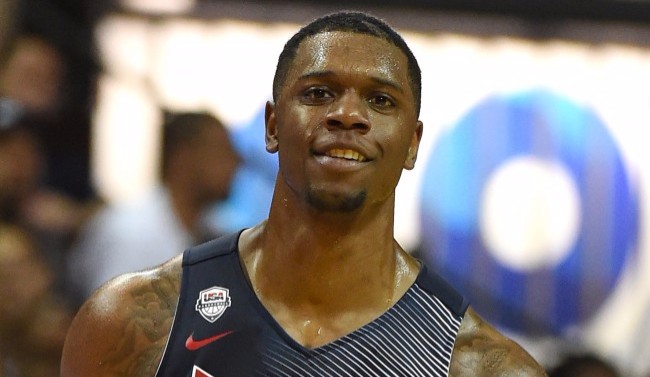 What's next in your career?
I'm doing what's right. Spiritually, emotionally, physically I feel like I'm doing what's right and what's important, and that's getting back to basketball. I've spent a lot of time this summer just becoming a better man, a better father, a better basketball player and it's taught me a lot. It's definitely very new, me taking on this new challenge of trying to be a committed father, a committed son, friend, brother, I just want to be a better person all-around. This summer, it hasn't been easy, it's been very hard on me.
It's just very new, but I feel that I'm getting better each and every day. I'm working harder than ever to get back to the place I want to be. There was a lot of negativity I could fall for daily that could just ultimately take away my chance to play in the best league in the world but it won't get to me.
I see it (the NBA) and I know it's going to take a lot of concentration and sacrifice. But, I'm willing to take on that challenge every day to get that opportunity in the league. I know it's where I need to be.