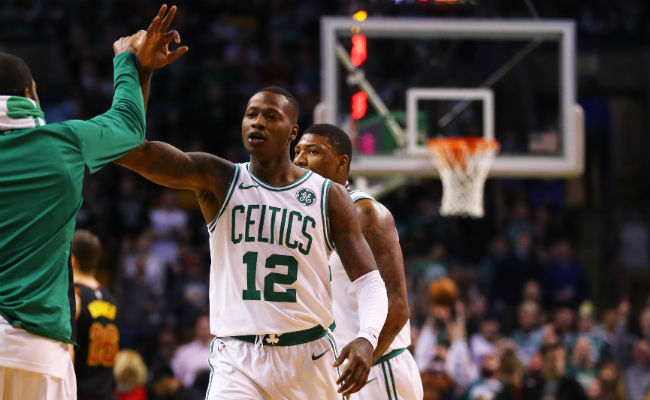 Terry Rozier is now a shoe free agent after adidas caught wind of him wearing another company's kicks.
The Boston Celtics guard reportedly lost his shoe deal with adidas for wearing a pair of Nikes on the court, a matter the footwear giant did not take lightly. Rozier's shoe troubles came up in a Sports Illustrated piece about Derrick Rose's massive contract with adidas, which may have been a factor in his deciding to return to basketball after a few months away from the Cavaliers.
The piece states how unusual adidas' patience was with Rose while he debated his future, noting that it had released Rozier from his adidas contract just for being spotted in a pair of Nikes on the court during warmups.

The article recalls how Rozier got a package from adidas telling him his deal was gone.
Adidas's treatment of Rose is especially perplexing given how closely the company has held other players to the letter of their contracts. On Jan. 18, 2016, Celtics guard Terry Rozier signed a deal that, according to documents provided to SI, guaranteed him $300,000 over three seasons.

During the 2017 Eastern Conference finals, Rozier wore Nikes during a pregame shootaround. He changed into Adidas shoes for the game, but his public appearance in a rival brand did not escape notice. In a letter delivered by FedEx last May 26, Adidas's legal counsel Monique Hawthorne notified Rozier, "Adidas is terminating your Agreement effective immediately." (According to Rozier's representatives, they plan to arbitrate Adidas's decision.)
You can see pretty clearly in this photo from 2018 that he's wearing Nikes, so maybe he really does prefer them to adidas. Either way, it's clear he is no longer contractually obligated to wear adidas shoes on the floor anymore.
Rozier has obviously moved on from the deal, but it's a costly mistake for him to make. That's a lot of money. And, you know free shoes.