NEW ORLEANS – On July 11, 2014, LeBron James stunned the basketball world by announcing that he was returning to the Cavaliers, breaking up the budding dynasty of the Miami Heat and shifting power in the Eastern Conference from South Beach to the shores of Lake Erie. That decision sent shockwaves around the NBA and changed the dynamic for the Heat, Cavaliers, and truly the rest of the NBA.
James' announcement also proved to be a turning point for The Starters, who had just completed their first season on NBA TV and were preparing to host their first ever 30-minute long live show from the Thomas & Mack Center in Las Vegas, where the 2014 NBA Summer League was starting. Hours of planning for their inaugural voyage into the uncharted waters of live television were thrown out and suddenly Tas Melas, J.E. Skeets (real name Phil Elder), Leigh Ellis, and Trey Kerby were tasked with the challenge of breaking down the biggest free agent change in four years — since James left Cleveland for Miami — and had to stretch their 30-minute show to an hour.
After a year of doing hour-long taped shows, The Starters were going to be live as the show of record on the biggest news story of the year for NBA TV. The quartet that had come together in full three years prior found themselves feeling oddly comfortable within the chaos that was LeBron coming home and rolled through their hour-long trial by fire, coming to a realization that this was the type of thing that their show is built for.
"There's no script with our show, no one's reading anything, at its best, its guys talking to each other and asking questions and bringing up certain points," Skeets said during 2017's NBA All-Star Weekend. "It was frustrating because all that work thrown out the window, but then super exciting because we know we can do this and we're actually perfectly built for something like that happening. You can throw us out something that happens and we can talk about it right away."
It was also a moment of realization for executives at Turner, who watched their gamble of bringing in six people that had never done a television show find their stride in the exact moment that they needed them to.

"I think the one time that where we all realized something was there was two years ago at Summer League, when they came out and hosted the post-game shows at Summer League," Scooter Vertino, Turner Sports' senior vice president of programming said. "And that was a situation where they were completely out of their comfort zone, right? They're outside of the studio. They are doing game highlights, they are reporting on news and that is baptism by fire. You've got to hit the ground running.
"The first day they hosted … we were like, we know we can do highlights with these guys, we know we can handle guests and analysis and humor, but what if something big happens, will they be able to handle it. And that first day they were anchoring was the day LeBron announced he was going back to Cleveland, and they handled it like nobody's business. And that put the trust there that they can handle whatever gets thrown at them."
For the rest of that Summer League, the crew landed in their comfort zone of a 30-minute long live show and knew immediately that it should be the future of the show. When they returned to Atlanta from Las Vegas, the crew pitched Turner on going to the 30-minute long live format and Turner, having seen what the crew had done, quickly agreed to the change.
"Definitely our first year it was rocky getting into it, but by the time we got to Summer League we started doing half hour live shows and we realized this is obviously what we should be doing," Kerby said. "It's the perfect length. We can pick the good stuff, right. We can put what we want in and we don't have to do everything because we don't have to fill an hour. It just seemed like the pace of that and the live element was exactly what was right for us."

***
The origins of the show and how the crew of six that now make up the show — the four on-screen plus Matt Osten and Jason Doyle (who is best known as J.D.) — is something of a long-term blogging Ocean's Eleven montage. Nearly a decade prior to the 2014 Summer League that set them on the path to television success, Skeets, Melas, and J.D. were fresh out of Ryerson University in Toronto and each working entry level jobs in and out of the media industry with a desperate need for a creative outlet. While all together at a party, the trio decided they needed to do something together and began kicking around ideas when Doyle suggested they start a podcast.
The original idea was to do an all-encompassing sports podcast, but eventually landed on focusing solely on the NBA in order to be as knowledgable and passionate about the project as possible. In January of 2006, The Basketball Jones podcast launched with the three friends meeting at Doyle's house to record a show twice a week. Thanks to enough positive reception, at the start of the 2006-07 season, they moved to a 15-minute long daily show, waking up at 5 a.m. to prep and record the show via Skype before going to their day jobs, while keeping one show a week at Doyle's house so they could all get together.
The show grew and expanded over the next two seasons, moving to the sound editing studio that Doyle worked at in 2007, with the trio still recording in the early morning prior to their regular work day and expanded to add a video element in 2008. The 2009 season saw Osten, another friend from Ryerson, join the group after completing law school while he was waiting to find full-time employment.
"When I came back, they were three and a half, four years into it and they were tired, you know," Osten said. "Waking up in the morning early, doing the show, then doing a real job and only getting paid from one. So, I came back and was unemployed. I had some part-time, freelance stuff — I worked for the Toronto Film Festival that summer — and one day we were just up for drinks and it was like, 'Hey if you're not doing anything can you come by the house at 7 when we shoot this?' And I was like, yeah sure I'd love to. Right away we started doing videos for The Score and I remember writing those with everyone and just fell into it. And then it was the classic, 'Wouldn't it be cool if we did this for a job?' and they were like, 'Yeah, we've been saying that for four years.' And then it just happened. That season started at the end of October and in February we had all quit our jobs and we were working at The Score full-time."
Kerby was the next to join in 2010 after cultivating a friendship with the TBJ guys through the oldest form of blog relationship building: the comment section.
"I started out just being a big time fan of theirs when they were TBJ," Kerby said. "I'd be in their comments all the time, cause like, that was when NBA blogs were really just starting to pop off, right? So part of the game was interacting with everybody else, like, 'Hey, check it out.' I was doing the Blowtorch at the time. Skeets was doing The Basketball Jones and soon after he was doing Yahoo! I would send him my stuff and he would put it up. Eventually, he asked me to write a weekly column for Ball Don't Lie and we just kind of kept in touch and kept working together, and I would always joke, 'Hey, if you ever need somebody to write for the show, get in touch and we'll move to Canada,' just joking around."

Kerby took his first full-time blogging job at Yahoo! in 2010, taking over their Fourth-Place Medal blog after losing his job at a pharmaceutical company when they shut down his office. A month later, Skeets left Yahoo! when TBJ went to The Score full-time, and Kerby took over their basketball blog Ball Don't Lie. That summer, at "Blogs With Balls" in Chicago — Kerby's hometown — the trio began discussing the possibility of him moving to Toronto, with Tas and Skeets smartly clearing it with his wife first.
"Down the line, probably July [2010], they had Blogs With Balls in Chicago, so they flew those guys down — Skeets and Tas — and we hung out a bunch of times," Kerby said. "I had visited Toronto, Skeets and his wife — girlfriend at the time — came and stayed with us in Chicago. So we just had a relationship and they asked me, 'Would you ever consider moving to Canada and running our blog?' They ran it through my wife first to see if it would ever actually be possible, which I thought was a good move, and she just burst into tears because she was so happy. She's down for like whatever. She was like, it'll be a great adventure."
Once his wife was on board, he was all in, and Taco Trey would become a permanent member of what would eventually be called The Starters.
"So, then, in October 2010 I started for them," Kerby added. "I worked from home for about a year running the blog and appearing on the Overdose once a week — say it was an hour show, I'd be on for like 10 minutes — and then they got approval from The Score to move me and my wife up with work permits. Brought us up to be full-time members of the show, and then I was just up in the office with them all the time, so now I'm on the show all the time."
The trio wrapped what was by then their fifth season of the podcast when the NBA lockout hit. The lockout was a time of uncertainty for everyone in the NBA world, but it also proved to be a source of inspiration for the TBJ crew, led them to the addition of Leigh Ellis, and, unbeknownst to them, put them on Turner's radar as potential hires.

***
The "No Season Required" tour took The Basketball Jones crew to nine NBA cities outside of Toronto — Oklahoma City, Portland, Chicago, Los Angeles, Miami, San Antonio, New York, Boston, and San Francisco/Oakland — where they put on live shows and created video content interacting with fans, media members, and current and former players. The live element of the shows plus the video packages they put together, which ranged from interviews to fan on the street to a Full House intro spoof, showed off their talents as well as their creativity to put out entertaining content in a time when most were sifting through CBA minutia and offering updates on negotiations.
"I think some of the earliest stuff I saw from them was their lockout tour that they did, which was irreverent and funny, and poked fun at the work stoppage, while a lot of other people dealing with it were losing their minds — present company included," Vertino said. "But they took a wonderfully funny approach to it, and I think that was one of the first things that struck us."
At the time, it was simply an idea for something to do and an outlet for their creativity — which had always been the purpose of the podcast since its inception — but in hindsight, they can see how it put their abilities on display in a way that had otherwise not been shown in totality.
"I think it showed that we were able to do live shows," Skeets said. "All live, obviously live audience, guests — the ability to interact with guests — and it showed, to an extent, especially with all the videos that we packaged around all the live shows, that, 'Wow, there's no basketball and they're still getting creative enough to create all this content. So, what can they do when there is basketball.' And that's a good sign."

The lockout tour also brought Ellis into the fold as the sixth member. Ellis ended up working in the web department at The Score after moving to Canada full-time when he got married to a girl he met while in Toronto on a working holiday. Ellis, a diehard basketball fan as regularly evidenced on the show, got to know the TBJ crew by simply pestering them with offers to do things with them outside his normal work duties.
"They joined The Score and I was adamant that I really wanted to work with them because I loved their stuff," Ellis said. "So I was working the web department of The Score, doing my own features like producing stuff and shooting — basically doing everything for our web feed at the time. So, when I started doing basketball news I would always offer it up to the guys. I'd be like, 'Hey, do you guys want this for your blog. You want that? You want this? You need help shooting anything?' Because I was able to use a camera and I was able to do some minor editing as well. Initially I went through J.D. and Matt and told them, if you ever need a hand I'm available."
When it came time to hit the road for the lockout tour, the crew took him up on his offer because they had one open space in their hotel rooms and could use an extra hand.
"The big thing was that was the first thing Leigh ever did with us," said Osten. "It was just the five of us at that point cause Trey was on at that point, and since it was five of us and we were sharing rooms, why not make it six. We were just like, do you want to come on this trip? We didn't know him at all. He just liked the NBA and would sometimes come hang out with us in the office and be like, 'See the game last night.' So, no idea how knowledgeable he ended up being. No idea how funny he ended up being. But then, sometime during that tour we were like, 'You should probably come work with us when we get back.' And so he moved into our office — which is just one big room — and that's how Leigh joined us."
Even though he didn't know exactly what he'd be doing, Ellis jumped at the opportunity.
"They actually said to me that the were going on this trip and they needed someone to carry their bags, get coffee, and do basically all the things they needed an extra pair of hands for," Ellis said. "I said to them immediately, without even talking to my wife, yes I'll do it. I didn't want them to offer it to anybody else because I felt like, what an incredible opportunity. And I thought, I don't even know if I can do the things they want me to do to the level they need them, but I don't care. Yes, I'm in."
Ellis joined the crew — despite never clearing it with his boss at The Score ahead of time, which he recalls "caused a little bit of tension" — and rounded out their team. However, the 'No Season Required' tour almost didn't happen.
The tour was their backup plan for the lockout. The original idea was something far more ridiculous and, as it turned out, far too expensive as Osten and Doyle explained.

"Well, I'll say first [the 'No Season Required' tour] was a second choice," Osten said. "It's not what we wanted to do."
The first choice had a bunch of logistical hiccups, and was not feasible at all.
"Our original idea was to stage basically a sit-in, or a protest essentially," Doyle explained. "The gag was going to be that Skeets and Tas were going to lock themselves in this room — we were calling it a Bubble because it was going to be on King St or a main street in Toronto that everyone on the street could see 24 hours a day, and that would be livestreamed on the internet 24 hours a day. And just be all of the things that would happen. We would produce a talk show every day, but they wouldn't be allowed to leave. They would have to be in the bubble until the lockout ended. So, and we were very serious about it and we –"
"We put a lot of work into making that happen," Osten laughed.
"We went looking at places and rents with the president of The Score — and they were really into it to — but it turned into, it was going to be ridiculously expensive," Doyle said.
"So expensive," Osten said. "And their wives, well girlfriends at the time, were not keen on it. And everyone literally thought it was a joke. 'OK, haha, very funny at 6 p.m. you'll shut off the lights and they'll come home.' And we're like, 'No, they're going to be livestreamed.' So, at any time you could go, 'What are Tas and Skeets doing? Let's look 'em up. Oh, they're playing foosball.' And J.D. and Skeets love reality TV and Big Brother and stuff, so a lot of it came from that. But it was this thing where we were writing full-on proposals, like J.D. said, we had a line on a building. We talked to the leasing manager of that property. I was going out with the sales team and pitching [sponsors], and eventually they were just like, 'It's not going to happen.'"
The failed attempt at locking Skeets and Tas in a room together for the entirety of the lockout — which would have been 161 days long from July 1 to Dec. 8 — ended up being a blessing in disguise as the exorbitant cost of the original idea made their tour of nine cities seem like nothing in comparison, making it an easy sell, while also bringing Ellis into the fold and turned Kerby into a more permanent fixture of the show.
After the "No Season Required" tour, The Basketball Jones crew returned to The Score for the remainder of the next two seasons before announcing they were leaving for a new, at that point unnamed opportunity.

***
The decision to leave Toronto for Atlanta and NBA TV was a short conversation amongst the crew. For nearly a decade they had turned a passion project into a full-time job and suddenly they were presented with the opportunity to fulfill a dream that Skeets had laid out from the earliest stages. In 2007, Skeets was asked what his dream job is and responded with two options.
"Write, direct and star in RAD 2: Breakin' More Ice and/or get paid to co-host an hour long, daily version of our show with real NBA players/personalities on as our guests."
Six years after that answer, that second option — and he made sure to note that RAD 2 is still on the table for him — had manifested into an attainable goal and the decision was simple.
"I'll be honest, the conversation for me wasn't a long conversation because it was sort of like — it was scary — and at first my wife was like, 'whoa, we're moving to Atlanta?' which again you just dropped that bomb," Skeets said. "But after five minutes of thinking about it, she was like, you've been working with your buddies on your baby for, at that point seven years, it's like a no-brainer. It's like you're literally almost getting to the goal — and we have bigger, better things we wanted to do — but at that point it was a goal to work for the NBA and NBA TV. What are you going to say? No because we're scared because we have to move to another country? No way. So at that point it was like, yup, here we go, let's dive in."
It was a put up or shut up moment — literally — for the crew. This was the opportunity of a lifetime and to pass on it was to say that this wasn't the thing they wanted to do as a career. The Score had been sold to Rogers and there was concern about their place in the new future of a company that was going to an app-first model, and here was the NBA and Turner giving them not just an out but a chance to do something bigger and better.
The crew then had to break the news to their wives and families, with some like Ellis being in a precarious situation with a new baby, but the overwhelming response was one of support and that they had to do it.
"I do remember the first time I mentioned it to my wife — and she was very excited for us — but she was also just back from maternity leave and back working," Ellis said. "And we weren't sure she'd be able to work down here. So, once the reality set in that, 'I don't know if you'll be able to work,' that made things a little bit more tricky, because she's a career person. As it turned out, she was able to get a transfer, so it worked out well."
"There was a sacrifice for sure from all our wives," Skeets said.
What made the show successful, the communal, friendly aspect, also proved to be a significant help in the moving process because they were all moving down as a group.
"16 of us moved together including kids and wives and everything," Kerby said. "We all just picked good wives, to be honest. They were all like, 'Yeah we'll move to America with you.' It wasn't a huge deal for us, moving back to the States, but we're in a whole different place — Atlanta's more different from Chicago than Toronto is, no doubt — but basically we have supportive wives. Which is awesome."
Just as becoming a family was critical to The Starters developing their now-incredible rapport, their actual families were critical for the support of their dreams, every step of the way.
"That's been the biggest thing," Melas said.

***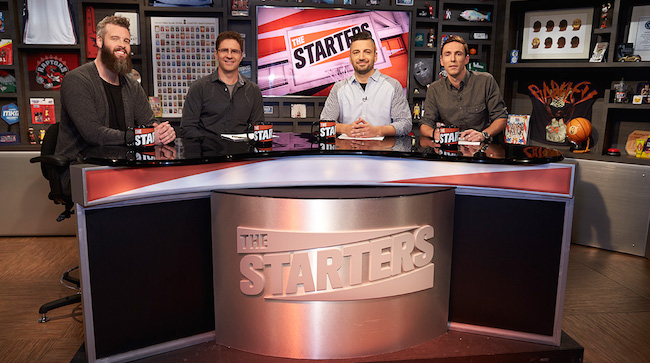 On Oct. 21, 2013 the crew debuted as The Starters on NBA TV, for their first season as a television show, which proved to be a tricky transition going from an audio-first podcast to a studio production. The guys had the key parts of making a good TV show down, which was being entertaining and coming up with unique ideas, but the little things that make a TV show look and sound good — from both the on camera and directing and producing side — came at a steep learning curve.
For the on camera group, it was what would seem like otherwise simple TV etiquette that had to be learned. Things like throwing it to commercial, reading over B roll clips showing on the screen, having a producer in your ear,and ensuring that during interviews you put the mic in the other person's face (and, as importantly, returned it to you when it came time to ask another question) all had to be learned by the first-time television personalities.
For Osten and Doyle., the transition was even tougher taking over a television production for the first time and having to learn lessons the hard way on the fly.
"I would say we realized this was going to be a change, but because we had never done it before it was very difficult to know how much it was going to change," Osten said. "We didn't know and the people here didn't know. Like, it was very unclear. They were like, well, you guys did a show so we can expect that you'll come here and do a show. And we were like, yeah sure. And then we got here and we were like, oh yeah, we've never done a studio show — like a four camera, in a control room. There are things that aren't necessarily hard about it, but if you've never done them before you're like, 'whoa, I don't know what I'm doing right now.' It took us awhile."
J.D. wasn't always going to direct, but someone had to obviously. And he started directing the studio out of nowhere.
"Yeah, there was a moment where we were on a conference call and they were like, 'Well, who's going to direct it?'" Doyle laughed. "And it was like, 'I am? I am. I'm directing the show.'"
It was hard to get up to speed, Osten admits, but it was clear the creativity was there, and all the pieces and parts that made The Basketball Jones so captivating could be stretched into TV form, even if it took a little bit to get going. Admittedly, the first season isn't a favorite of the crew.
"I won't watch it," Doyle said bluntly.
https://twitter.com/LeighEllis/status/856608340474036224
The hour-long format didn't help, either. In podcasting, 45 minutes to an hour can go by pretty quickly because of all of the random tangents and miscellaneous conversations that eat away at the minutes. In television, those moments don't present nearly as well and so filling the 44-minute long window that is required of an hour-long TV show is a far greater task than what they initially expected. As they progressed through that first season, they began to recognize the errors they had made in biting off more than they could chew, but weren't discouraged by the issues. They simply provided the blueprint for how to make vast improvements for the next season.
The two biggest things that improved the show were the Summer League epiphany that the show should shift to a live 30-minute broadcast and the realization that they had to get rid of the podcast feel and make a TV show.
"I think that was our biggest mistake out of the gate was trying to keep the TV show like a podcast," Doyle said. "Because they're completely different. A good podcast doesn't make for a good television show and vice versa. So, yeah, we finally basically scrapped the idea of having the podcast feel and concentrated on making a good TV show."
While it made for a significantly improved television product, The Starters ran the risk of alienating the audience that was so ravenous and was the reason they had made the jumps they had over their careers. That's when they created The Drop — a descendent of The Overdose from the TBJ days — to provide a show in true podcast form that would give their longtime fans the throwback style podcast that they so craved when the TV show became more like a TV show.
"I think last year or a year before, then we just said, we're going to do an audio only podcast, and we just added that to our plate ourselves to just have that be the podcast," Doyle said. "Because eventually people were missing the podcast-y part of the TV show. But we had to do it because it was bogging the TV show down and it's a visual medium so we needed to address that."
***

This year, The Starters also added a Twitter show at the behest of Turner, giving them seven separate shows each week originally broadcast across three different platforms, all of which can be consumed in various ways live, and the TV show segments are easily clipped and posted to YouTube, while the full shows can still be listened to in podcast form. In a media landscape that's ever changing, their ability to create content across multiple platforms is something that's increasingly valuable, and Turner has noticed, investing in the show by building them their own studio prior to the 2015-16 season — moving them out of the main NBA TV studio — to assist in giving the show's surroundings a unique feel to match their style that is so different from the rest of NBA TV's programming.
The Starters are wrapping up their fourth season, making them veritable TV veterans at this point, but at times it still doesn't feel real. They still get excited seeing their logo on the baseboards during games and find themselves in situations where they can't quite believe who they get to work with — such as singing about wedgies with Shaquille O'Neal.
Above it all is the fact that these four NBA fans now find themselves as a part of the league, with players recognizing and respecting their show.
"It's cool when the players know our show," Melas said. "The actual people who we talk about, who we wouldn't be here if they didn't exist and this league didn't exist, and they seem to respect our show and respect our opinions and our style. It's not like being respected by your peers like players do, but it's in that same sort of realm."
And The Starters are still being surprised by the popularity of what was once just a few fans getting up early to talk about hoops.
"It was mind blowing to me last year being in the locker room after Game 7, LeBron's biggest Finals run, the Cavs first title in however many years and I'm sitting next to Kyrie Irving and he's like, 'man, I love you guys' show. I watch your show all the time," Kerby said. "And I'm like, 'You just had the biggest moment of your life right now. You don't have to say anything nice to me if you don't want to,' but it's really awesome."
Kerby and Ellis will be back in the locker rooms for the upcoming Cavs-Warriors rematch, as they have managed to parlay what were once just side hustles talking basketball with their friends into full-time jobs that include the opportunity to serve as on-site reporters for the NBA Finals. Skeets. Melas, Osten, and Doyle will still be in Atlanta, holding down the ship in their usual 6:30 p.m. timeslot for their now 11-year-old pet project turned national TV show.
After the Finals, the six will be reunited over the summer in Las Vegas again, where LeBron James probably won't be on the move, but whatever rolls their way they'll be ready to handle it with a "Hello, sweet world" and an "Aye-Yo."