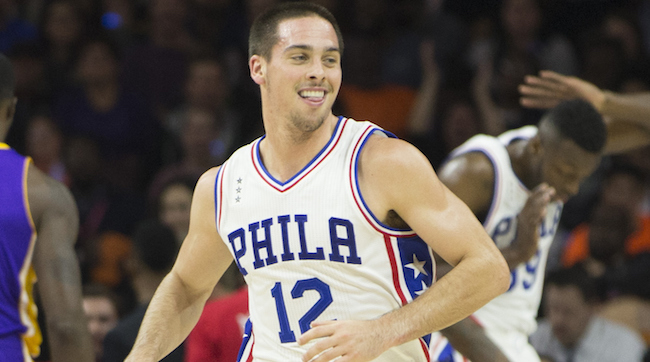 The Philadelphia 76ers' season went about as terribly as expected. They finished with 72 losses, just one game ahead of their own dubious record — set in 1972-73 — for losses in a season. Their general manager unceremoniously stepped down after a three-year run of unabashed tanking to improve draft position. They even had some off-the-court scandal with their latest rookie, Jahlil Okafor, who of course got injured before finishing his first season. As humiliating as all of that is, undrafted rookie point guard T.J. McConnell may have suffered the 76ers' most humiliating moment of the season at the door of a local establishment in Philly.
After a recent home game, T.J. decided to go out for the night within walking distance of the Sixers' home arena with his father and some friends. Once they got to the door, they learned of a promotion for the night, free admittance with a ticket stub from the 76ers game.
T.J.'s dad, Tim, naturally let the doorman know his son actually plays for the Sixers, but the bouncer still wanted the $10 cover charge for entrance. Ouch.
T.J. was first to the door when a worker announced there was a $10 cover charge, but free admittance with a 76ers ticket stub.

"He played," said Tim McConnell, pointing at his son.

The worker still wanted $10.

"No, you don't understand. He played in the game," Tim McConnell tried to reason.

No matter. It was $10.
Such is life for a member of the Philadelphia 76ers.
(Via Philadelphia.com)