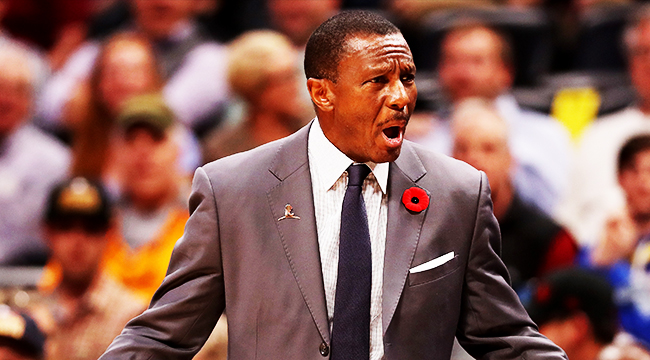 The Raptors have the best record in the East and Toronto is well on its way toward the best record that it has ever had in the NBA, with metrics telling us Dwane Casey's club should expect more. Casey's doing such a great job that the numbers have turned against him, the seven-year Raptor coach would probably call this itch "typical."
His leadership helped to unleash Toronto's inexhaustible supply of punchy contributors. Thick with promise and energy, the cheery but pitch-potent Raptors are bursting with a scoring differential so great (just a tick of a tick behind Houston) that the percentages suggest the club should have more wins than the 50 it has as of Wednesday afternoon.
There's a larger difference between those expected wins and actual wins with the Raptors than with any of the teams led by any of Casey's Coach of the Year rivals, should he even have one. Nothing here is Dwane or Toronto's fault, outside of their hand in overloading the system.
Casey won't receive that honor in spring. The NBA has an awards show now that broadcasts in late June, and this means Casey's grand experiment will have closed with enough time for us to have made our minds up about his team's finest season before his speech hits, well before the votes reveal what he's earned.
The Raptors run a 10-man rotation, one of the best this league has seen in ages. It's the reason Toronto wins so much and the cruelest way yet to judge Casey's work. In the postseason his innovation will square up against playoff orthodoxy, Riley to D'Antoni, and the idea that you perform your Five-Best Players Plus Channing Frye for as many minutes as possible during the games that count the most.
LeBron and the Warriors will do that to a regular season, turning it into a small block of wood. A golf-peg distraction at a dirty four-top to poke at during breakfast. The postseason — hallowed halls that make heroes out of ankle sprains, bad officiating and DeShawn Stevenson — plays as some sort of mumblety-peg plucked straight out of Amen Corner.
Whatever. The same amps that work in the studio can roll at a show if the mix is right, the point is still to outscore the other team and Norman Powell isn't suddenly going to lose his legs at the end of the third quarter in May just because he sprints more than the typical 10th-man in March.
Powell might be Raptor No. 11, come to think of it, and he starts sometimes. We probably shortchanged Casey again.


It's Pat Riley's fault, he faked his way through the 1970s with that mustache prior to dialing it all back once Reagan hit.
As soon as he took over in Los Angeles, as soon as Paul Westhead was done, that's when Pat started playing seven or eight guys. The rotation ended with Kurt Rambis, as many things should, numbers always shorten in the playoffs and that's the rule that lasted. Coach Pop only started breaking into double-figures once he grew that beard.
The point makes even more sense in 2018, when it's still easier to find a TV timeout than a place to park.
Even before 2017-18's extended regular season began, pointed rest and attention to detail allowed for both coach and playoff star alike to pressure a playoff possession until some side relented. In the world that D'Antoni created, trips down the floor are just as exacting as they were during Riley's most meddlesome days in Miami.
With D'Antoni, though, they're a whole lot more appealing. Nothing against Clarence Weatherspoon.
Hubie Brown and Riley traded sevens back in 1974. Pat the player was the final number in Lakers coach Bill Sharman's seven-man rotation when the Milwaukee Bucks team that Brown assisted on downed Los Angeles in the first round of the playoffs, his final season as a subordinate coach.
Brown was on the sidelines for Jerry West's final game as a player. Kareem's Bucks would go on to a Western title, but to hear Hubie tell it to Chris Broussard in 2004 the assistant coach's interests were just as aligned with Milwaukee's potential ninth and tenth men. Probably with Mickey "Mr. Hustle" Davis:
"When I was an assistant with the Milwaukee Bucks from 1972 to 1974, we had the best record both years," said Brown, who was an assistant to Larry Costello. "We only played eight guys, and I saw that four guys were always unhappy — even though we had a great team — because they didn't play much. So I said if I ever got a team, I would like to play 10 guys because there's very little difference between players 8, 9 and 10."
His reputation billowing, Brown was soon allowed rule in Kentucky, running the ABA's Colonels.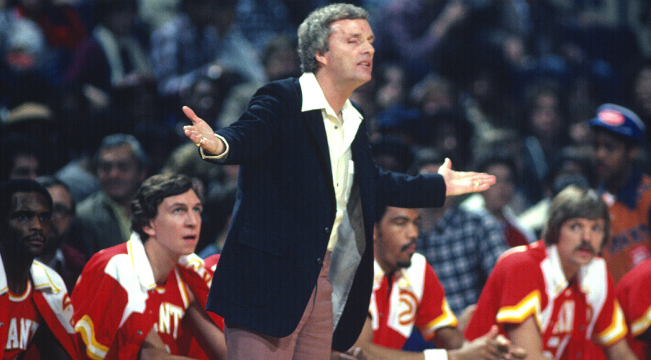 The head coach would have ten colts to work with — fighters that included Ted McClain and Ronald "the Plumber" Thomas. Red Robbins did not make the rotation's cut but Artis Gilmore and Dan Issel and several others did, Kentucky topped the ABA in defense and Brown's idea had a championship of its own.
Hubie has repeatedly called the 1974-75 Kentucky Colonels the best team he's ever coached, and he's repeatedly been correct in that estimation. The ABA was running short on time, though, and the coach had to drag the concept out of Louisville Gardens and into the NBA.
Atlanta, breathe breathe breathe, deep breath: Brown got to yell at just as many rotation members on the Hawks, in an arena that featured gaps between angles that you could sometimes sneak in through.
John Drew was an eventual All-Star with Hubie ringing in his ears, and again Brown's rotation went ten down — to Claude, somehow not a trumpeter, Terry. After years of overpaying for disappointing squads, Atlanta saw Brown create a 50-game winner for less.
Hubie built something loud and strong in front of thousands of empty Omni seats. At one point Ted Turner wanted him to manage his Braves, imagine that, but in the end Ted didn't even have the nerve to sit through the final three games of Brown's first disappointing season with the Hawks. Turner fired Hubie with that many to go in the 1981-82 season.
Later, Brown would respond as one shouldn't, lambasting several of the NBA's most notable coaches, general managers, broadcasters and retired legends with remarkable detail in a Sports Illustrated article:
Brown says he is weary of the controversies, and yet his honesty—which he frequently wields like a bludgeon—doesn't prevent him from diving into new skirmishes. He describes former CBS color analyst Bill Russell as "a moron," and CBS play-by-play announcer Dick Stockton as "a jerk," after having worked with both when he was out of coaching two seasons ago. Of the coach of the New Jersey Nets, he says, "Stan Albeck is a washerwoman who calls six people every day to find out the latest gossip. A nice man." And Brown doesn't stop there. "We've got maybe five general managers in the NBA who know anything about basketball," he says. "The other 18 are stealing their money."
This was the 1980s, though, second acts in American lives were deregulated and readily available. Hubie has a way of getting people to listen to him.
By the time New York Knick hero Dave DeBusschere took over his long-coveted role as Knick general manager in 1982, he was informed by the ownership group that, apologies to whatever your retired number is, Dave, but Hubie Brown is part of the package:
When he began negotiations with the Knicks, who finished last in the Atlantic Division, it was with the understanding that he would have the right to select the coach to replace Red Holzman. But DeBusschere was stunned when reports surfaced that [owner Sonny] Werblin had made an oral commitment for Brown to be coach.
Brown was not expected to have been DeBusschere's choice.
DeBusschere and Brown would turn over the roster, Hubie would later let Bruce Newman at SI catch him taking credit for the turnover; pinning Brown at an address in Phoenix to an audience of "75 Litton Industries Credit Corporate executives," leaving three-quarters of the attendees wondering if it was safe to even rent:
"When I went to New York there were 12 players on the team. Before the first game I got rid of nine. That's how you send a message!"
Bernard King'd into a consistent buttress in New York, under Hubie's glare. The Knicks popped up 11 wins in 1982-83, Brown levied a top-three defense out of a 10-man skip that didn't even fit future NBA contributors like Scott Hastings and Rory Sparrow into the rotation. For the last time, New York was turning Knicks away at the door.
New York was even hotter in 1984, pacing the league in defense, winning 47 games, working 11 guys: Hubie had Len Elmore and Marvin Webster running up and down the court in every-night defensive shifts. Those guys were in their thirties.
The Knicks took the eventual champion Celtics to seven games that year, winning each of the contests played at Madison Square Garden. New York was dangerous, especially around Hubie.


The Knicks had already lost two-thirds of their games by the time Bernard King tore his ACL in 1984-85, Bill Cartwright's feet were betrayed by the burden of all he knew (in spite of all the minutes Len and Marvin saved Bill) and the Knicks lost a necessary voice in Ray Williams to free agency.
DeBusschere and Gulf and also Western decided to spend its own free agent cash on Pat Cummings, giving up a draft pick (that the Knicks most certainly would not have) later used to select Mark Price. Everything fell hard.
The rotations stayed strong, though, each Knick from 1984 through 1986 teams got to work double-figure minutes per game under Brown save for Butch Carter – the guard would later go on to file suit against an employee of the club for unrelated reasons.
The Knicks, under new general manager Scotty Stirling, let Brown go 16 games into 1986-87. Lead assistant Bob Hill was named replacement, as Stirling beamed:
"Bob Hill has clearly demonstrated his coaching abilities. That was very evident last June at the pre-draft conference in Chicago when his name surfaced in connection with several NBA head coaching positions."
Brown spent the next few decades working at coaching clinics, developing upon that fatwa against Bob Hill, and dedicating himself to broadcast work.
Hubie's 2002 return to coaching was a substantial shock. Brown was on nobody's radar save for Grizzlies general manager Jerry West, people didn't even know they were allowed to ask. Memphis and the NBA didn't exist a year and a half before Hubie came into town, and some would argue that this streak would last up until the moment of Brown's first full training camp in the fall of 2003.
Memphis was replete with former lottery picks but short on order. It took someone born 70 years earlier to get that the best way around inexperience is to strip it of its tearaway pants:
"The worst thing for young players, the worst thing, and I've been around since 1973," Brown said, "is they come in and they play 22 minutes tonight. The next game they come in, they don't even get in."
It helped that Hubie Brown considered anyone under the age of Louis Orr "young," and that the Grizzlies were full of a certain type of progeria. Each of the team's ten had certainly lived through some stuff, all Hubie did was let it back on the court.
The Grizzlies made the playoffs in 2004, the team was top-10 in pace and only the club with the league's best record (Indiana) caused more turnovers. Memphis won 50 games. All of this was out of nowhere, Pau Gasol led the roster at 31.5 minutes a night, a dozen more per game than the tenth man, 32-year old Bo Outlaw.
This didn't last, not because the Spurs swept Memphis out of that year's postseason, but because of generational differences. The format that worked so well for John Drew, Teddy McClain, and Bernard King would not scan with Jason Williams, James Posey, and Bonzi Wells. Not at their age.
"Hubie had like this Chinese fire drill rotation," Posey told Michael Wallace in 2017, "there was always substitutions. I see why he did it."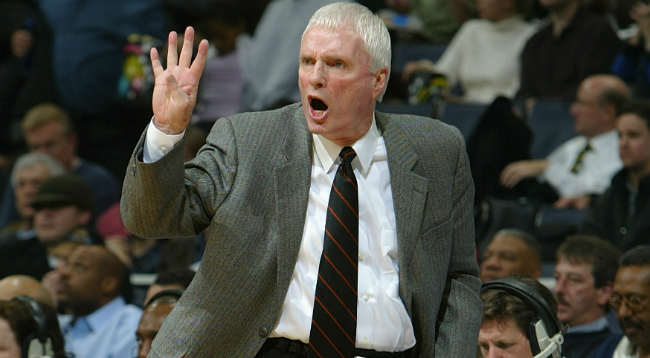 A second training camp was probably enough.
Brown and the Grizzlies parted ways 12 games into 2004-05, Memphis won five of those. Lionel Hollins stood in as a replacement through four contests before Mike Fratello was culled from Jerry West's list of club contacts to reformat a winner out of this lineup. By the time Gasol and Fratello's Grizzlies were swept from the postseason by Dallas in 2006, the big man was up over 39 minutes per game.
Posey and Williams were champions that year, though, off in Miami under Pat Riley.
Prior to 2005-06, with Brown's rotation out of the picture, Memphis was keen to swap discontented depth to the Heat for the 34-year old Eddie Jones and another playoff season for the low-lying Grizzlies. It was hard to argue with what was scratched out between club sandwiches and a 12.55555 percent tip, and an eventual five-team deal sent the pair to Shaq's awaiting arms.
Riley was on the sidelines again and despite a preponderance of available names on the Heat his table only included eight settings, 37-year-old Gary Payton just made the cut. Pat got his last coaching title out of it.
As soon as 2006's buzzer sounded in Miami's favor, a visiting Scottie Pippen skipped backstage to meet the champion Heat, meeting first with Posey as the swingman sat in front of his locker. The message Pippen whispered was meant to be shared in private, drowned out by the sound of three dozen men congratulating themselves on a championship well earned, but a reporter noticed the change in Posey as Scottie walked away.
Something in Posey's slim smile, the unmistakable look of a person made to feel even prouder about what he'd just accomplished. Posey was asked what Pippen left him with, and pressed for a quote, Posey struggled for words:
"He told me, 'way to know your role.'"
Posey coaches with the Cleveland Cavaliers now:
"You never know about guys," [Hubie] Brown said. "The players you think might become coaches don't become coaches for whatever reason. And then there are guys you just say, 'Unexpected' – and that's James Posey.

"But I see he has fit in perfectly, and I'm happy for his success on this journey. He's working his way through this. All you want to do, when someone opens the door for you, is to be ready to step through that door and produce."
Evolution is real, and the generation that Casey works with in Toronto is suited to walk through the door ten at a time. Casey is lucky to be able to unleash two high-usage All-Stars at the top of his order alongside youngsters eager to build upon their limitations, waves working underneath older players that are just happy for the blow.
Someday Casey might even call this team the best one he's ever coached, and he's probably gonna be right.
Kelly Dwyer produces The Second Arrangement, now featuring near-daily Behind the Boxscores in most episodes, at tsa.substack.com. New subscription plans start at $5 a month!