The Toronto Raptors will have a slightly new look and feel next season. On Monday, the organization unveiled a quartet of re-designed uniforms that pay homage to the franchise's Canadian roots. The new jerseys are in conjunction with the team's partnership with NBA 2K16, which already features Raptors players sporting their new duds.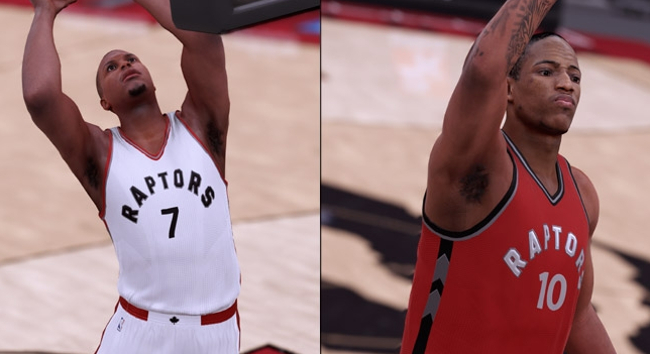 It isn't a complete sartorial overhaul, but it's definitely an improvement over the previous jerseys. Since the Grizzlies relocated from Vancouver to Memphis at the turn of the millennium, the Raptors have remained the sole team residing north of the border. As such, their "We The North" slogan is now stitched upside down around the waist hem of the new jerseys.
Here are a few more specifics about the colorways for both the home and away versions. Via NBA.com:
"The main colours will remain centred on Canada's national colours of red and white. Black and silver will continue to be used for trim on the home white and red road uniform. The club will also sport two alternate black uniforms. A version with red, silver and white trim will return, joined by a special alternate featuring gold and white trim."
A few other notable Canada-centric additions include a Maple Leaf – their national symbol – and the abbreviation "T.O.," both of which are stitched on the shorts. The "O" is represented by the Raptors' new logo, which is a basketball with a Raptor claw mark. One other minor change is that the players' names on the backs of the jerseys will now be arched instead of straight across. Lastly, the road unis will now say "Raptors" instead of "Toronto."
Drake, the team's Global Ambassador, took time out from his ongoing beef with Meek Mill to help debut the new-look jerseys during his performance at OVOFest at the Molson Canadian Amphitheater in Toronto Monday, wearing Corey Joseph's No. six uniform. Joseph is likewise a Toronto native.
(Via NBA.com and Toronto Raptors)