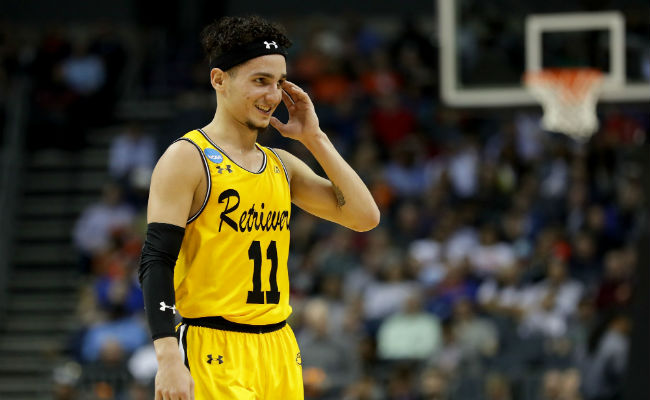 The UMBC Retrievers made history on Friday night, becoming the first No. 16 seed to ever knock off a No. 1 in the NCAA Men's Basketball Tournament. It also made a nation fall in love with a self-described "commuter" school's Twitter account in the process.
Playing in the Tournament as a 16 isn't always the most fun spot for a team that just days ago was thrilled to be in the tournament at all. But the Terriers — from the players to their fans and even the school's Twitter account — seemed to have the right idea as they faced Virginia on Friday night.
And as the game got going and UMBC kept pace with the Cavaliers, the Twitter account in particular made the most of it. Virginia and UMBC went to the half tied at 21 and the rest of college basketball twitter realized that @UMBCAthletics was absolutely on fire, answering confused fans and calling out media personalities that didn't give the team a chance of beating Virginia.

We'll start with the account's running interactions with Seth Davis, who declared the game over right at the tip.
As the game went on, they continued to chirp Davis, and for good reason. But Davis chirped right back.
This, however, only gave them further incentive to Go In, and so they did. Many times.
They didn't just trash talk Davis, though. In fact, the account would talk to just about anyone who mentioned them on Twitter.

For an account that had about 5,000 followers before the game started, they fit perfectly in Weird Basketball Twitter.
Seriously, tweets like this killed down the stretch.
All the attention did take its toll, though.

They also did a nice job of advertising the university itself.
Seems like a lovely place for some dogs to play basketball, honestly. And it was never even close, though the account did pause to realize the gravity of the moment as the lead stretched deep into double digits.
When the game went final, with UMBC toppling Virginia, 74-54, they got to troll Davis one more time.
Then they got to strut.
The win set up the first-ever 16/9 seed meeting in the men's tournament's second round. And it set up the Twitter account's chance to shine on Sunday, too.