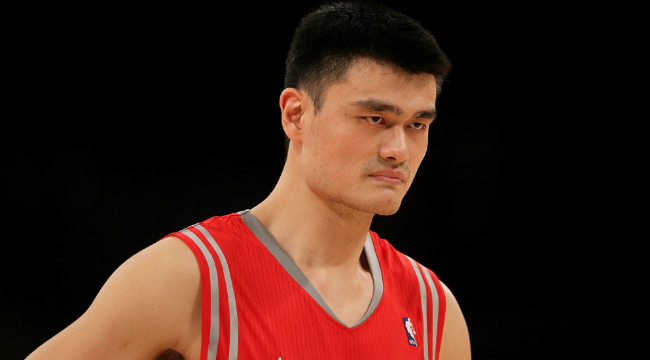 The story of the 2000 Summer Olympics in Sydney, one that will live on for as long as basketball exists, was Vince Carter dunking over France's Frederic Weis, a man standing 7-foot-2. It remains one of the most absurd dunks to ever happen, and is a constant reminder of what an absolute athletic marvel Carter was in his prime. As mind-blowing as that throwdown was, it turns out the members of Team USA were trying their hardest to dunk on another 7-footer that summer.
In a sit down with Yahoo Sports, Kevin Garnett said the entire team put a bounty on dunking over Yao Ming.
"First of all, people didn't know, we had a bounty out on Yao Ming," Garnett said after being asked about Carter's dunk on Weis. "The whole USA team had a bet. We had a million dollar bet on who was going to be the first person to dunk on Yao Ming. None of us did. We all tried to dunk on Yao, but he would block it or we would miss."

Ming had not made his NBA debut for the Houston Rockets in 2000, but the 7-foot-6 behemoth was a member of Team China for the first time in the 2000 Olympics. Kobe Bryant probably owns the most famous dunk over Ming when he did it in 2006, but Team USA was gunning for a viral video long before they existed on social media.
Garnett had dunking on Ming so firmly implanted in his brain that, for a moment, he thought Carter had won the bounty when he dunked on Weis, which you can see below.
"The first thing I thought of when I saw Vince dunk over Frederic was oh sh*t, you won the million dollars," Garnett said. "But then I realized it obviously wasn't Yao."
What could've been.