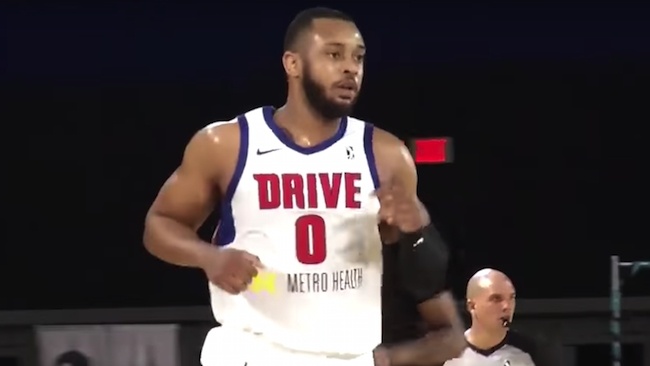 NBA G League forward Zeke Upshaw has died. The news of his passing came on Monday afternoon in a statement released by his mother, Jewel. Here is the full statement, which says that Upshaw "made his transition at 11:16 a.m." on Monday morning.
Upshaw was a 6'6 forward and a native of Chicago whose collegiate career began at Illinois State before he transferred to Hofstra. His professional career began in 2014, as he spent a few years abroad before joining the Grand Rapids Drive of the then-NBA D-League in 2016. During his career in the now-G League, he averaged 7.6 points and 2.63 rebounds per game.
On Saturday, Upshaw and the Drive were playing against the Long Island Nets. In the game's final minute, Upshaw collapsed and was taken to the hospital, where he stayed until his passing. The details of what happened are sparse, but in the immediate aftermath, the team said updates would be made out of respect for Upshaw and his family as more information became available.

It is a tragic loss, as is always the case when someone loses their life. Upshaw was also an aspirational figure for young basketball players in Chicago, as his former coach, Troy Caldwell, told MLive.com.
Caldwell called Upshaw "a historic figure" in the city for his play on the court and his leadership at Chicago Laboratory, a private, co-educational high school located on the south side near Hyde Park that was previously known more for academics than athletics.

Upshaw added basketball success to the list. As a 6-foot-6 junior, he averaged 24 points and 12 rebounds, was named Chicago's Independent School League's player of the year as a senior in 2008-09 and signed with Illinois State. He became the first student-athlete at the school to receive a Division I basketball scholarship, Caldwell said.
Upshaw was 26 years old.