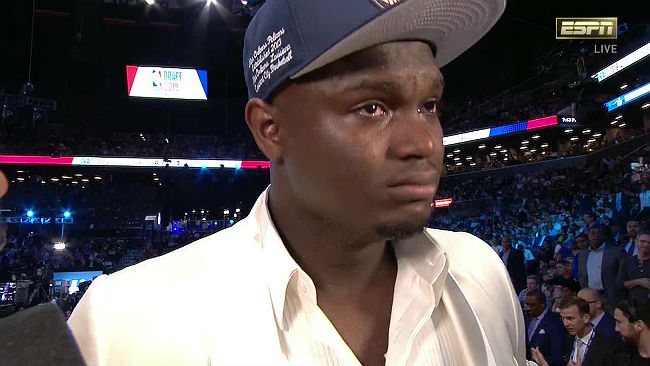 Zion Williamson knew for months that he would be the No. 1 overall pick in Thursday's NBA Draft. But all the preparation in the world can't prevent emotions from getting the better of you in major life moments. That was the case on Thursday, when Williamson was taken No. 1 overall by the New Orleans Pelicans at Barclays Center in Brooklyn.
Williamson's freshman season at Duke cemented his status as the best player in the draft, and the ping pong balls made his destination NOLA last month. But the journey Williamson took to No. 1 pick was anything but easy for Williamson and his mother, Sharonda Sampson.
Just moments after his name was called and he put on a Pelicans hat, Williamson broke down in an interview on ESPN when describing the sacrifices his mother made for him over the years.
https://twitter.com/gifdsports/status/1141855368164904968
"I don't know what to say," Zion said. "I didn't think I'd be in this position. My mom sacrificed a lot for me. I wouldn't be here without my mom. She did everything for me. I just want to thank her."
Williamson's mother coached him until he was 14, and the impact she had on his childhood, both in making him a better player and person, overwhelmed him in the moment.
"She put her dreams aside for mine," Williamson said, wiping away tears while his mother did the same. "She always looked out for her family before herself."
It was a touching start to an NBA Draft that featured a lot of obvious picks at the top. But no matter how ready you are for the NBA, draft night is special. And for Williamson and his family, it's something they'll never forget.