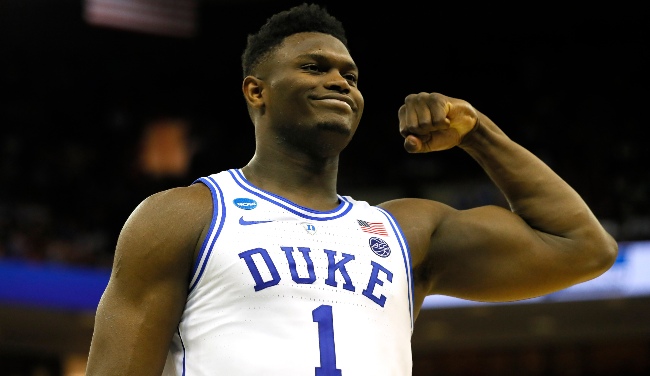 Many twists and turns are expected as the 2019 NBA Draft progresses but, since May 14, very little drama has been associated with the No. 1 overall pick. On that date, the New Orleans Pelicans encountered good fortune in the lottery and, with the top selection falling into David Griffin's lap, everyone (and I mean everyone) assumed that Duke star Zion Williamson would be heading to New Orleans for the foreseeable future.
Ultimately, that is exactly what transpired, as the Pelicans officially selected Williamson with the No. 1 pick.

Williamson was a wrecking ball at the college level, converting more than 70 percent of his field goal attempts and producing off-the-charts efficiency. Beyond that, his per-game averages (22.6 points, 8.9 rebounds, 2.1 steals, 1.8 blocks) were jarringly impressive and, when factoring in that his usage was somewhat diminished playing alongside fellow freshmen R.J. Barrett and Cam Reddish, Williamson's performance was even more staggering.
More than anything, the "debate" with Williamson seems to center on just how fantastic he will be in the NBA, rather than whether he was worthy of the top selection. In New Orleans, he will be surrounded by an intriguing cast of young players, with Brandon Ingram, Lonzo Ball and Josh Hart joining forces with Jrue Holiday and others. Williamson's ultimate upside will be intriguing to monitor but, with his combination of otherworldly athleticism, high-end motor and uber-elite college production, it is difficult to see a scenario in which he doesn't succeed at the pro level.
The rest of the NBA Draft, including the Pelicans' own decision with the No. 4 pick, will almost assuredly include spectacular drama and free agency awaits to provide even more entertainment in July. At the top of the 2019 draft, however, there was no mystery and that is an overwhelming credit to the talent, potential and star power of the new face of the Pelicans franchise in Zion Williamson.