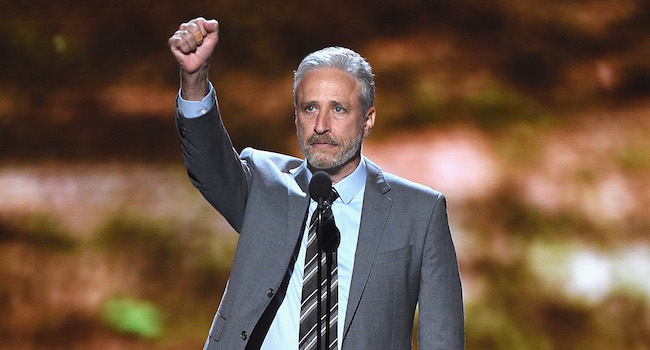 New York's a weird place, so few locals batted an eye at news today that two stray goats were spotted roaming around subway tracks in Brooklyn. If they got worked up over it, it was only because these two vermin may have made their horrifying daily commute somehow even worse. But it's how this story ends that makes it a tale worthy of the Big Apple: The goats were eventually rescued by Jon Stewart.
The story began Monday morning, with an atypically light-hearted post from the dreaded MTA's Twitter account.
The MTA said the goats were okay, scampering about a part of the N line around Fort Hamilton Parkway that's been under construction all summer. Still, they were too close for comfort to active lines, causing the MTA to delay the subway line for two hours while the NYPD and animal control officers got them to safety. They were shot with tranquilizer darts and carried out of harm's way.

https://twitter.com/NYPDTransit/status/1031615029244846080/
"We've seen cats and dogs but never goats," Captain Jonathan Bobin, of Transit District 34, told ABC7 in New York. "This is a new one here. … They were nervous and kept running from our personnel, but we were able to get them and take them off the tracks safely."
There's still no word on where they came from. "There are a number of meat markets in the area, so the theory is they could have come from one of those places," Bobin said. "But as of now, nobody has stepped forward to claim the goats."
Enter Jon Stewart. Shortly after retiring from his longtime Daily Show position in 2015, the comedian turned his 12-acre farm in New Jersey into a farm sanctuary for abused animals, from cows to sheep to turkeys to pigs to dogs. His wife, Tracey Stewart, even released a book about animals welfare called Do Unto Animals.
Stewart rescued the wayward goats personally, though he took them not to his own Jersey farm but to Farm Sanctuary in Watkins Glen, located in upstate New York. They now even have names: Billy and Willy. They say there are no second acts in American life, but Stewart's is one of the loveliest.