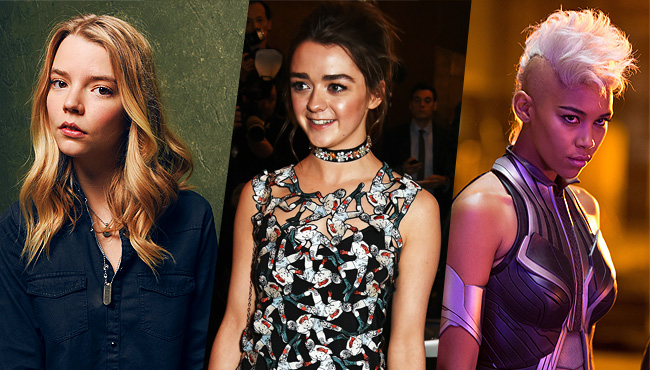 Early last year, it was announced that Fox would be expanding its X-Men movie empire with a spin-off featuring The New Mutants, but we haven't heard much about the project since then. Well, after a year of radio silence, some New Mutants casting info may have leaked courtesy of HitFix, and it seems like Fox is going in a refreshingly young, cool, female-centric direction with this one.
The biggest bit of rumored news, particularly for you Game of Thrones fanatics, is that Maisie Williams is apparently attached to play Wolfsbane, a Scottish mutant able to change into a werewolf at will. Also joining the team is Anya Taylor-Joy, star of the sleeper hit horror flick The Witch, who will stick to familiar territory as Magik, a powerful sorceress and sister to the X-Men's Colossus.
In addition to Williams and Taylor-Joy, it's expected James McAvoy will put in an appearance, and Alexandra Shipp will reprise her role as Storm. Dang, eat your hearts out, Avengers and Justice League. When it comes to superteams, New Mutants is clearly sitting at the cool kids table.
Created by Chris Claremont and Bob McLeod, The New Mutants were the teen scrubs of the X-Men family. Ethnically diverse and largely female focused, The New Mutants stood toe-to-toe with the main X-Men team in terms of popularity in the '80s, although their star has diminished since then. In addition to the characters listed above, HitFix claims Fox is also looking for folks to play Cannonball, Sunspot and Mirage.
The New Mutants is being direct by The Fault in our Stars helmer Josh Boone, and is expected to arrive sometime in 2018.
Update: According to The Nerdist, Fox is denying the casting rumors, but then studios often do that before things are set in stone. We'll see how this pans out.
(Via HitFix)