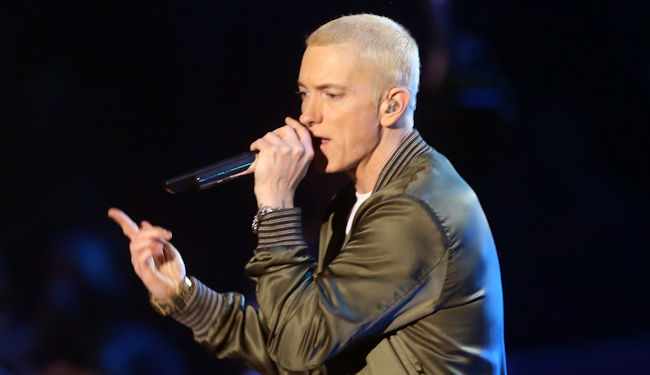 Big Sean's much anticipated new full-length I Decided released to retail overnight, which means fans were finally able to hear Eminem's even more anticipated guest spot on the track "No Favors." Sean Don was Marshall Mathers' biggest champion leading up to the project's release, heaping praise on fellow Detroit native. "Eminem was the only person I heard that could be on that song," he said during his recent interview with Zane Lowe. "It reminded me of why I fell in love with Eminem's work."
True to form, Em spits with the same fire in his belly that he's employed more in recent years, spitting out metaphors and similes at a fast pace. And it wouldn't be Shady if he didn't take aim at popular figures. With Donald Trump dominating the news cycle, it's only right that Slim should take lyrical jabs at the country's new president. He raps, "I'm anti, can't no government handle a commando, Your man don't want it, Trump's a b*tch, I'll make his whole brand go under (yeah)." Conservative commentator Ann Coutler ends up in the mix as well. Em threatens to defile her with a Klan poster in order to make an example of her on behalf of injustice victims Sandra Bland and Philando Castile.
Big Sean doesn't get swept away by Em. In fact, he actually makes a case for himself as having the stronger showing or having held his own at the very least. But, he publicly tipped his hat to the "Rap God" for blessing the track. "'No Favors' feels like back to back homeruns, you f*ckin destroyed this verse," he wrote on Twitter, "Thank you for blessing the album w/ this!"
Stream the full album below.