https://www.instagram.com/p/BV0Li5ohxRP/
Veteran rapper Remy Ma took home the award for Best Female Hip-Hop Artist last night — in a field that included longtime rival Nicki Minaj, Missy Elliott (who hadn't dropped an album within the last 12 months), and Young M.A. (same) — which leaves Cardi B as one of the only women who released a full project recently. While she did get to rock the after-party stage, and did a damn fine job as well, she deserved much more. Out of the nominees listed, she deserved that award the most.
She was the only hip-hop artist among the five nominees to have released a full length project in the year preceding nominations — at least one that wasn't a joint album that she only had half the verses on, like Platos O Plomos, Remy's collaboration with Fat Joe. (Meanwhile, Nicki used a verse on DJ Khaled's Grateful to show more disdain.)
Likewise, while M.A. has more overall Youtube views than Cardi on the videos for her freestyles than Cardi's songs, they are mostly built on samples of popularly known songs that are decades old in a genre that values historical impact at a premium. Filtering by views for the whole field of nominees, Missy, who is a 20 year veteran of the rap game, has more views than Cardi as well — but the majority of the songs are nearly 2 decades old as well.
Speaking of filtering for views, Remy's music won't even appear on the first page of search results for her name unless filtered by views, which says that more of her popularity of late is based on drama and messy interviews where she disses Nicki Minaj for … being too big and not giving her a handout, maybe? Does anyone know why they're beefing in the first place?
That might be the saddest part of Remy's win: That it was ultimately not about her earning the award, but the awards show producers taking the award away from Nicki in order to stir up the pot. The music had so little to do with the results, they may as well have rolled out the steel cage and locked the 2 divas inside with a referee.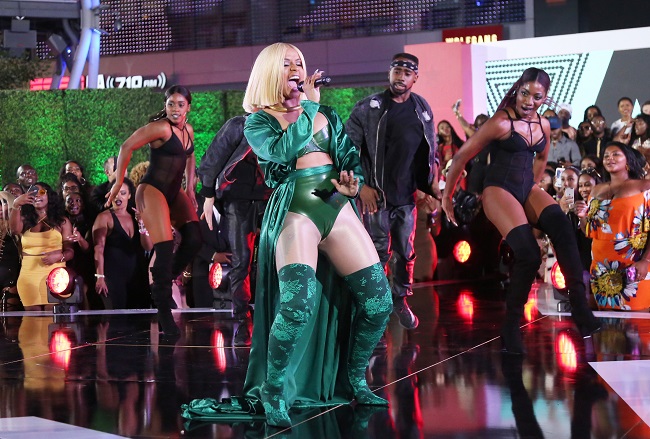 At least if Cardi wins, theaAwards show can legitimately say that they looked at the talent on display and their respective accomplishments for the year, and took a jab at picking the best. Even if M.A. won (again, she never dropped a full length project in the last year, not counting HERstory, which debuted in April, too close to the nomination announcements to have been taken into consideration), they could say they picked the best rapper, as she is technically more skilled than Cardi at the moment, despite Cardi being way more entertaining as a performer, as the videos show.
Instead, we got the latest rehash of Nicki vs. Remy, Round 437, while Cardi is left without her proper recognition. But with a growing list of accomplishments to her name, including an Atlantic Records deal, a nod from rap royalty Lil Kim, and a cover for The Fader's Summer Music issue, don't be surprised if she's the one in 2018, saying "I told you so." No drama needed, and no frauds either.
Videos for the performance can be viewed up top and down below.