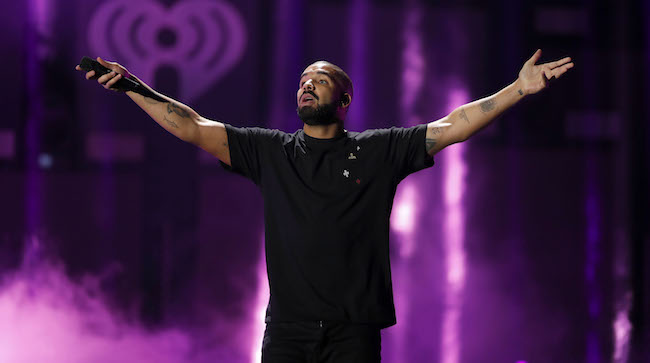 Drake hears the people talking. He just doesn't seem too concerned about it all.
Fresh off the release of his diss song "Two Birds, One Stone," Drake decided to let his Twitter fingers do the talking in response to rap fans dissecting the track. He's one of those artist who is in tune with what the chatter is online so there's no doubt he's read the critiques of him "bullying" Kid Cudi and setting himself up for the rap version of Hell in a Cell with Pusha T. What's shocking is Wheelchair Drizzy isn't backing down on what he said in those bars.
The "Hotline Bling" rapper was found on Instagram replying to commenters who expressed their displeasure with his decision to take jabs at Cudi. "Used to have a little respect left for you after finding out you have a ghostwrite, but dissing Kid Cudi is going too far. F-ck you, man," wrote one commenter.
Drake decided to reply in his own defense, supposedly saying "man needs to stop mentioning my name when they get geeked [okay] supposed to be all love out here word to my bro Pablo [Kanye West].
Things didn't end there as he also went right back at another user who made the remark "Pusha is going to wax you." Normally, most rappers today throw stones and then hide their hands. Not Drake, not now. He doubled down by replying "they know how I'm rockin."
Of course, DJ Akademiks caught both comments for posterity. Granted, we can't confirm the authenticity of the comments. Drake's famous so he probably has one of his weed carriers manning his Insta account or it what we're looking at could be an illusion created by Photoshop. Who knows. But if it's really Drake, this could be one of the best heel turns rap's seen this year.
Drake's at the top. He doesn't need the promo as he heads into the release of More Life. He doesn't need to show that he can dismantle another MC because he's already done that with Meek Mill. Let's just put Cudi on injured reserve status for now and leave him out of the equation and say that it looks like he wants to take on Pusha T and anyone else who's challenging him. He doesn't need to do that.
He wants to.
Right now, he can do no wrong in the eyes of the loyalists who make up his core fanbase. Sort of like those people still voting for Trump. The man's been snuffed by Puff, supposedly gotten peed on and he was called out for using ghostwriters, all of which go against what's accepted in the machismo-driven world of rap. And he's still standing. Stronger than ever in fact. It's all enough to make him feel completely invincible.
The scary part is he just may be unbeatable for now, which will have him reigning over rap for the foreseeable future.