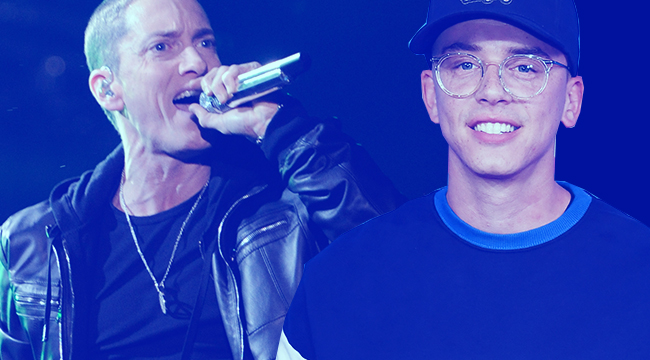 There are likely already more than enough jokes out there about Eminem and Logic's hotly anticipated collaborative single, "Homicide," by now. Although I didn't really enjoy the song as much as either rapper's hardcore fans, I have zero intention of piling on — there's no point, and the song's insane popularity wouldn't be affected either way. It's already shot to the top of the streaming charts, hitting the No. 1 spot on iTunes and Spotify's US Top 50. It will likely debut near the top of Billboard's Hot 100 next week, as well. It is, by most measures, a resounding success.
However, there's one standard by which the two rappers fall short, and ironically, it's the one on which they build the entire song's concept around. If there's a bar that sums up the thesis and motivation of their high-velocity raps throughout the song, it's this one from Logic's second verse:
"I got b*tches, I got hoes, I got rare designer clothes
No, we ain't f*ckin' with that
Yeah, there's a time and a place
But if you ain't comin' with the illest of raps
Callin' yourself the greatest alive
Then you don't deserve to do that"
The — ahem — logic of this argument is flawed, as is the line of questioning Logic presents in his first verse. "I'm tired of all of this high school, 'he's cool, he's not rap sh*t,'" he laments, before asking, "Can a single one of you motherf*ckers even rap? Sh*t."
It's an age-old argument in rap fan circles, this idea that "nobody in rap is concerned about rapping well anymore." It's also total nonsense and the basis for why "Homicide" and songs like it have been so poorly received from many quarters of rap's massive, diverse fanbase.
The reason the "nobody raps anymore" raps bother people is that it's obvious that there are actually plenty of rappers who rap very well and that the approach is still very commercially viable. Just within the last two months, J. Cole released "Middle Child," and YBN Cordae, a dozen years his junior, spazzed out lyrically on "Have Mercy." The complex, multi-layered, wordplay-riddled bars that Eminem's fans claim are in short supply in rap are everywhere and you don't even have to look for them.
Those fans — and Eminem and Logic — tend to focus on a few singles or even lines within those singles that magnify material wealth or sexual fantasies, without ever expanding on why those types of songs appeal to listeners, or why those items might be significant to underprivileged rappers who come from impoverished upbringings to eventually earn the ability to acquire those symbols of wealth.
The attitude that those types of bars aren't worthy also undercuts the fact that those rappers often describe their rags-to-riches narratives in detail elsewhere on their albums or even on the same songs. For instance, 2 Chainz's lead single from Rap Or Go To The League was "Girl's Best Friend" which was about buying diamonds for a lady friend, but the album itself starts off with a four-song sequence detailing traumatic events — the death of his close friend Lil Fate's son, Chainz's own drug-dealing past, and the years of work it took to build his music career — that equal Eminem or Logic's own harrowing life stories. 21 Savage's standout single "A Lot" from his recent album I Am Greater Than I Was does the same, in the course of the two verses he splits with J. Cole — one of which may even have prompted retaliation from the US government.
The idea that Eminem and Logic must "save" hip-hop from itself is not only laughable, but it's also obnoxious, not to mention impossible. Hip-hop doesn't need to be "saved" and certainly not from a pair of rappers with dubious connections to the music's roots at best. The false dichotomy of "lyrical rap" vs. "mumble rap," or "real hip-hop" against everything else becomes even more suspect when considering that the mumble rap, superficial tag generally gets applied to mostly Black, southern rappers from poor upbringings by privileged fans whose experiences are widely separated from those of the rappers they criticize, making rap elitism look a lot like classism and racism with very little effort.
If the song's thesis that only hypercomplex, "lyrical" rap is worthwhile is refuted by the autobiographical nature of some of the most popular rap itself, Logic's question, "Can a single one of you motherf*ckers even rap" is even easier to answer. Just one week prior to the release of "Homicide," independent rap titan Tech N9ne released N9na, his twenty-first studio album since 1999 — the same year Eminem debuted in the mainstream with The Slim Shady LP. Bun B, the Texas rap pioneer who first debuted in 1992 with UGK's Too Hard To Swallow, released TrillStatik, his collaborative album with producer Statik Selektah, just two weeks ago. It's packed to the brim with motherf*ckers who can, indeed, rap. Since late in 2018, projects from JID, Boogie, Dreezy, G Herbo, Czarface, Blu, Choosey, Quelle Chris, Yelawolf, and Schoolboy Q have cropped up, all lyrically focused, some from artists on Eminem's own label.
The last thing that undermines the "Homicide" mission to prove lyrical rap superior is just what passes for lyrical rap on the song itself. For the last four bars of Logic's first verse, he merely repeats that he's "killing this sh*t" as if the mere act of repetition could make it true. Meanwhile, Eminem's verse contains this missive: "Big bills like a platypus / A caterpillar's comin' to get the cannabis / I'm lookin' for the smoke but you motherf*ckers are scatterin' / Batterin' everything and I've had it with the inadequate…" which rhymes, yes, but doesn't actually mean anything or make much sense, besides containing perhaps the corniest rap dad joke of the last 10 years.
"Lyrical" rap isn't any more inherently valuable to hip-hop than any other variety. Yes, it's necessary, but so is melodic, sing-song rap that speaks to the need to escape life's problems, or gritty, autobiographical rap that highlights the various problems of America and "the hood," even if they aren't so well-spoken or articulate as to casually throw out references to platypuses. And there's still plenty of lyrical rap to go around. Hopefully, the only thing "Homicide" ultimately kills is the false rhetoric that sets up some rappers as pinnacles of the craft while undervaluing all the other elements that makes hip-hop truly great.