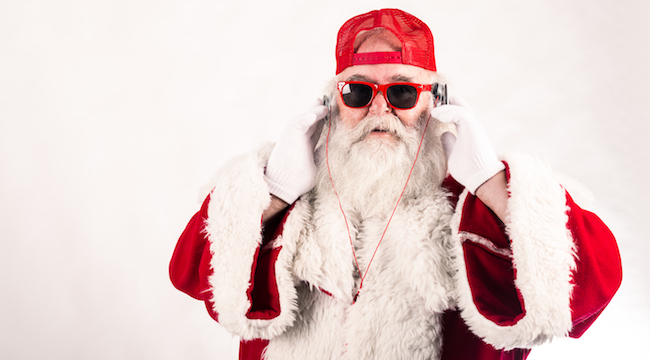 It's that time of the year again. Time to get the people you actually like gifts for the various holidays in the next month and some change and if you're here, chances are you're a hip-hop fan and they are too. Hip-hop gifts can be a hard buy, and expensive, but if you've got some change this guide should help point you in the right direction. And if you have plenty to splurge, well, there's some stuff in there for you as well.
A Classic Album On Vinyl
An album is almost too easy, and you can bet new work from Drake, A Tribe Called Quest, Gucci Mane and a host of others with fourth quarter albums will be under plenty of trees come Christmas. But if you want to do a little more, since music is basically free and almost too abundant nowadays, you might want to try the vinyl route. Most people won't play them, but they do make for nice decor for any room in someone's house. Numerous vinyls from legends like Jay Z, Nas, Tupac and others, as well as new school favorites like Kendrick Lamar, Drake, Rae Sremmurd, Young Thug and more are available for various prices at Fat Beats here.
Mac Dre As Andre Macassi Bobblehead Doll
You got a Bay Area friend who pledges allegiance to the Nation of Thizzlam and its leader Mac Dre? Well, here's the perfect gift for you, the Mac Dre bobblehead doll. Depicting Dre in his outfit from his joint album with fellow Bay legend Mac Mal, Da U.S. Open it's a perfect collectors item for any Bay Area rap fan. The Mac Dre as Andre Macassi bobblehead is available for $20.99 through Thizz Ent. on Amazon here.
The Chance The Rapper Coloring Book Coloring Book
Chance The Rapper is everybody's favorite rapper these days, and if you know somebody that's a fan the Coloring Book, um, coloring book might be the way to go. Created by The Interns, the book features a page for all 14 tracks on the album and works for an individual gift or a White Elephant present if you have a bunch of cool friends. The best part? It's free. With a little added flair and some effort the Coloring Book coloring book can be printed here and you can get all your extras to make it special at places like Hobby Lobby or Staples.
Marvel: The Hip-Hop Covers Vol. 1
Everybody loves the hip-hop infused Marvel variant covers for its various comic books. They've tapped into everything from Eric B and Rakim to Nicki Minaj and the covers have been a hit. Well, now instead of tracking down each variant for your special comic/rap fan you can grab them Marvel: The Hip-Hop Covers Vol. 1, a collection of 70 comic-book covers inspired by some of the most iconic albums in music history. The hardcover copy of Marvel: The Hip-Hop Covers Vol. 1 can be purchased for $31.01 at Amazon here.
RAPFAN x Run The Jewels DJ T-shirt
Our friend DJ Trackstar not only serves as the DJ for Run The Jewels, but he also has a dope brand in Rap Fan. He's been churning out gear and memorabilia for some time now and his collab tee with RTJ would be the perfect holiday gift or stocking stuffer for your favorite RTJ fan. As a bonus, Track tosses in a bonus mixtape of your choice with each order, so you get two gifts for the price of one. Cop the shirt for just $20 at the Rap Fan store here.
DJ Cat Scratching Pad
You have a friend or family member with a cat who just loves them some hip-hop and scratching? Well, this is exactly what you need, a specially designed scratch pad for a cat with a turntable. Amazing. You can grab the DJ Cat Scratching Pad for your favorite hip-hop enthusiast and their kitty for $19.99 (down from its $35 regular price) on Amazon here.
Adidas Originals YEEZY Boost 350 V2
#YEEZYBOOST 350 V2 by @KanyeWest. Launching globally in red, copper and green on November 23rd. pic.twitter.com/LoSlHZktIq

— adidas Originals (@adidasoriginals) November 18, 2016
Everybody wants Yeezys, even after his latest stunts. And with Kanye's Saint Pablo tour being canceled, this may be the most you can get from Kanye for a long time. You can splurge on an older pair, either from Nike or Adidas on Flight Club or you can try your best to cop the newest release, the 350 V2s. Those retail for $220 but if you're not lucky enough to snag them from adidas via their Confirmed app or a retailer be ready to spend closer to $1000 on the secondary market.
Breezy Excursion's 'Hyphy Veteran' Gear
For the Hyphy enthusiast out there you can give them a chance to rep for the Bay and their favorite sub-genre of Hip-Hop with Breezy Excursion's dope collection of Hyphy Veteran gear. The San Jose, CA based brand has a ton of hip-hop based gear in their shop, including a No Limit tee and a Death Row tee that would all make for great gifts. But the Hyphy Veteran gear is part of an entire collection so it comes with more options than just a standard T-shirt. The Breezy Excursion "Hyphy Veteran" tee, hoody and hat are available at Breezy's online shop here ranging from $32 to $70.
Funko Pop! Tupac Shakur Vinyl Figure
Everybody loves a Funko Pop! doll, be it for their desk at work, a mantle at home or just about anywhere where something can be displayed. There are plenty of hip-hop figures to come from the company but the best one would have to be the Tupac Funko. The Tupac figurines have been discontinued and vaulted, and are extremely rare, but you can dig deep and splurge on one for $400 on Amazon here.
Shea Serrano's The Rap Yearbook
Shea Serrano may be the best tweeter alive, but he's also an amazing writer and that has never been more apparent than in his book, The Rap Year Book: The Most Important Rap Song From Every Year Since 1979, Discussed, Debated, and Deconstructed. There, Shea did exactly what the title says, he delved into the most important rap song from the past 25 years. Couple Shea's engrossing writing and incredible illustrations from Arturo Torres and you have a gift every hip-hop fan would love. That is, if they don't have it already. The best part is the book is on sale for just $12.88 on Amazon here.
Dynex™ – 10-Pack 52x CD-R Discs with Jewel Cases
This is probably the best gift possible. For just $10 you can give someone the gift of music. And since tis the season of "it's the thought that counts," with a little bit of thought this can be the best gift imaginable. A specialized mixtape for a friend, partner or loved one? With added sentimental value and even a snazzy cover and tracklist if you want to really put in some effort? It doesn't get any better than that. Just make sure they still have one of those ancient nearly extinct CD players to play this thing on. Get a pack of Dynex blank CDs and jewel cases at BestBuy here.
For a look at more must-have gifts this holiday season, take a look at our other guides.