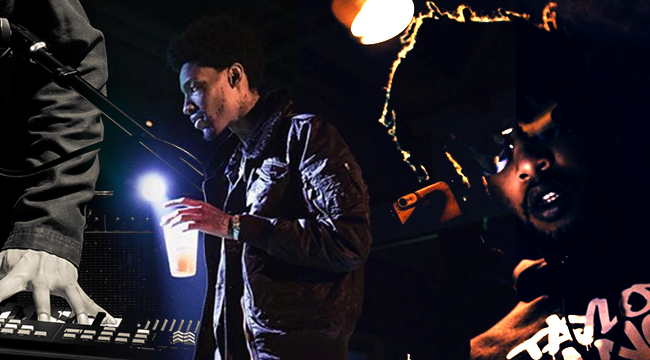 He's not a household name, but DJ Burn One was one of the primary producers of ASAP Rocky's LiveLoveA$AP, a modern classic that helped shape hip-hop's new school. Similarly, Atlanta DJ and producer TM88 crafted "XO Tour Lif3," a triple-platinum smash that was inescapable last year. Their music helped hip-hop become the biggest genre in the world. So what did Burn One and TM88 get for their contributions? Short-changed.
Unfortunately, they're both victims of a reported new practice among major labels — categorizing albums as mixtapes or "street albums" in order to avoid paying producers the full rate they would have to for studio albums, or paying them at all. The practice was first exposed by ID Labs producer E. Dan last week and since then, more producers have come forward with similar experiences, including Marvel Alexander and Snugsworth, who produced the monstrous smash "Shabba" for ASAP Ferg, among others. The sad reality is that if history has shown anything, it's that record labels are probably always going to be thinking of their own bottom line, even at the expense of artists. So what's the only way producers can offset shady label execs and artists with convenient amnesia? Unionizing.
Super-producer Sonny Digital first proposed the idea last year. He's become an outspoken advocate for producer rights in an industry that collectively takes beatsmiths for granted. In an infamous recent interview clip, French Montana forgot who produced his "Unforgettable" smash (it was Indiana production crew 1 Mind); producer Bangladesh sued Cash Money to get payment for Lil Wayne's "A Milli"; Jim Jonsin also sued Cash Money for unpaid wages for "Lollipop." Those are the two songs that helped Lil Wayne go platinum in a week and become a music superstar, yet the producers behind them couldn't even get their due from a label that calls literally calls themselves Cash Money.
Producer team J.U.S.T.I.C.E league noted that "all labels do it to Black music." And it's not just label executives trying to get over — rappers are too. Without that 808 knock, most so-called "Soundcloud rappers" would be in school or working at clothing boutiques instead of touring the country performing. Unfortunately, though, the Twitter account @ToCatchASCRapper exposes producers getting stiffed every day by their fellow artists — some of whom are getting the short end from their own labels. They've also caught producers getting over on rappers, which is no better. It's a vicious, dog-eat-dog cycle born of a predacious music industry.
There's a stark history of artists being shortchanged for their efforts — and unfortunately, many of those artists are people of color. However, there are options for exploited artists, just like workers in any industry. When confronted with disenfranchisement oppressive conditions, workers in America have always had the option to unite and leverage their collective strength and that has to be the next step for producers to get their fair share.
The latest available figures show that the music industry made $15.7 billion internationally and the RIAA made $7.6 billion domestically in 2016. To compare, the movie industry grossed $11.3 billion at the box office in 2016. The movie industry has unions for everyone from actors to writers to post-production editors. What do those unions do when they feel like they're being shortchanged by studios? They strike.
In 2007, the Screen Writer's Guild went up against the Alliance of Motion Picture and Television Producers which included CBS, MGM, NBC/Universal, and pretty much every other major tv/film producer you could think of. They wanted better compensation and refused to work until they got it. Their 100-day strike cost the industry a figure speculated to be as much as $2.5 billion. The writers made their mark, and now there's an expectation of what rates they can expect to make. The idea of Dick Wolf ghosting a Law & Order writer for months or asking them to write a free episode to "pay dues" sounds laughable, but yet that's what the producers who shape the music industry have to deal with.
Music producers — specifically hip-hop producers — have to set the same precedent as the Hollywood unions. Artists and labels are constantly evolving their money-grubbing tactics for one reason: Because they can get away with it. If Atlantic had to face the specter of a union full of hitmakers like Metro Boomin, TM88, and Timbaland refusing to give Cardi B or Uzi beats because of their shady practices, you can bet they would be straight-up with producers. If an upcoming rapper came up trying to gank producers on beats, that union could stop their whole wave by refusing to work with them until they compensated fairly.
America is built on capitalism, and capitalism is devoid of morality. Most strides made within this system aren't achieved by pleading for empathy by those running the system but controlling their actions via their pockets. Look at how the NFL's lower ratings in the wake of player protests made owners at least meet with the players' union and hear them out. Producers have to band together and collectively create that same sort of energy.
While angry tweetstorms may be temporarily cathartic — and entertaining — they don't do anything to stop labels and artists from jerking producers. As Burn One tweeted, it's a matter of the right producers speaking with legal minds who have expertise in developing unions and devising the parameters to hold outside entities accountable. Hip-hop is a big business which can no longer subsist on dap agreements and flawed concepts like "looks" and "paid dues," it is a multi-million dollar industry that now requires ironclad contracts clearly defining how much a producer will be paid, when they will be paid, and the consequences for nonpayment.
There is already an American Federation of Musicians, which is a grassroots organization that works to "[raise] standards for freelance musicians through organizing, collective action, and education," as they state on their official site. Their Fair Trade Music campaign works with venues in cities throughout the country to make sure their members, predominantly instrumentalists who license their music to TV, film, and radio, receive equitable treatment.
In theory, it wouldn't take much for producers with the time and cash flow to reach out to their leadership and figure out a premise for developing a similar union just for them. The problem is that most of the producers with the bankroll and industry cachet to help a union may not see the feasibility because they personally have no problem getting paid. It seems to be a major barrier, but Burn One says he's aiming to talk to legal experts about what needs to be done.
Not only can a union help producers get fair compensation, they can help producers improve their craft with mixing/mastering lessons, find healthcare, potentially get travel discounts for studio sessions, and discounts on equipment and other services common with many labor unions.
Hopefully, by the time 2018 comes to a close and we have a fresh roundup of best music lists, we don't have to wonder if the artists who provide the soundscapes received compensation. They don't deserve the circumstance of, as Burn One put it, having to "eat shit while [recording artists] tour off our records." They don't deserve to see artists vault to the stratosphere from their work and have to fight to get a dime like Bangladesh did with "A Milli." A producer's union will protect them and ensure they come up financially just like everyone else benefitting from their labor.