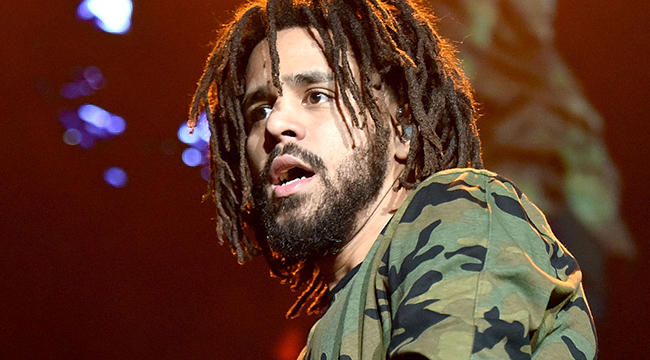 In a world where seemingly everyone claims to live life on their own terms, J. Cole actually does. It's not just his devotion to traditionalist hip-hop in a world of trendy, trap-based rap or his laissez visual aesthetic that make me feel that way, it's also his unpredictable nature. There's the hour-long, generational gap-bridging conversation he held with Lil Pump in which they seemed to genuinely bond. There's the seemingly random video where he spoke to controversial hip-hop gatekeeper Adam22 in his bike shop about religion and the now-deceased XXXTentacion's talent. There's also his 2014 offer to visit a random fan in Dallas and play her his then-unreleased Forest Hills Drive album.
True to his nomadic nature, Cole happened to run into up-and-coming Brooklyn rapper Saloman Faye while idly walking alone through New York's West Village, and they kindled an artistic kinship that resulted in one of Cole's few 2017 appearances on Faye's "Live And Learn." In May, Cole announced a pop-up impromptu concert in New York where his fans could preview his then-upcoming KOD album for free — which he abruptly announced was coming in three days. It's moments like those, along with affirmatory anthems like "Crooked Smile" and "Love Yourz" that have won the platinum-selling artist his devout fan base.
Uproxx hip-hop editor Aaron Williams noted that after criticizing what he deemed KOD's shortsighted analysis of the youth's drug culture, he was swarmed on Twitter with critiques from Cole's fans telling him how wrong he was. Cole has earned a sizable following which Complex recently described as as "the fanbase every artist needs" due to their devotion and avid defense of his every maneuver.
Those fans have helped him consistently sell out national and international tours and recently earn his 4th Billboard number one album with KOD. Billboard reports that the physical sales numbers for KOD dwarf that of many big-ticket 2018 albums. The project also broke a Spotify streams record (since shattered by Drake), which is a testament to his fans' commitment — and the possibility of succeeding without the need to stir publicity, even with a surprise release.
His fans' fervent adulation also stems from charitable gestures like a vow to turn his former childhood home into a shelter for victims of domestic violence. This February, he donated $10,000 to a Baltimore organization while matching Colin Kaepernick's charity pledge to donate $1,000,000 to charities serving oppressed communities across the United States. It's those good deeds, compounded with contemplative, vulnerable albums and cogent analysis of social ills like cultural appropriation on "Firing Squad" and police brutality on "Be Free," that have garnered him the distinction that UK Media outlet Capital Xtra bestowed as "the realest rapper out there." If abusive artists, cultural appropriators, and politically corrosive figures like Kanye West are who hip-hop fans are exhausted with, Cole's presence represents their antithesis.
Perhaps his status as a cultural unicorn is why he's been vocal in the past about moments of disenchantment with the music industry and the nefarious, self-centered figures within it. He told The New York Times in 2017 that while "any reasonable person would be ecstatic," about his rising stature in hip-hop, "I didn't have that feeling." On early hit "Love Yourz," he noted, "It's beauty in the struggle, ugliness in the success."
On "False Prophets," he criticized his friend Wale for being ungrateful about his achievements and Kanye West for being an "out of control" egomaniac. "Rich N—-s" is a diatribe against the corporate greed that challenged his devotion to hip-hop, with a reference to The Soul Of Anna Klein novel on the hook; the 1977 book is about a woman who needs brain surgery to live, but must sell her soul to receive the surgery. For an artist who admitted regretting the conception of his first big single "Work Out" on the lamentful "Let Nas Down," the allusion was ripe.
"You got what I want, I got what you need / How much for your soul, Anna," he rhymes on the Born Sinner track. He also informs a nameless corporate suit that he "saw through you and it made me ashamed that I played the game." The track was released in 2013; since then, he hasn't appeared to consume himself with the figurative "game" of industry politics.
With NBA and Sprite campaigns in tow, Cole has still enjoyed the trappings of multi-platinum success — but he's also dictated his rules of engagement. At a 2013 concert, he held up a handwritten sign saying "F*ck The Grammys," demarcating himself from artists who recognize the entrenched institution as a credible arbiter of hip-hop quality. He's long been one of the most reclusive artists in the game, rarely collaborating with other artists — and completing his last two albums with no rap features.
His scarce, solitary musical presence not only lends him an air of mystique, it sustains a tremendous demand among his fans. Even still, when he told concertgoers at the 2016 Meadows Fest that he wouldn't be touring for "a very long time" and stepped back from the game, those fans didn't revolt against his vow of reclusion, but reverently accepted it, exemplifying the understanding they seem to share. His confessional catalog and universally appreciable image as a college graduate seeking professional solace have elicited him a level of esteem and goodwill that many hip-hop artists don't have.
But even with those considerable achievements and a refreshing apathy for being at the forefront of the hip-hop consciousness, he remains there for polarizing reasons. The Ringer recently contended that his sound exists in an inconsequential "neither Boring or Bold" netherworld, but so many hip-hop fans strongly argue that he's either one or the other. Many of those who use pejorative phrases like "Audio Nyquil" resent his calm delivery and affinity for understated productions that can bleed into each other and elicit a monotonous listening experience. There's also fans who agree with Williams that he isn't the cultural critic that he or his fans portray him to be with "condescending" efforts like KOD. Those are fair, entirely subjective critiques. For his part, Cole has said that he would "never" let those "boring" critiques affect his musical approach.
Cole is probably just as indifferent about Generation Z listeners who shun him, not because of legitimate vitriol, but because of disdain for other people who extol him. For instance, the legendary producer Pete Rock is a chief proponent of the belief that there is "no substance" in modern mainstream hip-hop. But Cole has earned a status among hip-hop purists like Rock as one of the few beacons of neo-traditionalism, with a penchant for jazzy reimaginings of hip-hop classics and a dearth of "turn up" bangers on his albums.
Lil Pump, one of hip-hop traditionalists favorite targets, made an unprovoked diss entitled "F*ck J Cole" in 2016 and his fans embraced the incendiary phrase on social media and at concerts. But even Pump and those fans who were yelling it weren't doing so out of actual malice for Cole. Smokepurrp told Genius that "nowadays everything is kind of a troll, so people know [our 'f*ck J. Cole' tweets are] trolling, but if you don't, we don't care." It's the same sentiment Lil Yachty used when explaining his pre-fame "F*ck Cole" tweets. "I don't know why," he said. "I was young. I have nothing against J. Cole, I was just talking sh*t, trolling." True to Lil Wayne's "f*ck (insert name) and anybody that love him" gripe toward Pusha T, Cole has become collateral damage in hip-hop's generational war in part because of transitive property.
For Pump, screaming "F*ck J. Cole" wasn't a declaration of war against Cole, but against who and what he thinks the Dreamville rapper represents — in the vein of Public Enemy's Chuck D screaming "f*ck (Elvis) and John Wayne" on "Fight The Power" as a rejection of the American establishment. That ill-advised, since-squashed campaign was born out of resentment not just for hip-hop OGs, but for the kind of Cole supporters who sustain an oft-tweeted adage that his music requires a "certain level of intelligence" to enjoy. It's a proclamation not only ripe for ridicule but insulting to those who don't exactly consider "do you like J. Cole's music?" an apt application question for entry into an Ivy League institution.
That said, of all the conceivable sins a rapper may commit in 2018, galvanizing people to feel a personal connection has to be the lowest thing on anyone's list. Cole has a knack for utilizing his personal narratives as the foil for resonant social analysis, and relating to millions of Millennials while doing so. Which is why A Tribe Called Quest championed him as an "extension of instinctual soul" (along with Kendrick Lamar, Joey Badass and Earl Sweatshirt) on 2016's "Dis Generation."
Cole isn't just an artist who rhymes about social change, he's gone the extra mile to be the change he wants to see in the world with measures like his aforementioned charity and Dreamville Foundation. He's not content to merely be an analyst of culture, instead shifting what hip-hop culture thinks might be possible with all his own as a trend-bucking and bridge-building. He's an artist who's content to have his music flourish outside the dominion of the major label orbit — yet still does numbers akin to rap's major players.
Glorification of drug culture in hip-hop has been a hot-button topic, but a hoard of new opiate-romanticizing rappers and the death of Lil Peep pushed debate about the issue to a fever pitch. J. Cole braced the issue head-on with KOD, which risked ridicule from young rappers, their hoards of fans, and scrutinizing hip-hop critics. After also meeting with Lil Pump, despite his very public diss, Cole proved that he wasn't merely being opportunistic or condescending, but that he was legitimately concerned with the plight of his young peers. Those developments don't mean that anyone has to enjoy his music, but they're why the attention-starved social media sphere's slander at his expense doesn't always seem warranted. His ravenous fans may rankle many, but that isn't his fault — and he's gone to great lengths to simply drop his music and go.
Beyond KOD, the biggest albums of 2018 have all been a testament to the cult of celebrity. Drake's album cycle was defined by beef with GOOD Music and invasive speculation about his child. Kanye West alienated millions of his fans with his unabashed support for Trump and warped summation that "slavery was a choice" on TMZ. Beyonce and Jay-Z's surprise Everything Is Love album was a spectacle on social media in part just because the power couple "did a thing." Migos attempted to make the Culture II launch an event, and it initially was despite the album's lack of staying power.
Meanwhile, J. Cole simply announced KOD, released it days later, and after dropping videos for the project, he's left the scene again to continue his life not as a consumable element of pop culture, but as an inquisitive artist in a world teeming with subject matter. Sure, Cole's vast fanbase affords him the luxury to do that, but he gained his fanbase with that same humility he shows today, not with beef or bombast.
While hip-hop speculates on whether KOD was a definitive examination of Generation Z's drug-fueled nihilism, he's already satisfied with his effort. He told Angie Martinez that fans have contacted him to let them know that they had abstained from drugs and began reckoning with drug addiction of their family members after listening to KOD. He told Angie "that type of stuff is making it for me, and in those moments, I remember: That's my hope, that's my intention."
At the root of J. Cole's craft is an artist's urge to unfurl their deepest ruminations onto the canvas, to shed light and hope it shines on others. His brand of hip-hop was passed down from Nas, scribbling in the project window, to him, writing in his Fayetteville bedroom, and onto the next young rhymer scribbling their contemplations on a page, hoping that the rhymes can one day pay their bills — or achieve even more. Luckily for Cole, his fans, and hip-hop — whether we all know it or not — he's stayed true to that ethos and become immensely successful for it, proving not only that lyricists can thrive, but that it's possible to do so without losing yourself in the process.
Cole once noted that he'd "rather be happy being myself than sad trying to please everyone else." He may not be boring or bold, but he's just being him, and positively affecting lives while doing so. From Cardi B's troubles with newfound fame, to Jay-Z and Beyonce's gripes with Tidal detractors, to Drake's struggle with seemingly everything, several of 2018's biggest acts have expressed dissatisfaction with their positioning, making their level of success seem as much like a curse as a gift. The takeaway from J. Cole, however, is that anyone can overcome that strife, and hip-hop doesn't have to derail your journey through life — it can be the vehicle to take you to Dreamville.