Twenty years ago, Ja Rule and 50 Cent's beef was compared to the Israeli-Palestinian conflict, and no one blinked. Today (January 19), these one-time rap titans seem to have reignited that beef with some brazen social media posts.
After sunrise, Ja Rule took to Twitter for some apparent breaking news: "Fun hip hop FACT: @50cent is PUSSY…" He didn't specify what inspired this firestorm, though he did insinuate that 50 had been talking about him recently. "Let's be clear I mind my business… but for some reason @50cent keeps my name in his mouth," he said, before his language got more explicit and homophobic, thanks to hashtags like #ticklebooty.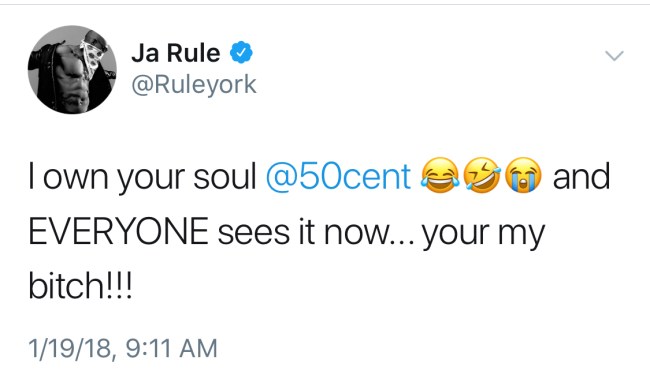 At least one of Ja's disses was surprisingly timely: "Yo @OsheaJacksonJr stay sucker free my brother… @50cent ain't killing nothing ain't letting nothing die… I smell pussy is that you fif lol…" Den Of Thieves, a new heist drama starring 50 Cent opposite O'Shea Jackson, debuts in theaters today.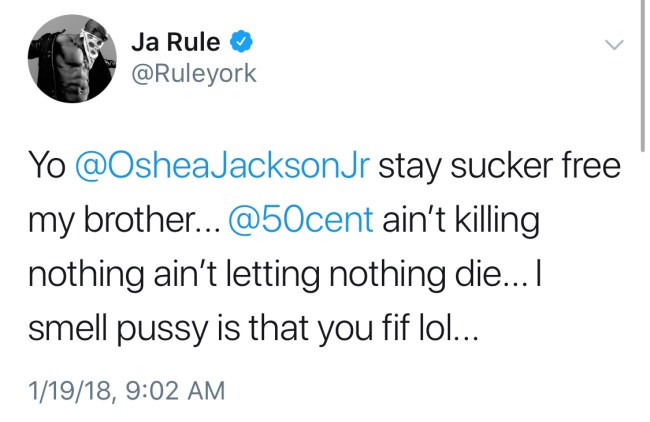 Ja and 50's feud dates back to the '90s, though they disagree on why it started in the first place. (Ja says 50 got jealous after spotting him film on their home turf; 50 says Ja falsely accused him of stealing some of his jewelry.) Regardless, they traded barbs over countless songs. In his memoir Unruly: The Highs And Lows Of Becoming A Man, Ja recalls 50 once tried to swing at him with a baseball bat at an Atlanta hotel lobby. Ja's posse also threatened a DJ in Durban, South Africa, because he dared to play "21 Questions" after Ja's set.
At its absolute worse, this hip-hop conflict had the industry worried that it might turn lethal. By comparison, 50's Instagram response only drives home how this tit-for-tat is more so a squabble between your most problematic uncles. "When the checks stop and you go back to the hood, and everybody knows your [sic] broke," 50 wrote, captioning, what else, a Groundhog Day image.