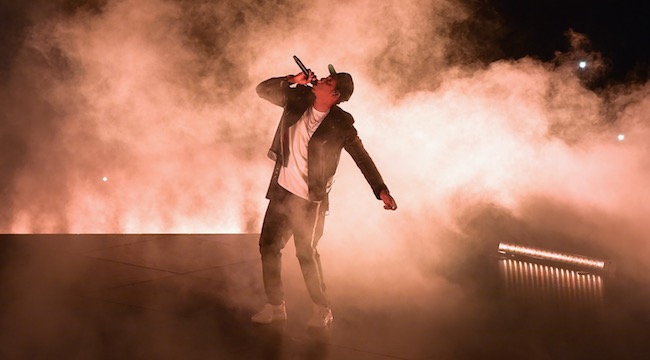 As Jay-Z would like to say, it's not darkness, but the absence of light that permeates the massive United Center arena in Chicago. Through the inky blackness, you can just make out the eight, large screens descending like open books from the rafters, obscuring the stage erected at center court. The screens flicker to life, broadcasting lo-fi images of Jay decked out in his trusty Yankee cap. As the seconds tick down, the man on the screen becomes consumed by fire. The flames eat away at his eyes first before spreading outward and consuming the rest.
A red hue pulses from within the walled-off array. The screens rise together revealing the man himself. Shawn Carter stands there, both hands gripping the microphone stand, soaking in the roars of the crowd. Then he goes for the jugular. "Kill Jay Z, they'll never love you / You'll never be enough," he admonishes before running down a laundry list of all his biggest indiscretions. The time he shot his own brother Eric, the family that he sold drugs to, and the wife to whom he couldn't remain faithful. "You almost went Eric Benét / Let the baddest girl in the world get away." He does this of course because "you can't heal what you never reveal."
In the world of Jay-Z, the man many consider to be the greatest MC of all-time, a business mogul bordering on becoming a billionaire, and a superstar recognized across the globe, there has historically been little room for frank vulnerability. Sure, he's delved into some of the darker corners of his past through his rhymes, but up until the release of 4:44 earlier this year, the true inner-workings of his mind, and the burdens on his heart have remained a mystery. Now, at long last, he's decided to admit to himself, and to his audiences that he's mortal after all. What's more, he wants to share some of the lessons he's picked up along the way.
Wearing a black cap, black leather jacket with the phrase "Blind For Love" emblazoned on the back, and black track pants, Jay stands tall on top of his mechanical pyramid pouring his heart out and killing his ego in the process. It's a stunning thing to watch. And still, this opening salvo isn't even the headiest moment of the evening. That comes another nine tracks later, after he's already ripped through all-time classics like "No Church In The Wild," "Run This Town," "Fuckwithmeyouknowigotit," and segues into the centerpiece of his most recent work, "4:44."
"Every night I'm learning, and every night I'm growing with ya'll," Jay tells us. "This is the most uncomfortable song I've ever written," he adds. "It don't get easier, gets better though." The jacket is off now. 18,000 people watch rapt as Jay apologizes in absentia to his wife Beyonce. He apologizes for the callous way he asked her out in the first place. He apologizes for the miscarriages she experienced. He apologizes for sucking at love and being emotionally unavailable. Most importantly, however, he reckons with the real consequences of his actions. "I stew over, what if you over my shit?"
In the wake of the infamous elevator incident and the release of Beyonce's album Lemonade, which shined a light on his failings as a husband for all the world to see, it seems like Jay learned a few things along the way. At times, his show in Chicago felt just as much like a mass, self-help seminar as it did a proper concert. Jay appeared like a man unburdened, and frequently delivered aphorisms like, "Set your intention. Keep going." And, "There is no darkness, just an absence of light." And, "A smile is like a protest to a hater. They hate that sh*t. It f*cks up their whole energy."
But of course it was a concert, and Jay remains one of the preeminent live performers on planet Earth. That being said, it didn't help his cause that the bar was raised pretty high going into his set. Vic Mensa was tasked with opening the show, and brought everything he had to the hometown crowd. Chicago went all the way up for "U Mad" and "16 Shots" then lost their damn minds when Vic brought out his buddy Chance The Rapper for a quick-hitting rendition of "No Problems."
The specter of his one-time ride or die Kanye West could be felt in the building as well. This being Chicago, it was inevitable that the people would cheer when Yeezy's smiling visage from the "Otis" video filled the screen. They cheered even louder when Young Guru dropped about 15 seconds of "Can't Tell Me Nothing" into the mix and the words "Shoutout Kanye West, peace and love" escaped Jay's lips. Being that it was Kanye's son's birthday that night, I knew the chances of him walking out and running through "N—-s In Paris" a dozen times rested somewhere between zero and absolute zero, but what a moment it could have been.
Nevertheless, everyone in the building was firmly on the side of Jay as he brought heater after heater after heater, unraveling one of the most iconic discographies in all of rap with indescribable shades of coolness. Just when you caught your breath after "Izzo (H.O.V.A.)," "Dirt Off Your Shoulders" or "Big Pimpin'," he'd hit us with "Can I Live," "Empire State Of Mind" or "99 Problems," sending us gasping for more air. Even if the man on stage wasn't sweating, everyone else in the building sure was.
To my immediate left, a forty-something dude in a fur coat puffed on a cigar, while rocking an actual fedora, evoking the image of Jay on the cover of Reasonable Doubt. Midway through the show the guy to my right, much younger, wearing a 4:44 hat, wrapped me up in an unsolicited hug and apologized for stepping on my shoes ten times through the set. "It's Hov!" He exclaimed. I understood of course. It was HOV.
To end the show, Jay decided to pay homage to the late, great Linkin Park singer Chester Bennington with a raw presentation of "Numb/Encore." It came off more as a celebration than an elegy, however, and when it was over, he seemed hesitant to actually exit the stage. "Damn Guru, gimme one more so I can go home," he asked his DJ in a pit carved out just below the stage. Guru obliged, running through snippets of "December 4th" and "La-La-La" before the clock got the best of him. When his time was up, Jay didn't exit through a tunnel. He didn't disappear through a trap door. He waded through the masses like a prize fighter, swarmed by smiles and cell phone lights. A man of the people. Mortal after all.