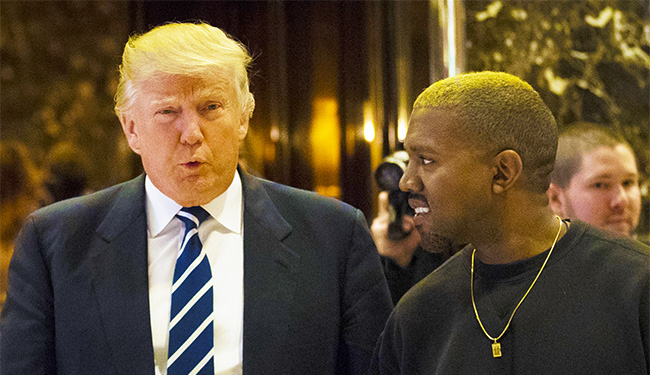 It looks like Kanye West may have seen the light and has canceled his membership to the Donald Trump fan club. The controversial rapping producer made headlines last year when he revealed that he would've voted for Trump in the presidential election had he actually voted. Kanye then made further waves when he met with you all's president at Trump Tower and tweeted out Trump's autographed Time's cover. The Life of Pablo rapper said he felt it was "important to have a direct line" with "the president" and tweeted that he met with Trump to "discuss multicultural issues," including bullying, modernizing curriculums and gang violence in Chicago. However, those tweets have now been deleted.
Apparently, Donald Trump's Muslim Ban, something he talked about implementing during his campaign, is where Kanye draws the line. Sources tell TMZ Kanye is now anti-Trump and deleted the tweets because of the ban and "other actions."
It's possible wife Kim Kardashian helped Kanye see the light. A woke Kardashian tweeted out stats about the number of Americans killed every year. Contrary to Trump's fearmongering, more Americans are killed by other Americans (11,737) and getting out of bed (737) than they are by Islamic jihadist immigrants (two) and terrorists (five).
I don't think we're still drafting people since it's Black History Month, but maybe Kanye can get traded back in the next draft if he has truly seen the light.