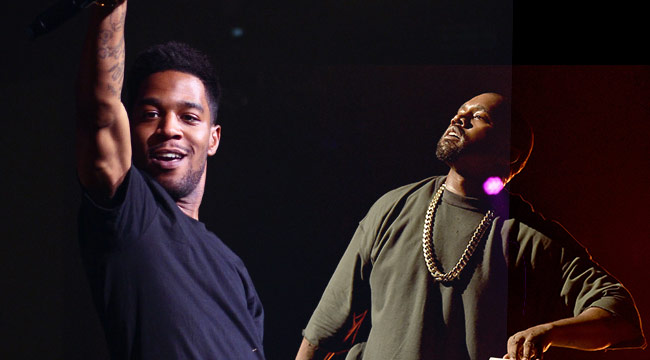 Kid Cudi woke up Wednesday morning with a nice sized chip on his shoulder it seems. For the moment, that's the only plausible reason why Mr. Rager decided to go on Twitter to unload his truest thoughts regarding who's really the best artists in rap versus those that get a little help with their pen and creativity.
"I need y'all to know I got so many haters within the industry," he wrote in an initial tweet, "and these clowns know Im bout to crush their entire existence." That wasn't so bad because every rapper thinks they're the best and their peers are wack. It's what he said next that caused eyebrows to rise.
"Everyone thinks they're soooo great," Mr. Rager said. "Talkin top 5 and be having 30 people write songs for them."
Hmm. There are only but a few top guys in rap right now. And only one of them is known for having had a battalion of people involved in the creation of a song — that would be Kanye West, Cudi's former boss and collaborator. There's Drake, too, but even he doesn't use that many crutches to get by.
In case it wasn't clear enough, Cudi started naming off those who have his respect for their work. "All my youngins out here reppin, A$AP Rocky and the whole A$AP family, Travis Scott, SuperDuper Kyle, Audio Push, Hit Boy, etc, I see yall." And then, he went in for the kill. He wrote, "My tweets apply to who they apply. Ye, Drake, whoever. These n****s don't give a f*ck about me. And they ain't f***in with me."
Say it with your chest, Cudi! That's the kind of rant that should have Pimp C smiling down from heaven.
So, why today for all this? Is it a album promo tactic taken from the page of 50? Well, according to Cudi, he just had time today, cuz. He explained, "I keep silent because I don't ever wanna come off like some angry hater, but today, not only do I feel fantastic, I'm feelin' like taking over."
Even though he threw Drake's name in there, Kanye seems like the intended target. He and Cudi have shared an up and down relationship since Cudi split from G.O.O.D. to forge his own path. However, they came back together in recent times with Cudi being one of many contributors to 'Ye's Pablo album, adding his touches to "Father Stretch My Hands Pt. 1" and the monster track "Waves." Before that could take place, Cudi said the two former co-workers had to mend the broken fences between them. "In order to get back into the creative process, we had to talk," he said. "I'm not one of those people who's just going to come around after a while, jump in and make music."
"We needed to have a big bro, lil bro convo," Cudi continued. "As soon as we had that, we were good. Whatever we were dealing with, it was a beautiful thing to clear the air about. I'm really happy to be back working with my friends."
Gauging by his most recent outburst, it may be time for another of those convos to take place, especially before the two end up working the same event in November. Maybe Yeezy can Cudi to say he was drugged and these thoughts were just a huge misunderstanding.
Read the rest of his tweets below.