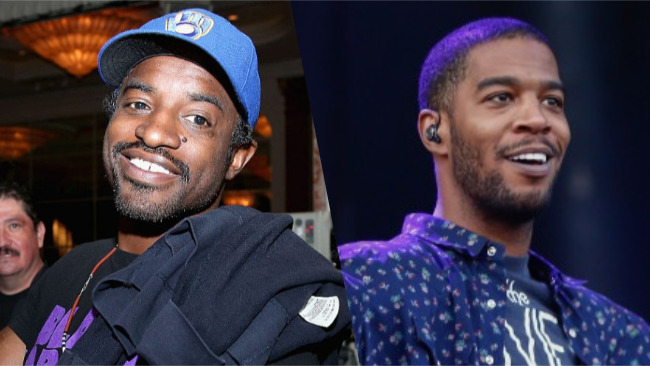 September is almost over, which means Kid Cudi has one last Friday to deliver on his promise of a new album this month. If you wanted to build more hype and hope that it will be out soon, you'd put out the track listing, right? Cudi did just that for Passion, Pain and Demon Slayin'.
Right out the gate, the biggest piece of the tracklist is that Cudi has enlisted Andre 3000 for TWO features. That's one more than Frank Ocean and Travi$ Scott received. It's an extra 16 bars or more for the fans. However, it's far from the last we'll hear from Andre this year. The seldom seen half of Outkast was recently in the studio with producer Kaytranada, who just won the 2016 Polaris Prize for his debut album. Could this be a follow-up to 99.9% or maybe even the rumored Andre 3000 solo album? Whatever it may be, we'll be ready for it.
Andre's not the only feature worth getting excited over since there are also Pharrell on two songs, Travi$ Scott on another, and an intriguing guest spot from Willow Smith.
The other notable part is that the album will be broken up into four acts. It's been a while since we've seen Cudi operate in this fashion, and the last time it really succeeded was with his debut album. It seems like the album will be diverse. Act three is devoted to love as hinted by the French title — translating into "levels of love" — while we've heard songs like "Frequency" and "All In."
As I said at the end of my post for "Goodbye," a song that should've made the cut: it might be time to wear our "Cudi is back" t-shirts. Everything about Passion, Pain and Demon Slayin' looks and feels like it has so much potential. The last test is what our ears will hear when it drops.
Act 1: Tuned
1. "Frequency"
2. "Swim in the Light"
3. "Releaser"
4. "By Design" (feat. André 3000)
5. "All In"
Act 2: Prophecy
6. "Illusions"
7. "Rose Golden" (feat. Willow Smith)
8. "Baptized in Fire" (feat. Travis Scott)
9. "Flight at First Sight/Advanced" (feat. Pharrell Williams)
10. "Does It"
Act 3: Niveaux De L'Amour
11. "Dance 4 Eternity"
12. "Distant Fantasies"
13. "Wounds"
14. "Mature Nature"
15. "Kitchen"
Act 4: It's Bright & Heaven Is Warm
16. "Cosmic Warrior"
17. "The Guide" (feat. André 3000)
18. "Surfin'" (feat. Pharrell Williams)