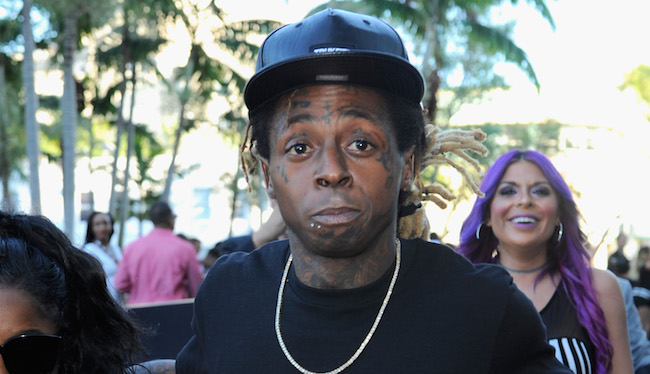 While so many of Lil Wayne's fans have been sympathizing with one of rap's GOATs being locked up in label hell — a situation so bad he wanted to retire — a new rumor suggests that things may not be exactly what they seem. According to "sources connected to Birdman," the whole #FreeC5 campaign is all a crock of crap and contrary to everything we've heard regarding Tha Carter V, including Birdman and Cash Money refusing to release the album, it's actually Lil Wayne who's in possession of the final recordings and keeping it hostage.
Sources tell TMZ that Birdman is through being labelled the bad guy because he's not the one keeping Tha Carter V from fans, Wayne is. Apparently, the Young Money rapper has Carter V's master recordings and is refusing to hand it over to Cash Money for a release. And unfortunately for Lil Wayne fans, that won't be happening until Birdman pays the 33-year-old rapper all monies owed, including the $8 million advance he was suppose to receive for the album as well as $2 million for its completion.
So, if Wayne has the album, why won't he just leak it online like other disgruntled rappers before him? Aside from it probably being a contract thing, the website notes Wayne isn't giving up his album for free.99.
In the meantime however, while C5 continues to collect dust and becomes more dated with every sunset, Mixtape Wayne is hard at work! The rapper is said to be focused on finishing the newest installment of Dedication, which will be out "soon," according to a recent interview with Hypetrak. "I'm working currently working on it as we speak," Wayne replied when asked about the series. "I'm going to find some time to get with DJ Drama when it's right and then give it to the world!"
(via TMZ)