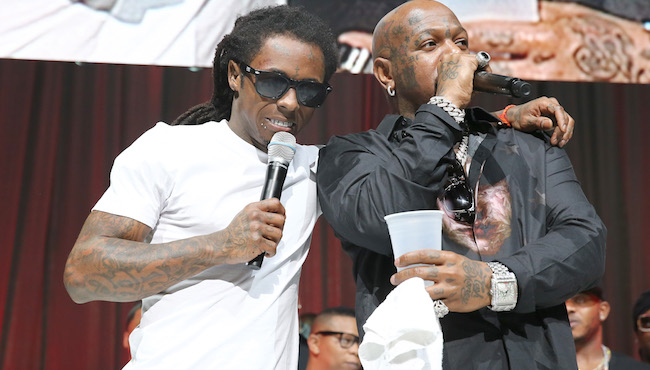 It seemed like Lil Wayne and Birdman kissed and made up when the two were spotted poppin' bottles together earlier this year at Miami's LIV nightclub. But, now their beef appears to be back on after Wayne yelled "F*ck Cash Money!" during a Denver show over the weekend. So, what the hell happened?
TMZ reports Weezy and Birdman fell out again over the Cash Money CEO's refusal to release Wayne's long-awaited Tha Carter V that was suppose to release in 2013. Sources allegedly tell the website there were initial talks of a settlement to Wayne's $51 million lawsuit against his father figure, but that talks came to a grinding halt when Birdman refused to budge on releasing the highly anticipated album.
Despite being owed millions in unpaid royalties, Tha Carter V remains a top priority for Wayne and he thought it was the same for Birdman. However, when he asked the Cash Money boss whether he was going to put out Carter V or release it, Birdman allegedly refused both options and Wayne reportedly "pulled the plug on any possible settlement," prompting his recent Cash Money disrespek.
On top of yelling "f*ck Cash Money," Wayne went to the other side and snapped a picture with with Birdman's rivals Trick Daddy and Rick Ross last month.
(via TMZ)