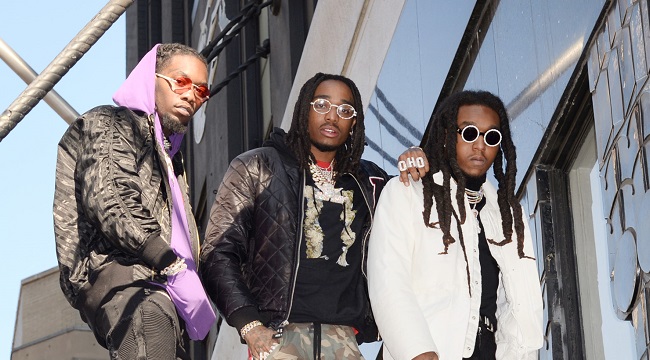 Migos are among the most prolific acts in the game. Their 24-track Culture II album is a strong testament to that. The Atlanta natives have certainly graduated from the Gucci Mane school of flooding the market, as evidenced by releasing music throughout 2017 after dropping their Culture opus at the top of last year. We know they make a lot of music, and now thanks to their DJ we have some insight into how fast that process takes place. The Billboard number one Culture II is over an hour and 45 minutes, but DJ Durel said in a recent interview that most of the songs took less than an hour to actually create.
"We'll do one song in 20 minutes," Durel said. "If they really want to take their time on it, they'll take 40 or 45 minutes. No more." He also added that "when they're in the zone, there's no way you can stop them from laying down a good song. It's going to come out perfect. It's not going to come out rushed or anything."
We're not sure how many people are calling Culture II perfect, but its number one status shows that a lot of people liked it. It's interesting to have new insight on the group's creative process. Durel also said that, "it's really fun because they all freestyle, so it's really just based off the way they feel right there in that moment. It's all feeling." They're at a point where they've clearly mastered their formula, and whippin' the wrist on that formula takes as little as 20 minutes.