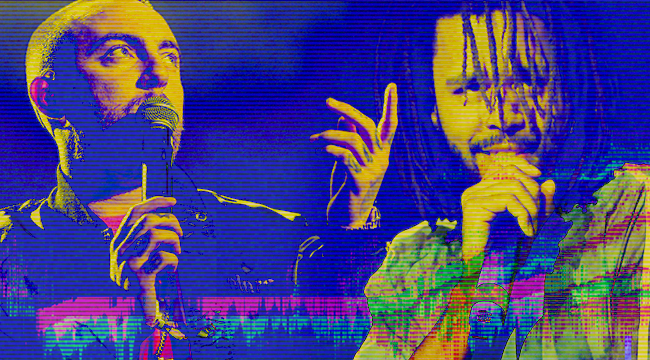 Is it July 2015 again? A Drake beef is dominating the news cycle, and Quentin Miller is out here explaining himself. Drake and Pusha T have been embroiled in a nasty war of words that has expanded beyond mere subliminal bars into full-on diss tracks — but they also have other new music out, which will placate fans trying to stay away from the drama. In brighter news, Currensy and Wiz Khalifa have reunited on Currensy's latest EP, and Mac Miller dropped a triumvirate of songs. This week, the devil and angel were basically on either shoulder rap-wise. If you listened to one side too much, we have you covered on the other.
Pusha T, "Infrared"
Pusha T started off the Drake assault on "Infrared," a track from his heralded Daytona album. He gave Drake a light tap, with a line that referenced longstanding rumors of the Toronto rhymer having ghostwriters. The song, like the entire album, is dope in its own right, but the hysteria about the Drake bars specifically beget a war of words, including the below.
Drake, "Duppy Freestyle"
Drake clearly decided he's tired of Pusha T and the ghostwriting rumors, and he went full steam ahead on his "Duppy Freestyle." Over a jazzy sample, he decided to get at Pusha for being "the spittin' image of whatever jealousy breeds," not being "top 5 as far as your label talent goes," being "older than the n—- you runnin' behind," and acting "like you sold drugs for Escobar in the '80s." The diss was arguably as vicious as we've seen Drake get on a record, and many thought Pusha was down for the count. That was until he dropped a diss track of his own.
Pusha T, "The Story Of Adidon"
Pusha dropped one of the most scandalous tracks in recent memory, using Jay-Z's "Story Of OJ" beat to lay Drake out for "hiding a child," and shedding light on his racial confusion (complete with more polarizing artwork of Drake in blackface). That Pusha named the song after his upcoming collaboration with Adidas was another diabolical masterstroke. Putting the first non-debatable — or perhaps, debatable — smudge on Drake's resume will end up being a landmark moment for King Push.
Drake, "I'm Upset"
That said, it wasn't all bad for Drake. The beef may have had his creative juices flowing, as he released the brooding "I'm Upset" on Saturday night. Over a thumping beat, Drake took his foot off the pedal lyrically and melodically mused about how "they keep tryna get me for my soul." Ordinarily, a paranoid song like this would be confusing given Drake's accolades and worldwide fan base, but Pusha actually wants his soul, so we understand it here.
Quentin Miller, "Destiny Freestyle"
Quentin Miller seems to be a name only brought up when used to down Drake, but the reality is that he's an artist in his own right. Pusha said in a Hot 97 interview that he thinks he's "talented," which is why he has a song with him in the pipeline. After Drake — and even Nicki Minaj — mentioned Quentin Miller and tried to downplay his role in Drake's onetime creative process, he felt he had to get in the booth and once again explain himself. "I'm more than just a prop you know or a pawn, I'm a person too, you know? I ain't ask for none of this," he said on the track, where he called out Nicki for "poppin' on" when she's never met Quentin. But he's not too upset about his stigma as Drake's ghostwriter, as he rhymed, "jokes on you, I still got a check."
Mac Miller, "Small Worlds," "Buttons," "Program"
Aside from the drama — well, almost — Mac Miller has decided to bless his fans with three new tracks. The Pittsburgh rhymer has been relatively quiet lately, but since getting into the news for the wrong reasons, he's apparently decided to capitalize on the publicity. "Small Worlds" is a bluesy reflection on how the "world is so small, 'til it ain't." "Buttons" is another reflective track where he rhymes about how, "they wanna see me gone but I'm here in spite of it all." Mac turns up a notch for "Program," a trap-based song where he switches his flows up, but keeps the same pensive energy of the other tracks, noting, "I am not talkin' to ya if you don't have love for me." Fair.
Currensy ft. Wiz Khalifa, "The Count"
Speaking of Pittsburgh, Wiz Khalifa jumped back into the fray with his partner-in-rhyme Currensy for "The Count," a typically soulful collaboration between the two. The two artists take turns rhyming over a pristine vocal sample, dishing bars about their smoked-out lifestyle. Wiz is scribbling in a notepad while wondering if his hotel has good room service, while Currensy is at the marina gettin' stoned to some Nina Simone. Both artists excel at subverting hip-hop's prevalent grandiosity prevalent by making the most mundane, relaxing moments sound like the peak of nirvana. Maybe they are, and we're just not caught up.
J. Cole, "1985" (DJ Premier Remix)
J. Cole wanted to use the sonic canvas of his KOD album to appeal to young fans who swear by 808s. That said, when DJ Premier comes calling to lace you with a classic remix, it's always a go. Premier got ahold of J. Cole's "1985" vocals, which have become closer to J. Cole's goal of general bars since speaking to Lil Pump, and gave the track a funky, uptempo retreating. It's ironic hearing Cole rhyme, "trap drums is the sh*t that's hot now," as his vocals ride over Primo's crispy drums. DJ Premier's traditionally-appeasing remix is the perfect fodder for those who want to weaponize "1985" as a knock against the new generation. For those who want to simply enjoy the music, it's good for that too.
The Internet, "Come Over"
After three long years, The Internet is finally dropping a new album. The California-based group recently announced Hive Mind, a project which will skip the busy June and drop on July 20. They've offered a taste of what to expect with "Come Over," a lush, groovy track that proves they're still sounding as good as ever. Even if the album won't be ready for 4th of July cookouts, "Come Over" will be good enough until Labor Day.