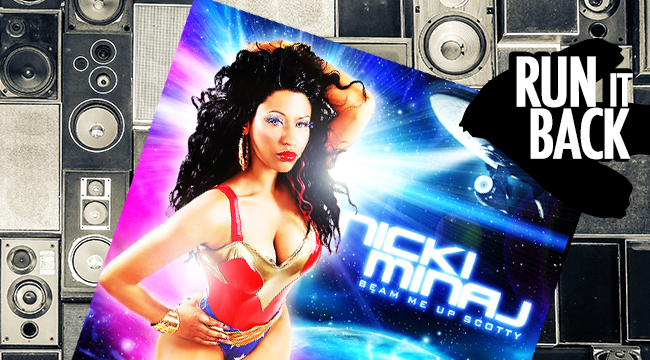 Run It Back is a retrospective review of classic or game-changing hip-hop releases whose style and sound still resonate with listeners in the modern, streaming-driven era. Hip-hop has always been a forward-facing, youth-oriented culture, but it's also deeply informed by the past. This is our way of bridging the gap, paying homage to rap's roots while exploring how they still hold relevance today.
With all the furor surrounding Nicki Minaj's latest release, Queen, it's easy to overlook the music itself, which is actually some of Nicki's most true-to-self material since she first exploded onto the scene nearly a decade ago with her breakthrough mixtape, Beam Me Up Scotty. In fact, Queen represents a sort of return to form for Ms. Minaj — no EDM-ish dance-pop, all "chicken-and-rice flow" as one writer coined her West Indian patois-influenced, rugged, block-ready New York cadence.
That was the way she rocked when she first introduced herself to audiences in 2009: With a curl in her lip, a roll in her neck, a well-manicured hand on her hip, and street-stomping Timberland work boots on her toes. That was the Nicki the rap world fell in love with, enamored by her witty wordplay, casual charisma, and frenetic energy. Beam Me Up Scotty was the moment Nicki Minaj, the Harajuku Barbie, found her winning sound. She may have returned to the well for her latest release to mixed reviews, but there's nothing like the original, whose undeniable energy she's been working to match for the last nine years.
In order to appreciate Scotty, you have to also understand the context under which it was unleashed on an unwitting, unprepared, but perfectly primed rap world. It had been four years since Lil Kim's The Naked Truth, four years since Missy Elliott's The Cookbook, seven years since Eve-olution, and eight years since Foxy Brown released Broken Silence. Rah Digga's Everything Is A Story had long been shelved, Jean Grae and 9th Wonder's Jeanius had received a relatively low-key release after it leaked online years prior, and Queen Latifah had long since pivoted to acting full time — her Dana Owens Album and Trav'lin' Light were collections of contemporary R&B and jazz standards, a far cry from the lyrical haymakers she'd thrown in her prime as an MC.
Basically, there were very few albums out from serious female rappers in the hip-hop realm, excepting Trina, whose Still Da Baddest had received a relatively warm critical and commercial reception against expectation in 2008. The void for female voices was pressing and immediate, a vacuum into which Nicki Minaj injected a much-needed presence with her outsized persona and insane delivery.
"I'm a be the queen, no matter how they shuffle," Nicki snarls on her rendition of "Go Hard," the nigh-ubiquitous DJ Khaled single that had taken over radio charts in 2008 with its autotuned Kanye West verses and T-Pain hook. Nicki's version featured less singsong and more outright snap as she mauled her way through her high-speed verses alongside Lil Wayne, then thought to be one of the top rappers in the game for his work on Tha Carter III. While Nicki's colorful presentation on Beam Me Up Scotty was the eye-catching hook, she distinguished herself with this and other scintillating displays of lyrical wizardry, carving a slice of rap real estate somewhere between the neck-twisting creativity of Missy Elliott and the gum-popping, streetwise bark of Lil Kim, with dashes of Left Eye's perky brilliance and Foxy's West Indian nonchalance.
Beam Me Up Scotty was Nicki's first career renaissance, refocusing on music after she'd spent a span of time pushing her image. It's impossible to disregard the obvious; Nicki has always been an attractive woman, but at the time she was making her entry into hip-hop, labels A&Rs and major publications couldn't seem to get past female rappers' looks.
A decade spent pushing raunchy rule breakers like Lil Kim and Trina had calcified the industry's outlook on women rappers as purely sexual, to the point that Nicki herself had to clarify an earlier rhyme from "Playtime Is Over" on Scotty interlude "Nicki Minaj Speaks" about "Two Sticks In My Bun," "'Cause ya'll minds is in the gutter." Rap fans as a whole had begun to associate the sexual image promoted by prior rappers with the sometimes raunchy boasts of free-spirited rappers like Trina and Kim to assign sexual meanings to even non-sexual allusions, resulting in the first instance of Nicki's tendency to over-explain lyrics — a proclivity that has carried over into her modern social media usage.
However, she doesn't spend nearly as much time explaining herself on Beam Me Up as she would in later years. In 2008, she was more set on proving herself lyrically and letting fans figure it out on their own. Whether demolishing established hits like "Go Hard" or "Best I Ever Hard" or her own original tracks like "Kill Da DJ" and "Keys Under Palm Trees." On the latter she details a murky past, littering the narrative with some of the cleverest one-liners of her career: "'Bout to "Set It Off", like Cleo / Mad they done tapped my Treo / Bagged my skio, heard the bitch lyin' like Leo." She flashes all of the hallmarks of her signature style, but rather than using her characters and vocal quirks as a crutch, she instead uses them to accentuate her delivery, turning what might ordinarily be cliched brags and weather-worn flexes into sparkling displays of her sharp-tongued wit and wordplay.
While the focus is on the hard, battle-tested rhymes that largely defined east coast rap of the era, Nicki also showed an awareness of and willingness to test out the waters of the uptempo pop-tinged hip-hop that would provide her some of the biggest hits of her career as well. "Envy" sounds like a proto-"Super Bass," with an electro beat straight from the most demented portions of Afrika Bambaata's oeuvre, while "Handstand" dabbles in the dancehall pop that she has sprinkled her own catalog with, sporting the singsong flow that she's deployed on later tracks like "Pound The Alarm" and "Massive Attack."
Meanwhile, "Can Anybody Hear Me" was the confessional track that informed the emotional evocation of "Dear Old Nicki" and "Pill N Potions." Her takes on early trap anthems like T.I.'s "No Matter What" on "Still I Rise" demonstrated her ability to craft repeat-worthy, inspirational jams that were no doubt the exact sort of songs her hardcore fans cite as the ones that saved their lives and motivated their lifelong zeal.
Beam Me Up Scotty is Nicki Minaj at her most hungry, her most motivated, her wittiest, and her most sincere. While her albums — even Queen with all its lukewarm reception — display more polish and musical direction, Scotty is where Nicki Minaj found herself. With few expectations, but plenty to prove, Nicki drew out some of her most potent work, from the career-launching "Itty Bitty Piggy" to the virtuoso lyrical performances that proved she could hang with Lil Wayne, Drake, and even rap icon Busta Rhymes. Before she could boast that she was worthy of the title of Queen, Nicki first had to prove that she could cut the heads off any would-be rivals, craft crowd pleasers, and stand on her own as one of the most gifted rappers New York had to offer.
On Beam Me Up Scotty she did that, and began to pave the way for the recent resurgence of feminine energy in rap that has continued with artists like Tink, Asian Doll, Rico Nasty, and Nicki's own heir apparent, Cardi B.
While she chases chart success, they have taken up the torch for women to prove they belong in hip-hop; if she can return to that level singular focus she displayed in 2009, maybe she can compete with them and even retake her throne with her next release. Beam Me Up is the blueprint that Nicki needs to get back to. Though it is structurally similar to her later works, where it differs is its raucous, hungry energy and its laser focus on proving Nicki worthy of the Queen title.