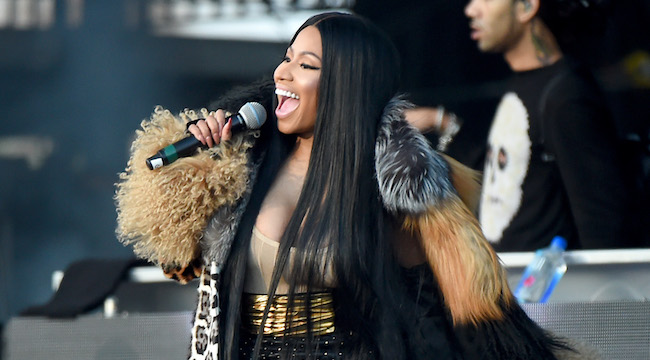 When Nicki Minaj credited herself with reinvigorating the image of the female rapper in hip-hop's mainstream in an interview with XXL, she probably wasn't expecting it to set off a frenzy of fevered online debate. But then again, given her fans' proclivity for overreacting to any perceived threat to her continued dominance of her lane in hip-hop or other female rappers' fans' tendency to invoke made-up beef in response to any of their comments, maybe she did. "There wasn't a big female rap presence right before I got in," she said. "So, my role was really reintroducing the female rapper to pop culture."
Case in point: Rap legend Missy Elliott posted a relatively innocuous tweet praising her friend and collaborator Lil Kim on Wednesday evening and somehow wound up setting off a Nicki/Kim fan fight bomb in her mentions. The relatively neutral tweet itself didn't mention Nicki's comments at all, saying only, "There's no denying that @LilKim has been a risk taker not just in music but in fashion she wasn't afraid. She meshed high fashion & hiphop?" with a photo of Lil Kim from a 1999 photoshoot with photographer David LaChappelle where her skin is bedecked in Louis Vuitton patterning.
However, to judge from the replies, you'd think she had written "F*ck Nicki Minaj and everybody that loves her because Lil Kim was here first!" because her mentions were instantly swarmed with reactions. Nicki stan accounts because posting insults toward Lil Kim, ridiculing her extensive plastic surgery, while Kim fans rebutted by calling Nicki a pop star more than a rapper and claiming that makes her accomplishments invalid.
However, despite the Barbz' overly defensive accusations, the most eloquent defense of Nicki's words came in the form of an old MTV News clip reposted by a number of users wherein Sway Calloway questions "Where have all the female MC's gone?" The report comes from the mid-aughts dead zone, where it seemed like new female rappers weren't getting any traction in mainstream hip-hop, while a dearth of new material from Da Brat, Missy, Kim, and Foxy Brown made it seem as if there were no women currently achieving success as rappers.
Fortunately, those days are long past, whether or not you credit Nicki Minaj. Cardi B has shattered rap's glass ceiling, and a crop of new talent is making their names at the forefront of a whole new wave of women-focused, empowering hip-hop. Now, if only their fans can be convinced there's enough room at the top for everyone, all this petty squabbling can be put to rest for good.