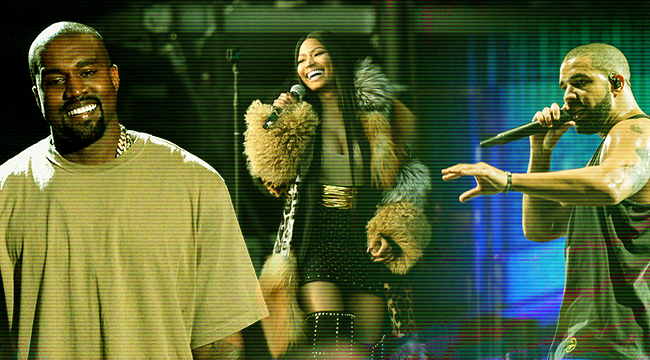 Nicki Minaj and Funkmaster Flex may not be able to stand each other, but it seems both are willing to put their differences aside for the sake of generating buzz. The rapper appeared on the radio personality's show Tuesday to "hash out their differences" over the course of an 80-minute interview that did more to dredge up controversy in the form of a heated reaction from Nicki's ex and onetime collaborator Safaree; the two engaged in a Twitter tiff that rivaled anything from Saferee's current occupation on Love And Hip-Hop.
It was mildly entertaining if you're into that sort of thing, but wound up being more detrimental to Nicki's overall goal — to promote her new album, Queen, which could use all the help it can get after receiving a lukewarm reception from fans outside of her loyal contingent of Barbz. Nicki's not alone in trying to use controversy to gin up interest in her latest release, but she and anyone else who tries to use that method should beware. In 2018, it just doesn't pay to distract from the actual music.
At the beginning of the millennium, if you wanted to sell a rap record, the order of the day was, "Beef sells." This is sort of a degradation of the old adage that "controversy sells" or maybe that "all publicity is good publicity." 50 Cent became a multiplatinum, internationally renowned star partially from capitalizing on his ongoing feud with Ja Rule and Murder Inc. Jay-Z solidified his self-proclaimed GOAT status with the scathing "Takeover" diss aimed at Mobb Deep and Nas. Nas' return-fire track, "Ether" resurrected his dormant revered position as the vanguard of "real hip-hop," which had been tarnished by lackluster, commercially-oriented releases like "Oochie Wally" and "You Owe Me." Beef was indeed big business.
Unfortunately, that business model no longer works in the modern streaming era, where releases come and go as swiftly as rap's fickle audience's whims change — at the click of a refresh button. Apparently, many of the holdovers from the pre-streaming generation haven't gotten the memo. Nicki Minaj is only the latest example, as her lengthy rollout for Queen built anticipation on the foundation of addressing drama from the four years of her musical hiatus only for the album itself to end up overshadowed by a song about cows.
Kanye West went for a version of this to drum up attention for his own return to music earlier this year, an event that should have been noteworthy in itself. Rather than releasing singles, videos, and interviews ahead of a set release date, he used his outrageous Twitter antics — tweeting appreciation for Donald Trump, among other things — to attract eyeballs before announcing the stunt release of five, seven-track albums from a number of his GOOD Music collaborators and other friends, including Pusha T, Nas, Teyana Taylor, and Kid Cudi.
However, his apparent embrace of inflammatory, right-wing rhetoric turned away more listeners than it drew, and his increasingly tardy releases after those self-imposed deadlines — with mediocre, hurried, slapdash product, no less — created more disappointment than goodwill.
Even Drake, whose own rollout was tangentially tied to Kanye's, fell victim to the controversy effect after a near impeccable early year promotional cycle was interrupted and marred by beef with Pusha T. At the beginning of the year, "God's Plan," "Nice For What," and new visual director Karena Evans had Drake flying high into what looked to be his most heavily-anticipated and potentially well-received project yet. However, taken aback by references to his ghostwriting controversy on Pusha T's album, and possibly feeling cocky thanks to his springtime successes, Drake made the critical error of falling for the bait, getting drawn into a back-and-forth that ended with the revelation of his son.
After this major L — one of his first super public defeats — Drake ended up creating an album filled with paranoid thoughts, but even so, he barely addressed the controversy on record. Things turned out well enough for him, but he partially owes at least part of Scorpion's continued success to external factors — namely, the #InMyFeelingsChallenge started by internet comedian Shiggy, which turned the tide of negative public perception with its exuberant displays of affection for "Keke." Drake would have been better served to focus on the positive rather than the negative.
In fact, the most successful rollouts of 2018 have been those that stayed away from courting controversy, by any means necessary. One of those was to leave as little lead time as possible between announcement and release for things to go wrong. Certainly the most extreme example is of Jay-Z and Beyonce's collective Everything Is Love release as The Carters, which dropped in the middle of the afternoon on a Saturday with zero advance notice and a single, the crowd-pleasing "Apesh*t," only dropping after the album itself had already eclipsed Nas' Nasir release that same weekend.
Travis Scott's Astroworld release date was announced merely a week before the album itself arrived. Although previously released single "Butterfly Effect" was included on the tracklist, "Butterfly Effect" hadn't been heavily promoted as the advance single for Astroworld; the actual advance, "Watch" featuring Kanye and Lil Uzi Vert, was abandoned for reasons unknown (but if it was related to Kanye's earlier shenanigans, no one could claim to be surprised).
The other successful release strategy, which seemingly worked well for Cardi B, Migos, and Post Malone, was to simply ignore anything other than the music. Cardi B went on social media blackout ahead of the release of Invasion Of Privacy; knowing her own tendency to react to criticism and trolling, she simply removed the temptation and focused instead on working the records. While Migos found themselves at the center of fan and media-fueled speculation about a potential feud between Cardi and Nicki (one which Nicki seemed only too happy to indulge on Beats 1 Radio), Quavo, Offset, and Takeoff continued to serve up tongue-in-cheek videos like "Walk It Talk It," presenting themselves as chill, relatable guys and keeping their Culture II cuts squarely in the spotlight.
When Post Malone stuck his whole foot in his mouth with his late 2017 comments about "real sh*t in hip-hop," he made his excuses, then firmly refused to address the event ever again, instead putting out more of his affable, stoned singalongs and diving even further into his lovable dirtbag persona by signing on to perform on Bud Light's Dive Bar Tour.
The overall trend in hip-hop music is changing. Being relatable and transparent has become paramount to maintaining an invincible, thuggish persona. Being accessible has taken precedence over being superheroic or mythical. Fans these days don't want to look up to their favorites, they want to hang out with them, or at least feel like they can. They have so many choices, instantaneously at their fingertips via streaming service and social media. Algorithms, not publicity, control discovery. "All publicity is good publicity" was only a working strategy when publicity was the only way to learn about new artists or established artists' new music. Now, with the constant bombardment of content, fans have to prioritize the music itself just to keep up — and so do artists. The only thing controversy generates these days are jokes online; the artists who decide to stick to the music are the ones laughing their way to the bank.