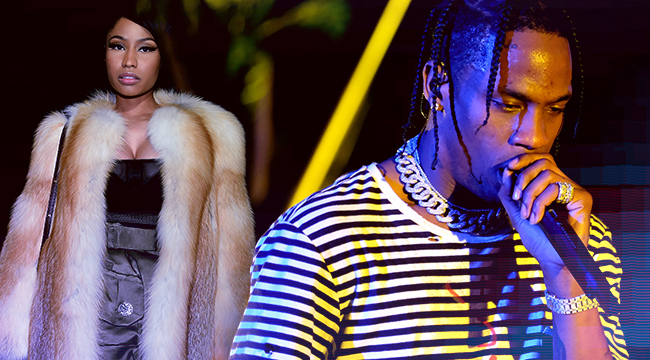 Nicki Minaj may have proven wildly adept at marshaling the powers of the social media sphere to promote her music and outsized persona to unprecedented success for a woman in hip-hop, but over this past weekend, she violated one of social media's cardinal rules when it was revealed that Houston rapper Travis Scott's Astroworld second-week sales would eclipse her Queen first-week sales; she reacted, going on an extended rant that proves just how bothered she truly is.
First, there were the tweets. Sunday afternoon saw the assertively outspoken rapper using the platform to try to explain away the perceived commercial failure of the album. "I put my blood sweat & tears in writing a dope album only for Travis Scott to have Kylie Jenner post a tour pass telling people to come see her and Stormi," she wrote. She continued to try to further elucidate the behind-the-scenes maneuvering that led to Astroworld's higher sales totals.
"Travis sold over 50K [tour pre-sale access passes that came with a digital copy of the album]," she went on. "With no requirement of redeeming the album! With no dates for a tour, etc. I spoke to him. He knows he doesn't have the No. 1 album this week." She bolstered her arguments with comparisons to other big name releases that have dropped in recent months. "I looked at the numbers the Carters, Kanye, Nas, etc recently did. Travis sold 200K in his first week off clothes alone. I spoke to him last night & he said he's been selling clothes b4 the music. Billboard says they'll change the rules cuz of this, so it should be changed now!"
Then, her explanations turned downright accusatory as she laid a share of the blame at the feet of Spotify, which she says deliberately sabotaged her promotion on its service to punish her for previewing Queen early on Apple Music's Beats 1 Radio. "Spotify had to teach me a lesson but rewarded the man who has had an Apple radio show the longest," she raged. "They took away my promotion they had promised for the first couple days because of this."
She concluded her tirade by retweeting supportive messages from her staunch Barbz fanbase, which has served as her loyal attack team as much as a listener base. While they were quick to buy into her conspiracy theories as fact, others were much more skeptical, however, wondering why Nicki felt the need to cop such pleas in the first place. After all, No. 2 is nothing to be ashamed of. Billboard reports that Queen racked up 185,000 equivalent album units earned. 78,000 of those were traditional album sales. That's nothing to shake a stick at; Nicki has still outsold a number of other artists in the hip-hop arena, including the aforementioned Nas — a certified rap legend. She also had the second-largest week for an album by a female artist in 2018 — right after Cardi B, whose Invasion Of Privacy completed its first week with 255,000 units in April.
However, maybe that's the problem. As tiresome as it is to compare Nicki Minaj and Cardi B again, it seems their fortunes have been inextricably linked by the ongoing "are they beefing or not?" narrative that defined the late part of 2017 and early 2018. Nicki herself has made her sales figures her proudest talking point, boasting that "these b*tches is my sons" with regards to album sales since her very first album, Pink Friday. They're a fixture of any number of interviews about her never-before-seen level of success as a woman rapper. Her sales, as much as any other aspect of her brand, have come to define what she sees as success. So, of course, it rankles that an album in its second week outsold her latest — especially since most albums see a significant falloff in sales in their second weeks.
The thing is, Nicki's arguments don't hold up on examination. She sold her album with merchandise bundles as well. She pushed Queen with an extended, dramatic rollout featuring tearful interviews, colorful costumes, multiple singles, late-night appearances, and all the other hallmarks of a traditional promotional cycle. She did everything she could to drum up interest in her album, but her Barbz seemed more interested in harassing journalists than supporting the product when the time came. They mobilized to berate, threaten, and terrorize Wanna Thompson over tweeting that she wished Nicki's content would mature, but didn't turn out in the same force to actually support that content given the chance.
There are any number of reasons why Travis Scott outsold Nicki Minaj, but what it most likely boils down to is the music itself — as it should. Travis delivered a fully-fledged, cohesive album, the natural evolution of the sound we've come to expect from him. Astroworld is fully realized and bears repeat listens. The numbers bear that out, but anecdotally, I've had multiple people point out how many times they've listened to it. Plus, it's emotive, revealing, and occasionally surprising.
Queen sounds like a Nicki Minaj album, yes, but not one she's put thought into or worked hard on. She may have — but it doesn't sound like it. It really is so strange to hear someone rapping like it's 2013. The bars cover the same narrative territory she's paced for four albums and ten years now. They may be some of her gulliest in a while, with nary an EDM blowout to unsettle the pacing, but they're still upstaged by treacly pop and a lethargic approach to production.
Besides the lackluster effort on the musical front though, the true culprit might just be the simplest explanation, the enemy of every entertainer who's chosen to make their living in the rap game: Time. Over time, tastes evolve. Fans grow up. New fans with new aesthetic sensibilities take their place. Today's rap fans don't exactly favor hyper-lyrical boom-bap, and on Queen, Nicki is as close as she's ever come to that style, right down to her Biggie Smalls redux, "Barbie Dreams."
Furthermore, as social media's "gotcha"-style aversion to bullying and scandal has grown, Nicki's use of an attack squadron of bullying cronies has likely turned off many would-be listeners, as has her recent collaboration with controversy magnet, Tekashi 69, whose legal troubles all-too-closely mirror those of Nicki's brother, who was convicted of raping an underage girl. While Tekashi's transgression was by no means on the same scale, finding nuance on Twitter is like squeezing blood from a stone. Between the rumors and Nicki's persistent proxy pestering of anyone who dares criticize her, supporting her seems like a bad bet to many of her former fans and supporters.
Nicki does have one point: It's very suspect that, of all the artists to collaborate with Tekashi, only Nicki has been called out on this scale. Like nearly every woman in hip-hop before her, she's judged by a double standard, and that's wrong. She shouldn't have to pay for her brother's actions or those of her collaborators or even those of her fans — but she does have to answer for her own. She is often the catalyst in the Barbz' attacks. She chose to make her album promo about practically everything but the music, then make the music about none of the intriguing life events many of her fans wanted insight into.
Nicki made herself the "bad guy" in a musical landscape that has turned on hip-hop heels and wants to see heroes flourish. She is the one who hyped up sales as the be-all, end-all, and as much as she protests that "this is sarcasm/dry humor," it's hard to believe her when she's made the same complaints across multiple platforms for hours at a time. As the Queen of online provocation, Nicki has fallen into a trap she should know to avoid — overreacting online is never a good look.
Queen is out now via Young Money/Cash Money Records. Get it here.