Even though the rap game has become more accepting as time goes on, without a doubt it's still a struggle for young women who want to showcase their talent on the next level. Thank God for iconic female rappers such as Queen Latifah and Lil Kim — or even Missy Elliot, whose Supa Dupa Fly just celebrated 20 years as she played FYF Fest this past weekend — who paved the way for this generation of female rappers such as Nicki Minaj, Trina, and Remy Ma. But no matter how many successful women are in the game there's still a stigma out there that's been confirmed once again, this time by none other than Rick Ross.
Earlier this week, Rick Ross made an appearance on The Breakfast Club, hip-hop's most popular morning show, with host Charlemange Tha God to talk about Meek Mill and his new VH1 show SIGNED. When asked why he doesn't have any females signed to MMG, Ross had some very interesting things to say.
The 41-year-old rapper said that he wouldn't sign a female to MMG because he would be to tempted to have sex with the artist. Ross says: "I'm spending so much money on her photoshoots, I gotta f*ck a couple times…" as to why he wouldn't put a woman on. That's a cringe-worthy statement right there, and though the rapper did go through some exceptions, he still didn't take back what he said while the topic was being discussed, and even doubled down, saying he was just being "honest."
So, how does a statement like this impact the fate of a female rapper's career? Are female rappers really expected to give it up in the studio in order to be taken seriously? Is the hip-hop industry still participating in this degrading and archaic method of putting women on? Are male record executives still expecting a woman to open her legs for a chance to showcase her talent? But more importantly: Do women feel as if it's the only way? When does this stop?
Incidents like these aren't always talked about; many times they are swept under the rug. We can only speculate as to why some of these industry stories don't come out, even though we know they exist. It might be due to embarrassment, or maybe because those involved received the success that was promised, but many times it's because no one was listening. The recent R. Kelly "sex cult debacle drives this home — the abuse of women of color is often completely ignored. But some stories do come out. In 2008 Miami rapper, Jacki-O, talks with Baller Status about how she was black-mailed into having sex with a record executive in order to receive her bonus. In the interview she talks about how she wasn't proud of herself but she did not have a choice. She described it as her being "abused by authority."
We can only hope that female rappers display the same strength that they express in their raps when in the studio with male counterparts, executives and producers. But let's be honest, the woman's strength is not the issue; the issue lies in the expectation that a woman should be willing to have sex in order to make a name for herself.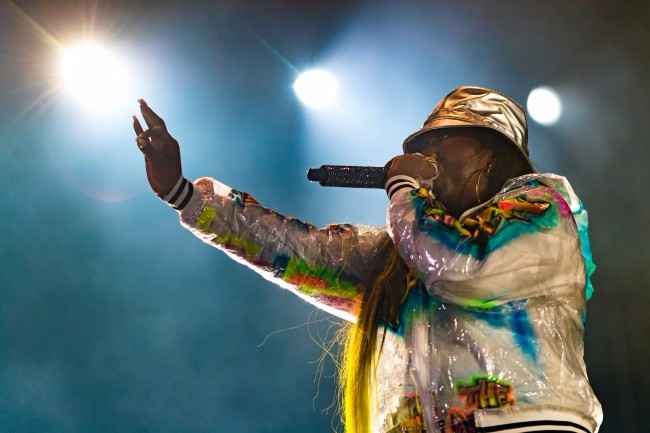 This expectation really stems from the fact that women are still viewed as sex symbols in music. We've all heard stories and watched biopics that reveal how often female artists are requested to "sex up" their image because "sex sells" — and hip-hop has one of the worst histories of this. Still, there have been female MC pioneers who didn't sell sex. For an example, look at the undeniably beautiful Miss Lauryn Hill, who was never leaned in to that realm, or the innovative, always-cool Missy Elliot, we see that bars and talent have the ability to speak louder than sex appeal. Even if we look at the rap game today, it's clear that whenever they're given the chance, female rappers with talent sell just as well without using sex as a hook.
For, example Noname and Little Simz are artists on the rise, with personas that are not at all based on being sexually provocative. And just to be clear, women who choose to be sexy should also have that right without men exploiting them. As women, we are allowed to present ourselves in which ever manner we please. We need the Nicki Minajs and Cardi Bs to embody and showcase how we are allowed to flaunt our bodies and be sexual beings. It's simply not okay that the men in charge feel that sex is expected to be part of a deal when investing in female talent. Clearly, this is happening in other places too, not just in hip-hop, but in the tech/startup world and beyond.
On the bright side, not all men with power have that expectation; shout out to Lil Wayne for never touching Nicki despite what they both repeatedly and proudly boast on songs. Also, as the rap game changes, record labels are going out of style and independent artists are on the rise. So to all the female rappers out there just work hard and stay true to your hustle, because the "need" for men to co-sign or support you on the way up is going out of fashion.