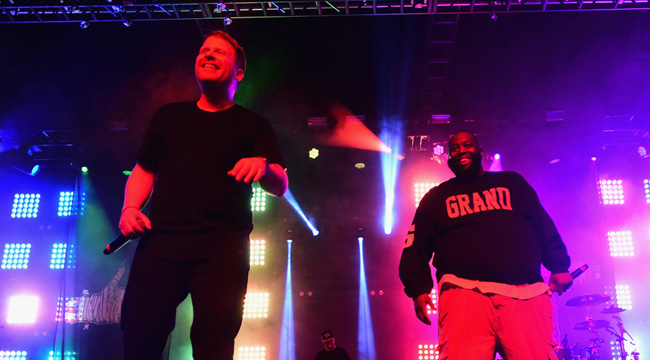 A Run the Jewels concert is by no means your typical live rap show. It's part rave, part revival and part LSD trip. It's an uproarious night out at the Improv. It's the opening scene from Saving Private Ryan, but stretched out over 70-minutes and with even more explosions. When it ends, you don't know whether to start the revolution or wring the sweat from out of your clothes and sleep for a week.
The dynamic duo of Killer Mike and El-P touched down at the Aragon Ballroom in Chicago last weekend to perform one of the final few shows of the North American leg of their Run The World tour. It's a sign of their burgeoning popularity that the location had to be moved from the 2,500-seat Riviera Theater just down the street to the 5,000-seat Aragon shortly after tickets went on sale in order to handle the demand. Even then, the event quickly became a sell-out.
Run the Jewel's appeal is easy to understand; they're legitimately funny, thoughtful human beings whose buddy-buddy act reads totally genuine. The music they create is loud, aggressive and wholly uncompromising. It's a sonic sledgehammer created out of 1,000-foot beat drops, ribcage-crushing basslines and endlessly melodic, if not foreboding melodies. They weave in and out of each other's way like verbal assassins, spitting hard-hitting, instantly quotable lines on subjects like race, police brutality, the powers-that-be, and their general urge to fuck shit up. Their newest release, Run the Jewels 3 advances this formula to a jaw-dropping degree.
RTJ hit the stage a little after 10:00 PM, to the soaring strains of Queen's immortal arena rock anthem "We Are the Champions." It was evident early on that the pair were exhilarated by the prospects of performing in front of so many people. El-P described the experience as his "rap fantasy." The man behind the boards, DJ Trackstar, dropped the needle on "Talk To Me" — the first single from their latest album that dropped on Christmas Eve — and the place exploded.
It's pretty astounding how far Run the Jewels have come in a relatively short time. I first saw them live in 2014, a little bit after their second album Run The Jewels 2 dropped, in the intimate confines of Porter's Pub in San Diego, California. That show was a pretty stripped down affair. All they had to rely on was their charisma, their explosive, hard-hitting material and the crazed enthusiasm of their fan base.
Though the size, scope and production value of their show has increased exponentially since then, that dynamic has pretty much remained the same. Take away the myriad of colorful strobe lights and the giant, inflatable pair of zombified hands from the cover of their first album that hung high over their heads, and what you had was two high-energy, lyrical wizards plying their trade in front of a crowd ready and willing to totally lose their shit over bangers like "Close Your Eyes (And Count to Fuck)," "Blockbuster Night Night Part 1," "Call Ticketron," and "Legend Has It."
Fortunately for everyone involved, Run the Jewels are keenly aware of this effect. Early on, El-P stepped up to address the crowd, warning everyone that "Sh*t gets a little crazy," during the show, and that "If you see someone fall down, pick them the f*ck up. If women are bothered by your presence get the f*ck away, let them enjoy their space."
Inclusion and acceptance turned out to be major themes throughout the night. Near the end of the set, Mike asked everyone to look around. "Notice the people in this room don't all look alike." Sure enough, a quick scan revealed black faces, white faces, Latino faces, young faces and old faces. Nearly every conceivable demographic was well represented. Mike then dedicated the show to a woman from the North Side of Chicago named Alice Johnson, who "taught me about classicism and racism and sexism and a whole bunch of other shit." He started choking up through his speech, but soldiered on. "She taught me nothing pushed to the ground can stay down if it already knows it's free."
While on record and in interviews Mike and El reign as two of the more outspoken voices in rap today, live, they seem more eager to simply entertain and give the crowd a good time. The name Trump wasn't uttered once. The only real assessment offered about the present state of the country was made by El-P when he said that it was, "The same old f*cking story, just a little more intense." They were far more content to make weed jokes while big-upping the World Series Champion Cubs. The reprieve was more than welcome to be honest. Songs like "Lie, Cheat, Steal," "2100," "Don't Get Captured," and "Early" say it all well enough already without either Mike or El needing to expound further between songs.
It's hard to figure out what the ceiling is for Run the Jewels. Every year the pair just keep getting bigger and bigger, putting out increasingly exciting music to an audience growing at an exponential rate. It wouldn't exactly shock me to catch them headlining the United Center, or, hell why not, Madison Square Garden, in the not-too-distant future. When the times comes, I'm sure they'll burn that place to the ground too.