Spider-Man: Into The Spider-Verse hits theaters this Friday, December 14, and today, Republic Records and Sony Pictures Entertainment have released the soundtrack for its extremely hip-hop-centric soundtrack dropping the same day. Past the previously released single from Swae Lee and Post Malone, "Sunflower," which was well-received, the soundtrack features established stars like Lil Wayne, Nicki Minaj, Ty Dolla Sign, and Vince Staples, as well as rising ones like Aminé, Duckwrth, Jaden Smith, and Ski Mask The Slump God.
The songs are as colorful as the animation from the film itself, featuring uplifting anthems and high-energy, fist-pumping beats to back the elaborately animated action sequences from the movie. They also ground the movie's lead, Miles Morales, as very much a kid of the modern hip-hop generation, as he bumps "Sunflower" and other songs in his headphones throughout the movie as he learns to master his newfound powers as Spider-Man alongside his multidimensional cohort of fellow Spider-errr, people.
The tracklist for Spider-Man: Into The Spider-Verse's soundtrack can be found below. It will be available December 14.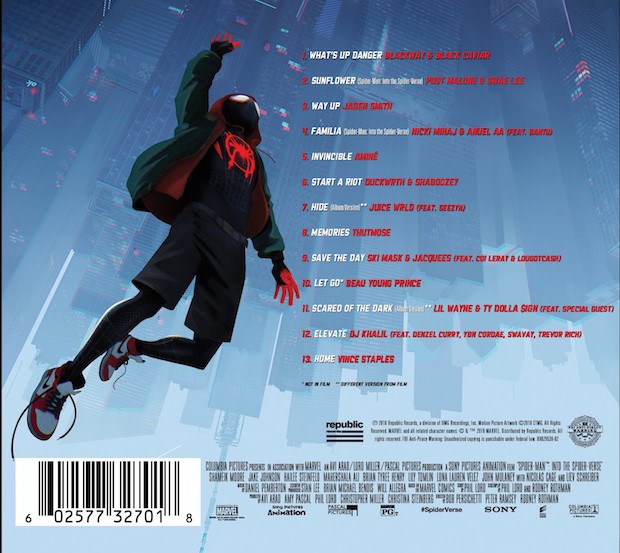 01 Blackway & Black Caviar — "What's Up Danger"
02 Post Malone & Swae Lee — "Sunflower"
03 Jaden Smith — "Way Up"
04 Nicki Minaj & Anuel AA feat. Bantu — "Familia"
05 Aminé — "Invincible"
06 Duckwrth & Shaboozey — "Start a Riot"
07 Juice WRLD feat. SEEZYN — "Hide"
08 Thutmose — "Memories"
09 Ski Mask The Slump God & Jacquees feat. Coi Leray and LouGotCash — "Save the Day"
10 Beau Young Prince — "Let Go"
11 Lil Wayne & Ty Dolla Sign — "Scared of the Dark" [ft. Special Guest]
12 DJ Khalil feat. Denzel Curry, YBN Cordae, SwaVay and Trevor Rich — "Elevate"
13 Vince Staples — "Home"