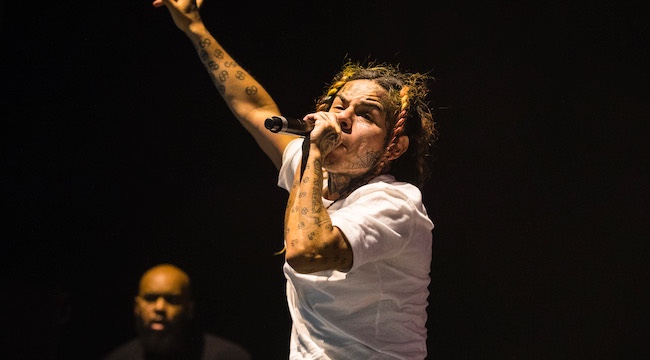 Embattled New York rapper Tekashi 69 may be locked up, but that didn't stop his Dummy Boy debut album from having a huge first week, despite only having three of the seven days of the tracking week to accumulate sales. Hits Daily Double reports that the incarcerated rapper is currently competing with Travis Scott's Astroworld for the No. 1 spot on the Billboard 200, with both albums projected to hit between 60- and 65,000 equivalent units.
Dummy Boy was initially set for a November 23 release date but was "postponed" when Tekashi was arrested on racketeering charges that included robbery, gun crimes, and drug possession. Then, shortly after the album leaked over the weekend, Tekashi's team announced that the album would release on Tuesday, November 27, plopping unceremoniously onto streaming services later that afternoon.
It looks like the delay hasn't hurt the album's positioning, although it would have undoubtedly passed Astroworld had it dropped Friday as planned. While Travis Scott's album likely received a big bump in sales from his Astroworld tour, an extra three days of listens for Dummy Boy might have put it much further ahead.
Tekashi is currently awaiting trial in his racketeering case after being sentenced to probation in his second most recent legal case, where he was charged with use of a minor in a sexual performance.