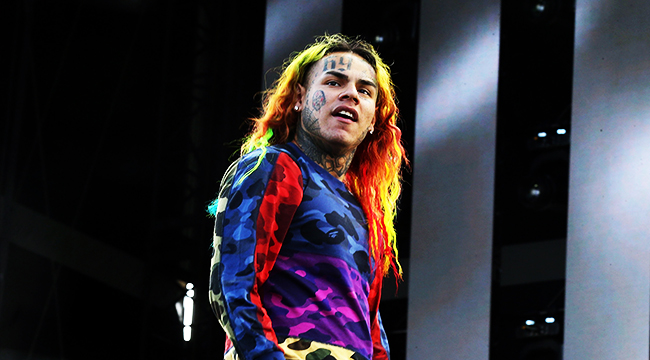 In all the drama surrounding Tekashi 69's arrest and impending incarceration, there's one detail that appears to getting overlooked. It's actually kind of fitting, to be honest. All of the Brooklyn rapper's antics over the past several years have been, to greater or lesser effect, in service of his burgeoning musical career. The attention he's drawn through nearly nonstop beef has arguably fueled his celebrity ambition, but it's also distracted from the music itself in many ways.
It's why you see many more headlines centered around shootings, fights, robberies, and petty squabbles with other gang-affiliated rappers than you do his surprising number of hits — and that's after you get past the sexual misconduct case for which he was recently sentenced (which you really, really shouldn't). It's why it makes perfect, sadly ironic sense that in the release week of his long-awaited debut album, Dummy Boy, the rainbow-haired rapper won't be around to enjoy any success the project may garner, because he'll be sitting in a cell in the Brooklyn Detention Center, awaiting arraignment for a litany of charges as long as his list of charting singles.
Of course, thanks to the modern rules of streaming, Dummy Boy will almost certainly be a success. Two of its singles have already charted in the top 50 of the Hot 100, with the Nicki Minaj-featuring "Fefe" climbing as high as No. 3 and netting well over 300 million plays on Spotify since its July 22 release. "Tati" has performed well too, hitting No. 46 on the Hot 100 and racking up nearly 100 million on Spotify — and more than that on Youtube. Before that, Tekashi's singles chronology included "Gotti," "Keke," "Kooda," and "Gummo," the initial firecracker shot that ignited his career and turned him into a rap star proper.
"Gummo" worked as both launching pad and an opening broadside against the sensibilities of both mush-mouthed Cloud rap fans and stalwart, boom-bap traditionalists. The colorful Tekashi scream-rapped his way into the public's awareness, endorsing a reckless, in-your-face hybrid of 50 Cent's brash, devil-may-care cockiness and MOP's firebrand, unbridled aggression. The track's warm reception on the streets of New York almost instantly began drawing comparisons to another insanely viral talent from Brooklyn, Bobby Shmurda.
In 2014, Bobby shot to stardom when a viral clip of his single "Hot N—-" exploded into a meme, a dance, and a summer's worth of flying ball caps and devastated sound systems endlessly repeating Jahlil Beats' howitzer of a drumline. Then, it all fell apart when Bobby and his GS9 affiliates were rolled up in a gang sting that led to his arrest less than a month before his debut EP, Shmurda She Wrote, hit streaming services.
Without Bobby's physical presence to continue creating promotional buzz for the project, it quickly fell off the Billboard charts and into obscurity as a footnote in hip-hop history — and as a cautionary tale to future breakout rap stars with ties to the streets and brighter prospects on the horizon. It was a tale with a lesson that Tekashi chose to ignore, despite having a song and single, "Stoopid," from Dummy Boy that actually features Bobby Shmurda on it, and now the cost of his actions look likely to derail him as yet another potential breakaway rap star from New York.
Although I wouldn't call Tekashi's music "good" in the strictest sense, it is distinctive enough to be wildly popular and consistently exciting enough to have maintained at least an album's promotional cycle worth of a run — be it a year or two — before Tekashi would have been forced to start doing some serious soul-searching and reinvention. But for now, it did have all the potential to meet every modern hallmark of commercial success. Would that have been sort of gross in light of the pending case against him for sexual acts with a minor? Abso-f*cking-lutely. Don't get it twisted; Tekashi did a lot of extremely trash things in a shockingly short amount of time for the sake of internet clout.
That it almost worked is pretty mind-boggling and to be honest, is an indictment of our culture — both hip-hop and our greater society's infatuation with celebrity worship. He should never have gotten as far as he has, and it's frankly disgusting that his antics only ended his run because the damn ATF had to step in and physically arrest him. The shame is that the music is good enough, catchy enough, relatable enough, intriguing enough, and popular enough that he never needed the guns, gangs, or the sexual performance of a minor to promote it. And now that the consequences of those actions has caught up with him, he'll never get to enjoy the fruits of his weirdly twisted gift for music — and he has no one to blame but himself.
Dummy Boy is due November 23 via TenThousand Projects.