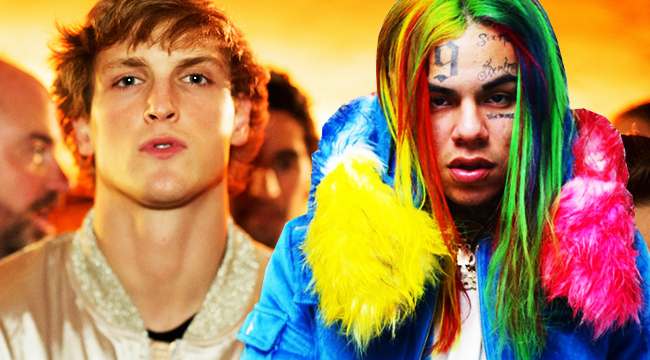 Tekashi 6ix9ine once told Adam22 of the No Jumper podcast that there would be nights where he was so hungry growing up in the Bushwick section of Brooklyn that the loudness of his stomach rumbling made his mother cry.
He recalls never having the means for name brand clothes, but becoming popular at school by virtue of being a class clown and having a unique fashion sense, which we still see today with his bright, rainbow hair. When he was in the 8th grade, his father was shot and killed a block away from his home.
After this traumatic event, he was profoundly changed and began to act out in school — until he was kicked out and began working to support his family. His father's death "made [him] wanna be a villain, 'cause villains never die," he told Mass Appeal.
That focus on villainy has made him hip-hop's latest ringleader in a royal rumble of attention-seeking viral stars. He's seamlessly used the WorldStarHipHop corner of the internet to ascend to his current position. After dropping four singles, three of which were on the Billboard Hot 100 at once, he's on pace to sell over 60,000 copies of his energetic Day 69 album — which could top the sales numbers for independent icon Nipsey Hussle's Victory Lap.
The circumstance is another affirmation that spectacle sells. Tekashi's own label only projected the album to sell 25K in its first week, according to hip-hop media figure and friend of Tekashi, DJ Akademiks. But the album exceeded expectations with the help of a risky promotion strategy.
For the past five months, Tekashi's M.O. has been drama, from a fallout with one-time friend Trippie Redd to a gang (pun intended) of detractors from coast to coast. In Minnesota, he had ice and bottles thrown at him and fought outside of a club during Super Bowl weekend. In LA, he was involved in a social media cat-and-mouse race with rappers who were mad at him for his unabashed red flagging and a guilty plea in a child sex case.
Rapper OG Spanky Loco tried to find him in a mall. Snoop Dogg affiliate Jooba Loc and other alleged Crips came to his hotel. The circumstance culminated with him getting into a dust-up at LAX with Houston-based rapper Acie High of AQUALEO. What did Tekashi do after the brief scuffle? Made a video bragging about how no one can touch him while spinning his chain.