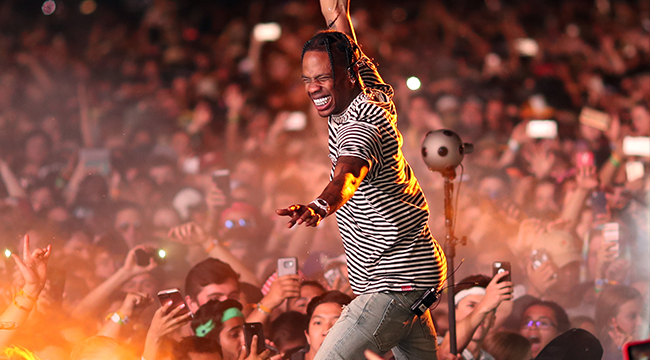 The last time Travis Scott performed at Lollapalooza was a complete and utter disaster in every conceivable sense of the word. It was 2015 and the emerging Houston MC, and Kanye West protégé, was given a late afternoon slot at the primarily EDM-geared Perry's Stage. Not ideal by any means, but far inferior performers have made more out of less.
Scott eventually turned up way past his scheduled start time – not that big of a deal for a rapper – played two songs, and just before kicking into his third, "Uptown," implored the fans near the front to hop the barricade and join him onstage. An avalanche of bros took him up on the invitation and soon it was utter chaos. "Middle finger up to security right now," he screamed. Naturally, those in charge didn't take to kindly to that sentiment and promptly shut everything down. After ducking backstage, Trav was led away in handcuffs and charged with disorderly conduct.
Three years later and things couldn't have been more different. Scott had come a long way as both an artist and, frankly, a celebrity, since that earlier debacle. He's had three top-5 albums, including a solo No. 1 with Birds In The Trap Sing McKnight, a full-scale arena tour opening for Kendrick Lamar, and a baby with one of the most famous women on the planet, Kylie Jenner. Now he was closing down the first night of the festival at the north end of Grant Park with a veritable army of teens and twenty-something ready and willing to totally lose their collective sh*t to his music. A full 45-minutes before he even showed up and security turned down the volume on Virgil Abloh just across the field to ask those gathered in front of the Bud Light stage to take several steps back to allow those crushed against the front barricade room to breathe. I couldn't tell you what the scene looked like for Arctic Monkeys on the larger Grant Park stage a mile south, but Lollapalooza might have been better served flipping the two acts.
Around 8:45 – precisely when his set was supposed to start – a crash of simulated thunder exploded out of the large speakers around the stage and Scott whipped out of the wings like a tornado. "Chicago, make some mother*cking!" He didn't even say the word "noise," before the beat dropped on "Stargazing," and he took off. Scott doesn't really rap, per se. He screams. He screams loudly. He screams violently. He pours every ounce of angst and anger a human body can physically muster into every syllable of his songs. He styles himself as a "rager" and he wants you to rage along with him. And so we did.
"Before Astroworld drops at 11 o'clock tonight, I just wanna take you on a little journey," he said near the beginning of his time. Astroworld, of course, is his hotly anticipated, third album that's been cooking for a full two years and will finally enter the public space just an hour after he gets offstage. It's been the talk of the festival thus far, and Scott alluded to it several times while onstage. We basically attended the most extravagant album release party you can possibly imagine, complete with colorful lasers, pillars of fire, and two floating DJ booths, covered in LED lights. It was an eye-popping presentation that might overwhelm another personality, but for all of the illuminating distractions, you simply couldn't take your eyes off Trav as he ripped into songs like "Goosebumps," "Biebs In The Trap," "90201," or when he busted out his most well-known guest features like on 2 Chainz' "4 AM," Miguel's "Skywalker," and, especially, SZA's "Love Galore."
Just like Scott's performance back in 2015, his headlining set this year was marred by an overzealous fan who jumped onstage and tried to grab a selfie. This time, however, rather than let things get out of hand, Scott stopped the show and had security escort the dude off. "Get him outta here, I hate phones," he said. Trav stopped the show again when he noticed an audience-member had passed out in the lawn near the front. "All the ragers right there, pick him up and carry him to the front," he commanded. "Can we get a paramedic in there, please? What the f*ck!"
The set came to a halt for a third time when he saw a dude in the crowd holding a ring and a box and invited him up to join him. A few minutes later the lucky fella's girlfriend was hoisted up as well and he got down on one knee and asked her to marry him while Scott smiled like the Cheshire cat the entire time just off to the side.
An hour after it began, Scott closed out his second appearance at Lollapalooza by debuting the Astroworld track "5% Tint," live for the first time. Then it was over. "Astroworld out in like an hour," he said. "I love you." Then he was gone.
We can debate all day about where Trav ranks among the larger rap hierarchy in 2018 and his relative merits as an artist. His detractors will probably forever deride his abilities as an MC and his stans will always cite his superior, musical production. But for all the conversation that he inspires, one thing remains undeniable: Travis Scott is one of the most intense, live performers on the planet. He's proved it in clubs. He's proved it in theaters. He's proved it in arenas. Now he's proving it on some of the largest stages in the world.