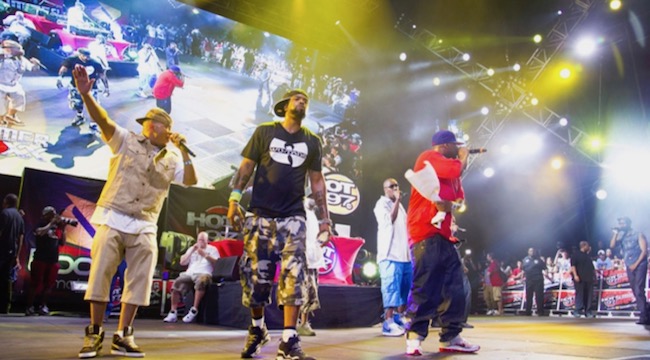 Throw your W's in the air because the samurai warriors straight out of Shaolin are set to return once again later this fall. According to Spin, the group's musical maestro RZA has revealed that the classic '90s hip-hop collective is set to drop their first new album in three years on October 13. Apparently, the record is titled Wu-Tang: The Saga Continues and is helmed by RZA along with DJ Mathematics.
To whet the appetites of all the major Wu-acolytes out there, the group also debuted a brand new single last night. Titled "People Say," the group's latest offering is sure to bring a smile to the face of every fan who still clings to their copies of Enter The Wu-Tang (36 Chambers). Produced by RZA, the beat sounds like something he might've cooked up back in '94 before the basement flooded and destroyed his collection of tapes.
Method Man, Raekwon, Inspectah Deck, and special guest Redman all bring the heat with their different verses, but the Chef cooked up something special in particular. "Cold chemists taste the flow / It's numb meets copper rum, bluntin' off the get back / Salute me then one, I'm out / Off to the races, my blazers ain't patient."
[protected-iframe id="4c1f398758be9cd1ceac1b44994732da-60970621-76566046″ info="https://open.spotify.com/embed/track/30ijaUgDocRl5Z20cOFTuY" ]
The Saga Continues will be released in October through the Wu's lifestyle company 36 Chambers ALC.