There's no end to the cuddly, wholesome fun of Deadpool 2 ahead of the sequel's premiere and all the splatstick glory crackling within.
Arriving around the same timeframe as Ryan Reynolds sharing a cheeky X-Men indebted Easter egg hunt challenge is the call for talented crayon-armed artists to tackle a coloring book request featuring the Merc with a Mouth. The DPIY (Deadpool It Yourself) offering is part of an enticement to join the promotional army for the upcoming blockbuster. Fans are asked to join the "Deadpool Core" and color this lovely lil' image.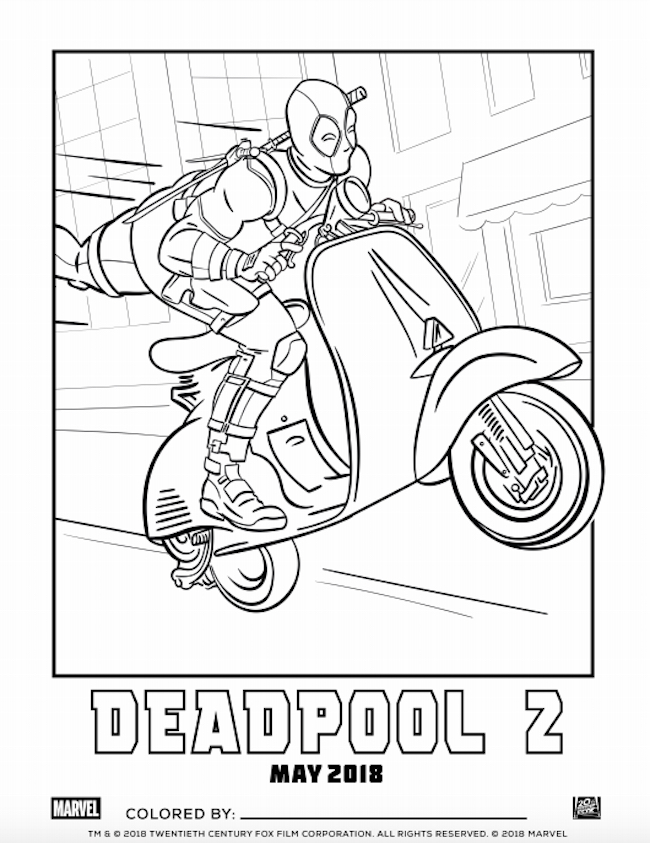 "Stay within the lines. Or don't," declares the accompanying text on the website. "Remember, this is your world. You get to make–and break–the rules here."
On top of keeping idle hands busy while waiting for the film to come out, it looks like there might be an additional purpose for the coloring exercise. Artists are encouraged to fill out a big-ass waiver and upload their submissions for an unspecified reason. It might just be for Deadpool 2 marketing or Cable could come to your house and beat you up for lack of vision. The potential options are wide open!
Deadpool 2, which also sees Ryan Reynolds sharing writing credit along with his acting lead status, arrives in theaters May 18. We're already looking forward to seeing what's on the soundtrack.
(h/t SyFy)