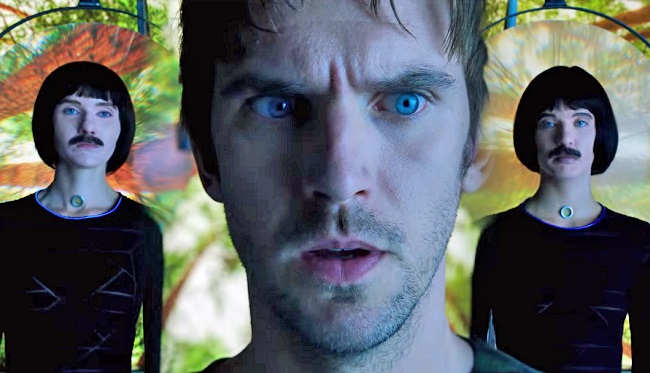 FX's Legion returns for a second season on April 3rd, and the X-Men spin-off series has been promoting the new season with videos as delightfully bonkers as the show itself. First there was a video of Aubrey Plaza busting through the fourth wall to confuse viewers of the first season. Then a set of unnerving videos gave a first look at Navid Negahban as the new Shadow King / Amahl Farouk. The first full trailer for Season 2 dropped shortly afterward.
Now FX has release four more videos, the first of which shows David Haller (Dan Stevens) and Syd Barrett (Rachel Keller) trying to find each other on a physically implausible bridge. It's some straight up M.C. Escher sh*t.
The next video proves that Dan Stevens can make even the word "waffles" seem replete with gravitas.
"David, if you can hear me I need you to say something."

"Do you… have any… waffles?"
To be fair, if you've been trapped inside a floating orb for a year, you'd probably want some waffles.
The next two videos show more of those creepy women with identical '70s mustaches and wigs, who inform us that Shadow King has become so powerful he can't drown and won't burn. Yeah, well, can he make good waffles?
(Via FX Networks and Dan Stevens)