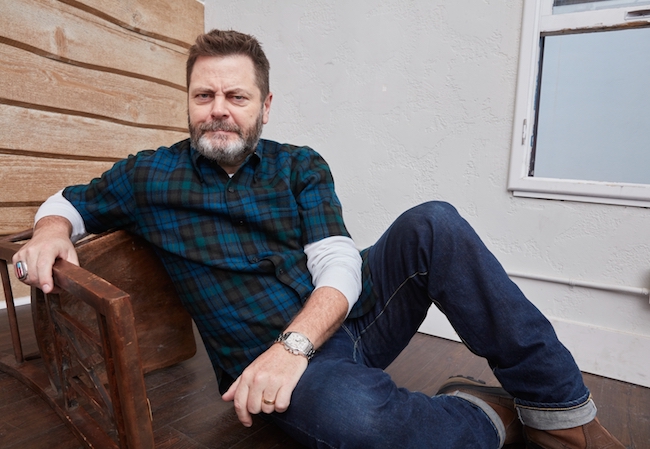 After years of fans wondering if Hollywood would get it together, Amazon has been going full blast on an adaptation of Neil Gaiman and Terry Pratchett's beloved dark comedy Good Omens. Since casting David Tennant and Michael Sheen as a devil and angel, respectively, out to derail the Apocalypse because they're quite enjoying Earth, it's slowly gathered an impressive cast, right down, it turns out, to the minor roles.
Amazon has revealed that Ron Swanson himself, Nick Offerman, will be playing a U.S. ambassador and the father of Warlock, who everybody thinks is the anti-Christ and who anchors a side plot in the book that's pretty much entirely Gaiman and Pratchett goofing on '70s horror classic The Omen. Warlock is a normal 11-year-old and is very, very confused as to why strange people are calling on him to summon the Four Horsemen, while the real anti-Christ is off in a small village in England growing up like a normal kid. Once it becomes clear there's been a mistake, there's a mad scramble to find the real anti-Christ, who has his own ideas about how the world should be.
It's a small role, but it shows how committed Amazon is to getting the book right they're bringing in comedic firepower like Offerman. We'll see how the book adapts in 2019.
(via Amazon)