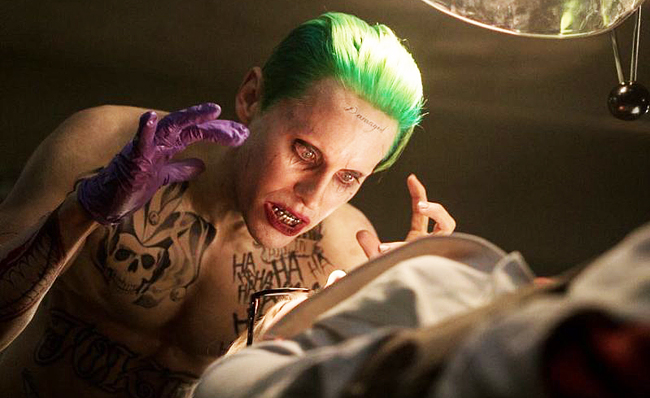 After the disappointing debut of Justice League at the box office, DC Comics future at the movies is being restructured with Aquaman, Wonder Woman, Flash, and Harley Quinn currently leading the charge. But one of the oddest planned films for DC Comics outside of whatever is happening with Shazam is the Joker origin film that will have Joaquin Phoenix play the Clown Prince of Crime in his early days. It's far away from whatever Matt Reeve's solo Batman film will be, representing a stand-alone film that shouldn't be part of the larger DC extended universe — whatever that is right now.
But now Variety has dropped some exclusive news that gives us yet another Joker film, this time featuring Jared Leto's version that was introduced in Suicide Squad and is part of the larger world created by Justice League. Leto shared some opinions about the plans for a Joker origin film when that project was first announced, with reports indicating he was unhappy with the decision and Leto himself confirming that he was at least confused by the plans. Now Variety is reporting the film is happening, with Leto and Warner Bros. searching for a writer to bring it to life:
Sources tell Variety that Leto is set to star and exec produce an untitled standalone film, paving the way for future movies branching from "Suicide Squad." Plot details are currently unknown, but the studio's idea is to expand on the world created by "Suicide Squad" and tie into future installments of that property.
As Variety adds, Leto's Joker was more of a cameo in Suicide Squad and director David Ayer regrets not making him the main villain of the film. A lot of Leto's performance was left on the cutting room floor, something that he teased could end up in another movie, but the reality we live in gave us less Joker than expected — something Warner Bros. seems to be trying to make up for by giving us two Joker films and an unnamed Joker on Gotham.
It is unknown where this Joker film could fall in with the rest of the releases, particularly those connected to Suicide Squad and Harley Quinn. The only confirmed DC Comics films at this point are Aquaman in December, Shazam in April 2019, and Wonder Woman 2 in November 2019.
If you're in need of a palate cleanser or something to hold you over, we've included some Mark Hamill Joker below.
(Via Variety)