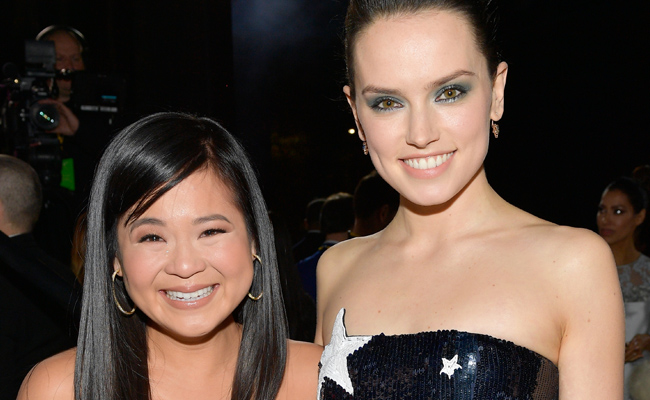 The early reactions are in for Star Wars: The Last Jedi and it seems like it will be a classic experience for fans of the franchise. But the effect the film will have on fans is nothing compared to the way it has changed the life of young actress Kelly Marie Tran. Tran plays Rose Tico in the new film and is poised to become a new favorite among the constantly growing roster of Star Wars characters. But as pointed out at the New York Daily News, Tran was working a full-time office job just a few years ago while auditioning for roles that never came through.
As she tells the Daily News, her parents were Vietnamese refugees who worked so Tran and her sister would "have choice":
"That was purely it. My parents never had the luxury of having a dream…

"I remember thinking I was living for multiple generations, and if I wasn't pursuing something that made me happy, if I wasn't really living to my fullest, then I wouldn't really be doing them justice."
She then landed the role of Rose after being chosen by director Rian Johnson following a 5-month audition process for the character. And to see how much this role means to Tran, you only have to look at her reaction on the red carpet during the premiere.
This clip captured by her fellow new Star Wars actress Janina Gavankar — the lead in the story mode from Battlefront 2 — shows Tran sharing an emotional moment with Daisy Ridley before the premiere:
I feel strange posting a private moment, like this. But this level of emotion, met with this level of support, is @StarWars encapsulated. pic.twitter.com/lYd1bCcr1V

— janina gavankar (@Janina) December 10, 2017
It was a night full of emotion for Tran and it is nice that she has the support of her cast mates throughout this introduction to the mania around the franchise. She shared similar sentiments in an interview with ComicBook.com and her entrance into the fandom:
"The amount of support that I've gotten from people, even though they haven't seen me do anything, it means a lot and it makes me emotional thinking about it," Tran said. "I don't know that I'm deserving of that sort of support right away. And Mark Hamill and I have kind of talked about that and just how incredible it is to have people love something so much and then to be a part of it. I can't even describe it."
Tran's emotional moment came after a chat during the live stream of the event where she seemed overwhelmed by everything. That said, it seemed to help her win the support of even more fans in the process.
She also had another great moment with producer Ram Bergman later on the red carpet. As THR points out, it is Tran showing appreciation for the role that seems like it will be her big break towards new heights.
It is easy to see Star Wars as this juggernaut machine that is built to make money and sell toys, but it clearly means much more than that to the people on screen and the people watching in theaters. As much as this role means for Tran, her presence is going to mean so much more for other young men and women. It's a great story from what appears to be a great night.
(Via New York Daily News / ComicBook)