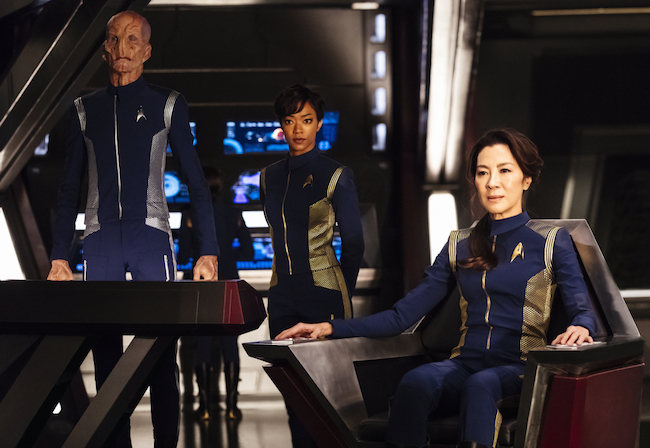 Hot off hissing her way through Crazy Rich Asians, Michelle Yeoh may have another big project on the horizon: As per The Hollywood Reporter, the actress is in talks with CBS to star in a spin-off of Star Trek: Discovery, the latest iteration of Gene Roddenberry's 52-year-old space franchise, and the first to feature a version of Spock with a beard.
If it all works out, the show will follow her character Emperor Philippa Georgiou, who appeared in eight out of the first season's 15 episodes, which began airing last fall.
Georgiou was actually killed early on, by the sometimes dastardly Klingons, in Season 1. Some episodes later, the crew of the USS Discovery encountered another version of her in what is called the "Mirror Universe," where the late captain was actually an emperor. Yeoh and Georgiou are set to return for the second season, which begins airing in January. Her spin-off show would spiral off from there.

Whatever it winds up being called, the Yeoh-led show will air not on CBS, which houses Discovery, but on their All Access streaming service, which will, among many other things, already feature numerous Star Trek-related programs. One of them will bring back Patrick Stewart's Captain Picard, the main hero of the classic Star Trek: The Next Generation. Another, an animated show, will be spearheaded by Rick and Morty head writer Mike McMahan.
When or if Yeoh gets her spin-off, it will be the latest in the star's many, many strong hero roles, which go back to the martial arts movies she's been making in Hong Kong and China since the 1980s. Yeoh's long split her time between Southeast Asia and Hollywood, and, in films like Tomorrow Never Dies, Memoirs of a Geisha, and Crazy Rich Asians, have seen the two fused.
(Via THR)