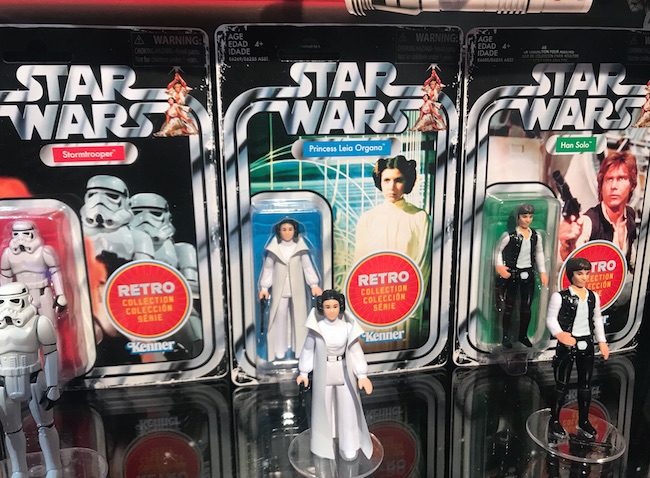 Every year I find it more and more difficult to make up excuses that I can send to my editor so that I can cover Toy Fair. As far as I can tell, Uproxx isn't a toy collecting website (not yet, at least, but if I ever get my way…) and I don't know much about the intricacies and nuances of toy reporting except that, sometimes, I like looking at new toys. (Watching the toy reporters at work is truly something. They will spend hours taking painstakingly detailed photographs of every single flake of paint on a new action figure. I only wish I could be that detailed about anything.)
But, whatever, I like going! Especially, of course, to look at Star Wars toys. One of my last "pure" memories of being a little kid was turning that corner into the toy aisle of whatever department store we happened to be at that day, then seeing rows and rows of vintage Kenner Star Wars action figures on that now-classic packaging. (Toys 'R' Us was never really in the equation for me. I've been seeing a lot of Toy 'R' Us nostalgia lately, but, in the greater St. Louis region at the time, our toy store was Children's Palace. If I remember correctly, the store looked kind of like a castle. I wish there were Children's Palace nostalgia.)
The crazy thing about Star Wars toys today is how often those original designs from the 1977 to 1985 Kenner line have seeped back into what Hasbro makes today. (Hasbro, of course, now owns Kenner.) Over the past few years, Hasbro has had a popular Vintage line, where that retro card design has been used to sell new action figures. Now, Hasbro is just going "all in" on their retro design with a line of figures that are legitimately just what was sold back in 1978 (the action figure line didn't come out until a year after the movie was released), only with a "Retro" designation on the front of the purposely distressed packaging.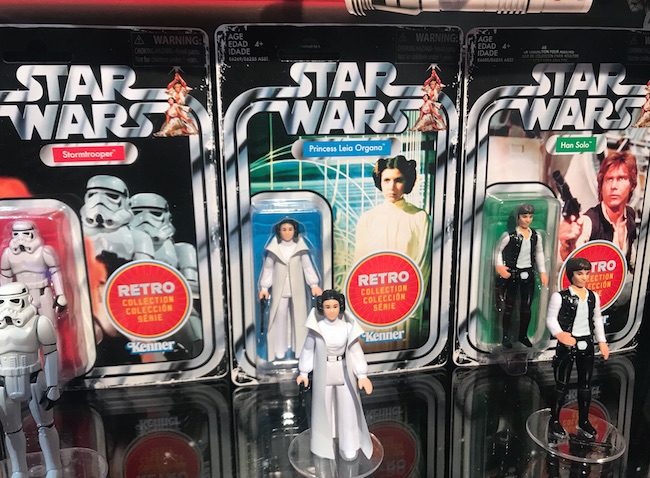 Do you care if I get a little nerdy about action figures for a second? All right, here we go. For whatever reason, Hasbro went with "big head" Han for its Retro line. Back during the original run of Star Wars action figures there were two versions of the original Han Solo figure, which became known as "small head" and "big head" Han. Han's original head sculpt was proportionally smaller than the rest of the figures (though, in my opinion, still better), so it was replaced by a bigger head that looks more like Mick Jagger than Harrison Ford. (From my own personal collection, you can see the difference between the two figures below. The Mick Jagger is the version in the back.).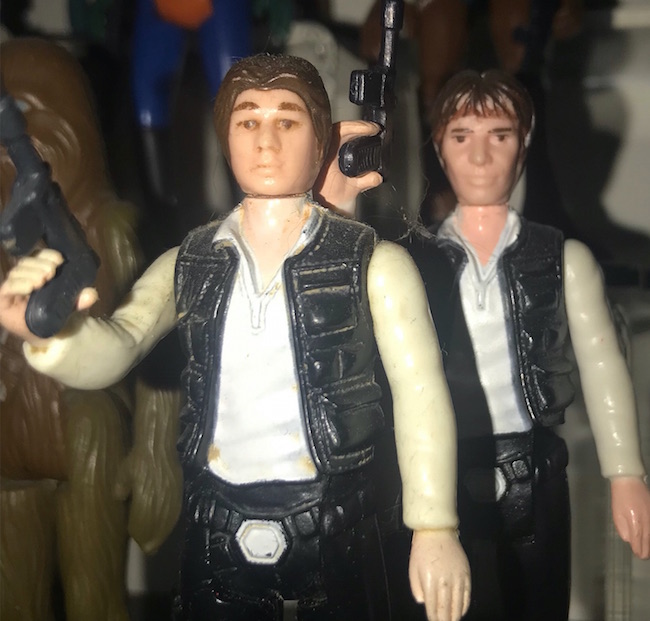 So, before the internet, this was very confusing because the packaging on the back of the figures were never updated to the new large head style (at least until The Empire Strikes Back figures were released). So everyone just kind of had to guess why their new Han Solo toy looked nothing like the one on the back of the package. Anyway, life is full of mysteries. (At least until the internet came along.) And I mentioned this whole "big head," "small head" discrepancy to the Hasbro publicist and she looked at me like I was a crazy person.
Now here's a weird decision: back during the original run of Star Wars action figures, there were, give or take, 96 action figures. (This number can change based on what's considered an action figure and what's a playset, but, for simplicity, let's just go with 96.) For some strange reason, Grand Moff Tarkin was never made. He's literally the main villain of the first Star Wars movie, yet there was never an action figure until the Star Wars line of toys was resurrected in the 1990s. There was an action figure for someone called "Prune Face," but not Tarkin. Even if we just focus on the action figures released for each film (Mr. Prune Face was released for Return of the Jedi), Kenner decided to release an action figure of R5-D4 (the red droid that blows up five seconds after we meet it on Tatooine) and not the main villain from the film. Anyway, Hasbro is now releasing a retro Tarkin figure on what would be its original packaging, if it had any. It's funny because even though the figure is made purposefully "simple," Tarkin's face still looks better than any other figure from that era.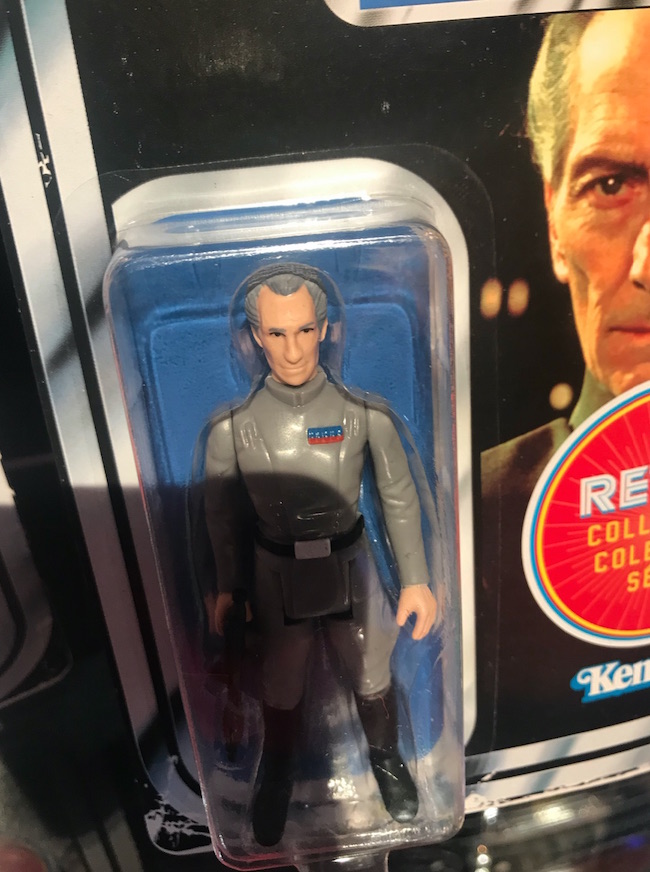 Though, to get this Tarkin, you'll have to buy the whole retro "Escape From Death Star" board game. I actually own the original version of this game after finding it and buying it at an antique store. It's not a great game! And it's strangely confusing. But the packaging is awesome.
Can you believe it's been 20 years since The Phantom Menace came out? There's now The Phantom Menace nostalgia and retro The Phantom Menace toys! To be fair, I have very fond memories of the months right before that movie came out. The possibilities were endless! And then we got what we got, but the lead-up was undeniably fun. There was something pure and nice about it that we'll, for sure, never see again, sadly. So I've decided I'm all for The Phantom Menace hype nostalgia, but not for the movie itself. Anyway, at Star Wars Celebration this year, these six-inch black series Obi-Wan and Darth Maul will be sold on Retro Episode 1 packaging.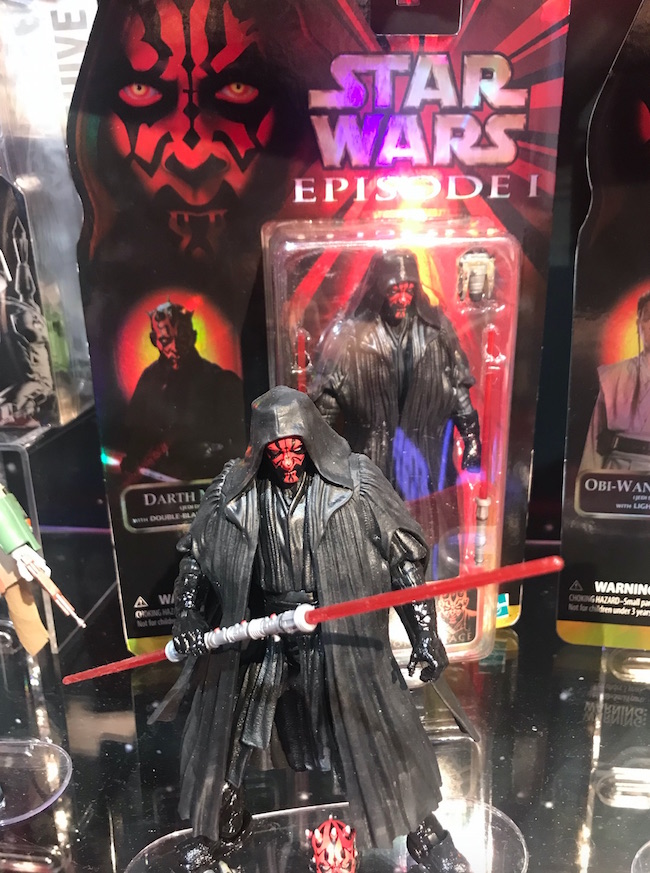 And here's something not retro, the new eight-inch Darth Vader action figure. The draw here is there are no noticeable points of articulation – modern action figures can do a lot of fun poses, but there are also a lot of unseemly looking joints. So this thing is kind of crazy because it has its own skeleton, which is where the articulation points are. The "skin" is placed over it and now you have a fully poseable Darth Vader with its very own skeleton. The skeleton is kind of creepy!
Okay, this is a Transformer. But it's a Transformer that turns into the Ghostbusters vehicle, Ecto-1. His name is Ectotron. What a world.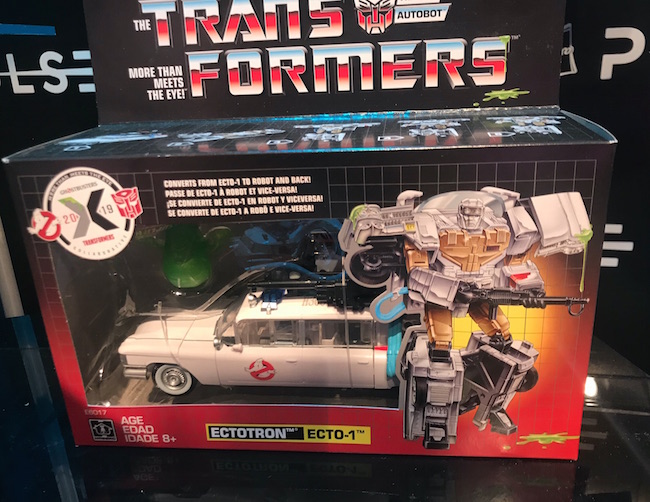 You can contact Mike Ryan directly on Twitter.