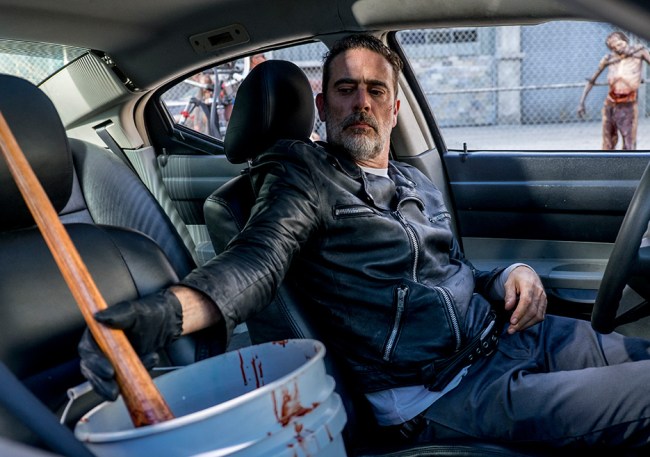 There's a lot of change coming to The Walking Dead in season nine. The Saviors have been neutralized as a threat, after — spoilers — Negan had his throat slit in the season eight finale; Andrew Lincoln and Lauren Cohan, who play Rick Grimes and Maggie Greene, are reportedly leaving the show; and the gang is on the move. That's what our first look at the new season appears to tease, at least.
Ahead of San Diego Comic-Con, AMC released the key art for season nine, which shows Carol, Michonne, Rick (with short hair!), Maggie (with long hair!), and Daryl standing in front of the crumbling Capitol Building in Washington, D.C. (Oh boy, those clowns in Congress did it again. What a bunch of clowns.) There's also a mysterious helicopter, possibly the same one Jadis tried to flag down? The new season will also feature a long-rumored time jump.
"What's fun for me is that we're working on a season that has a really fresh look and feel," showrunner Angela Kang said. "We're playing with time in the season so we get to jump forward in the story. We come in on some pretty fun stuff. I'm really focusing a lot on the core character relationships in the show that have been long-lasting, as well as surfacing all kinds of all our series regulars."
The Walking Dead returns to AMC this October. See the art below.