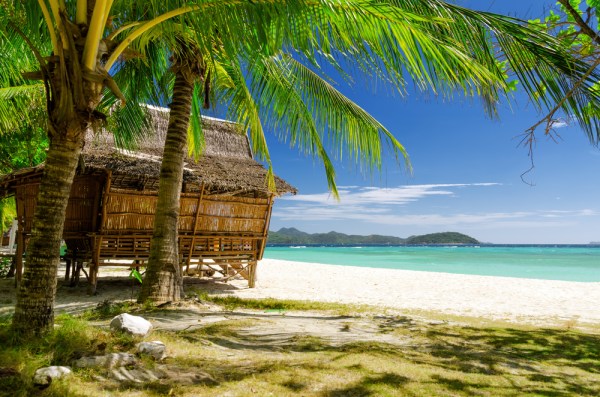 There is a time for sleeping in bunk beds. The time is childhood and then again at age 22 in a hostel that smells like tortilla soup in a country that has no tortilla soup. But for 30 desperate souls in San Francisco, bunk beds have become a necessity.
As reported by CBS yesterday, bunk-bed mattress space in the city is being rented for $1,800 a month. Tenants are crowded in two- or four-person rooms, and, to further the humiliation, must also use shared bathrooms, a communal kitchen, and must stay more than 30 days to skirt San Francisco's new short-term rental ordinance. Potential renters must also submit to a questionnaire and a Skype interview before they're even allowed the pleasure of recreating this scene with complete strangers.
And as neat as San Francisco is (and it is), it doesn't have to be so crowded. San Francisco is a beautiful city, and there are lots of exciting jobs and restaurants and bars, but there are other places in the world that are just as beautiful, just as exciting, and just as filled with interesting things to do. Most importantly, you can actually afford to live in them. In fact, you can live in countless amazing spots while paying less (and sometimes a lot less) than the rent on a mattress in a glorified flophouse in San Francisco.
So why sleep on that bunk bed, haunted by the snores and sleep farts of strangers, when you can live…
At an ocean front resort in Ambatovaky, Madagascar
Spend a month lounging on the white sand beaches at the Forest Deco Hotel in Ambatovaky, Madagascar for only $982. Book on airbnb.com here.
The Forest Deco's already amazing price includes a complimentary breakfast! You could easily spend $982 just on a month's worth of breakfast-related expenses in San Francisco (you'd be eating a lot of scones, but you could do it). Seriously, the place looks glorious. That driftwood chair up there has to be at least as comfortable as a bunk-bed mattress, right?
In your own private house in Mexico
This beautiful two-bedroom home in Bucerias, Mexico, with a private pool can be rented for only $1,568 a month. And when you're ready to swap the chlorinated water for the salty, the ocean is just a short walk away. Book on airbnb.com here.
And as long as you're in Bucerias, definitely go to the nearby Luna Luna restaurant for the best enchiladas suizas on Earth. When was the last time San Francisco gave you memorable enchiladas suizas?
Inside the walls of an ancient city in Italy
You can stay just minutes from the amazing Piazza del Campo in Siena, Italy, for just $1,040 a month! Book at airbnb.com here.
And because this costs $700 less than a bunk bed in San Francisco, you'll have plenty of money to spend on pici alla carbonara [best dish ever invented -ed] and tiramisu at Osteria Nonna Gina.
In your own apartment in the historical center of a Brazilian city
This ocean-view apartment in the historical center of Salvador, Brazil, rents for only $672 a month! Book at airbnb.com here.
Renting this apartment leaves you with a savings of more than $1,000 compared to that bunk bed in San Francisco. And there's really only one thing to do with a thousand extra dollars in Brazil… drink caipirinhas until you forget how much you hate your body, then proudly stroll the beach in one of these swimsuits.
In an apartment with a view of the Tuscan countryside in Italy
Enjoy the view (and loads of wine) on the deck of this beautiful apartment in Panzano, Italy, for only $1,333 a month. Book at airbnb.com here.
And when you're in the mood for more wine, and Ron Swanson-sized portions of bistecca fiorentina, book a dinner at the nearby Cantinetta Sassolini. Remember, you have $467 to play with before you hit the SF-bunk-bed spending cap.
In your own freaking castle!
This castle in Manorbier, Wales, can be rented for $950 a night from airbnb.com (and you can find even more available castles over at the Matador Network). Granted, this one cheats a little. You could only afford one night without going over the $1,800 bunk-bed budget. Still, that night would be spent in your own goddamn castle! And living in your own castle, if even for a night, is an honor that only royalty and bored Florida trophy wives have ever achieved. Plus, the leftover cash would still leave plenty of funds to finish the month at a Euro hostel. See, you can have it all!
And, if you're ready to take the plunge, and fully commit to moving away from the over-priced, over-crowded, over-stressed ordeal of living in San Francisco, or Los Angeles, or New York, or London, or Tokyo, or any of the other places we have collectively agreed to suffer in to try and "make it big," then you can "make it big" for real by…
Owning your own village!
Because as rich and successful and self-satisfied as Mark Zuckerberg, lesser techo bros, and anyone else who can afford to live in San Francisco with dignity may be, they will never have enough money to buy the actual city of San Francisco. But, for nothing more than the promise of improving it, local officials are willing to hand over the entire abandoned village of A Barca in northern Spain for free. And while living in the crumbling husk of a ghost town is one of the few housing options that sounds worse than a bunk bed in San Francisco, just imagine how good it will feel when you vote yourself, "Presidente Supremo" of A Barca for life.
Now it's your turn, dear readers. Where would you live if you could leave it all behind? Also, who wants to go halfsies on a long weekend at that Welsh castle?